Grenade Thermo Detonator is a fat burner from the brand of the same name. It comes with four capsules for $2.95 or 100 capsules $59.95.
As the flagship weight-loss supplement in the brand's range, it's also widely known as simply Grenade fat burner.
This product claims to:
"Declare war on fat"
"Kickstart your workout"
Combine "the highest quality, maximum potency ingredients"
"Pack a real punch"
We're confused – is this a fat burner or a pre-workout? In our experience, hybrid products tend not to be as good as dedicated alternatives. Could this product be an exception to the rule? Find out in our Grenade fat burner review…
About the Company
Grenade is a UK-based company that also has a registered office in the USA. Founded in 2009, Grenade "set about creating products that people would actively seek out and remember."
Thermo Detonator was its first product, but its range now also includes protein (bars, spreads, powders and brownies), BCAA, pre-workouts, shakers and clothing.
Grenade claims to have customers in 80 countries.
Ingredients and How They Work
If you've read Supplement Tester reviews in the past, you'll know we're on a crusade to end the use of proprietary blends.
Reminder: Proprietary blends are sub-formulas that list ingredients, but hide vital dose info. We – and most nutrition experts – hate proprietary blends because they give you no way to tell what you're paying for.
Grenade fat burner also contains a number of ingredients that may cause side effects – Bitter Orange and Yohimbe are top of our list of ingredients to avoid.
See the ingredients below: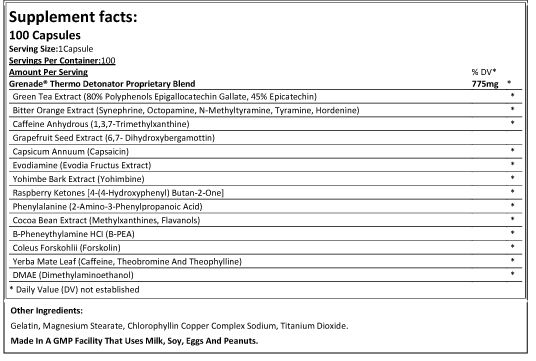 Green Tea
Green Tea is loaded with catechins, the active ingredients that give the leaves their fat-burning power. And epigallocatechin-3-gallate (ECGC) is the king of the catechins.
ECGC increases the levels of norepinephrine in your body[1]. As the chemical rises, your nervous system takes this as a signal to break down fat.
For fat burning, the optimal dose of Green Tea is around 500mg. But because the guys at Grenade cloak the whole product in a proprietary blend, there's no way to know how much Green Tea is in Thermo Detonator.
And as all 14 ingredients in Grenade fat burner add up to a total of just 775mg, it's unlikely to hold anywhere near enough Green Tea.
Bitter Orange Extract
Ugh. Bitter Orange Extract (aka Synephrine or Citrus Aurantium) is one of the worst ingredients to find in any fat burner.
Linked with a range of mild to severe side effects[2], Bitter Orange Extract has a similar structure to Ephedrine[3] – a banned substance[4].
Can it burn fat?
Early research suggests Bitter Orange can boost your metabolism and reduce your appetite. However, the results of this research are unreliable because the lone study was industry-funded[5].
So not only is there no reliable evidence Bitter Orange can burn fat – it also poses a serious risk to your health.
Caffeine Anhydrous
Caffeine is perhaps the best-tested stimulant in the world – it's no wonder 90% of Americans consume it each day[6].
At the right dose, Caffeine has a thermogenic effect on your body[7]. In other words, it heats up your body and forces it to burn calories to return to normal temperature.
Caffeine also fights fatigue and helps replace the energy lost when you start a calorie-restricted diet.
Caffeine: the optimal dose
In all our years testing supplements, we've found 300-350mg of Caffeine (four equal doses) to be the perfect amount for effective fat burning. But again, there's no way to tell how much Caffeine this supp uses.
See Supplement Tester's Highest-Rated
Highest-Rated Fat Burners Here
Grapefruit Seed Extract
Grapefruit is rich in antioxidants that can protect your body against infections and diseases.
Limited research also suggests the fruit is an effective weight-loss aid. However, Grapefruit's weight-loss mechanism is unknown. And that's part of the problem…
Possible health concerns
WebMD lists Grapefruit as "POSSIBLY UNSAFE" in high amounts[8]. Several studies also found many Grapefruit Seed Extract supplements to be contaminated with man-made antimicrobial compounds[9].
The lack of research on Grapefruit Seed Extract and these health concerns make it an ingredient to avoid – for now at least.
Capsicum Annuum Extract
Also known as Capsaicin, Capsicum Annuum is the active ingredient in Cayenne Pepper – and it's what gives the fruit its spicy taste and fat-burning punch.
Capsaicin helps you burn fat by lifting your core body temperature and increasing your heart rate. Through thermogenesis[10], this speeds up your metabolic rate and ensures you burn calories faster.
Yohimbe Bark
Oh dear. After finding the dreaded Bitter Orange in this fat burner, it's disappointing to see Yohimbe Bark – another potentially unsafe ingredient.
While a single study implies Yohimbe can reduce fat, we don't think Yohimbe is worth your time or money. Here's why…
Yohimbe and your health
Yohimbe is said to cause a whole range of adverse side effects. These include chest pain, high blood pressure, headaches, bloating, rashes, and a host of heart issues[11]. As a result, Yohimbe is an ingredient we recommend you stay well away from.
See Supplement Tester's Highest Rated
Highest-Rated Fat Burners Here
Raspberry Ketones
Raspberry Ketones are widely marketed as a 'miracle' fat burner by the controversial Dr. Oz and other so-called experts[12]. In truth, there's no evidence Raspberry Ketones can induce weight or fat loss.
Phenylalanine
Phenylalanine is an amino acid that an increasing number of marketers are currently touting as a mood enhancer and appetite suppressant. However, ZERO published scientific evidence exists to confirm this.
Cocoa Bean Extract
Out of the 10 studies we've read on Cocoa, only one implies a link between the bean and fat loss[13]. However, the other nine studies failed to prove Cocoa Bean Extract affects weight loss or fat mass.
β-Phenethylamine HCI
β-Phenethylamine is a trace amine that has some promise as a mood enhancer due to its apparent influence on happy hormones, such as dopamine and serotonin[14].
But despite claims to the contrary, there's is insufficient evidence that β-Phenethylamine affects weight loss.
Evodiamine
Evodiamine is a so-called 'fat blocker' that rodent studies suggest can reduce the amount of fat body absorbs from food. But there's no evidence it does the same for humans[15].
Coleus Forskohlii
Coleus Forskohlii (or Forskolin) is said to burn fat and boost testosterone at the same time. This belief comes from the fact that it contains enzymes which boost levels of the cyclic adenosine monophosphate (cAMP), which then supposedly leads to fat loss.
And early research does look promising – it does appear Forskolin can help overweight people of both sexes lose weight[16][17]. However, more research is needed to back up these findings before we can recommend Forskolin as a key fat burner.
Yerba Mate
It's claimed Yerba Mate can boost metabolism – but this is NOT the case.
The claim derives from the one study which shows Yerba Mate increases fat oxidation[18]. However, this doesn't result in an increase in your metabolic rate[19] (which could lead to fat/weight loss).
DMAE
DMAE (or Dimethylethanolamine) is an organic compound sold as a cognition enhancer and fat burner – but's there limited evidence for either claim.
The thinking behind the fat-loss claim is that it may boost levels of acetylcholine[20] – but this is purely hypothetical.
Unsafe?
Most worryingly, DMAE appears to be teratogenic, which means it could cause birth defects[21].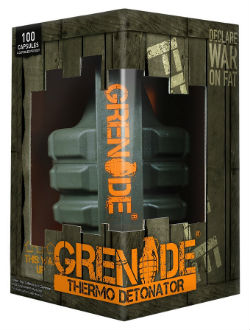 See Supplement Tester's Highest Rated
Highest-Rated Fat Burners Here
Grenade Fat Burner Side Effects
Grenade Thermo Detonator may cause the following side effects:
High blood pressure (Bitter Orange, Yohimbe)
Fainting (Bitter Orange)
Heart attacks (Bitter Orange)
Stroke (Bitter Orange)
Racing heartbeat (Yohimbe)
Stomach problems (Yohimbe)
Insomnia (Yohimbe)
Tremors (Yohimbe)
Grenade Pros and Cons
Pros:
Popular product
Cheaper than some other fat burners
Contains three key fat-burning ingredients
Cons:
Proprietary blend – you don't know how much you get for your money
Bitter Orange and Yohimbe linked with severe side effects
Only for users aged 21 and over
No evidence Raspberry Ketones burn fat (despite the hype)
Too many understudied and untested ingredients
DMAE may cause birth defects
See Supplement Tester's Highest Rated
Highest-Rated Fat Burners Here
Grenade Fat Burner Review Conclusion
Fancy branding aside, Grenade Thermo Detonator doesn't have enough to recommend it.
What we like
We're pleased to see Green Tea, Caffeine and Capsicum Annuum in this supp – in fact, they're staples of any decent natural fat burner. But that's where the good stuff ends…
What we REALLY don't like
Where do we start? From the proprietary blend to the use of understudied and potentially unsafe ingredients, the Grenade fat burner is one to avoid. Aside from the trio of key ingredients, this has to be one of the worst fat burners we've ever seen.
Our advice? Stay well away from the Grenade fat burner, and look for one with better-tested and safer ingredients.
References
Lamprecht, M. and Ackerman, J. (n.d.). Antioxidants in sport nutrition. pp.123-140.
John E. Thomas, M. (2018). STEMI in a 24-Year-Old Man after Use of a Synephrine-Containing Dietary Supplement: A Case Report and Review of the Literature. [online] PubMed Central (PMC). Available at: https://www.ncbi.nlm.nih.gov/pmc/articles/PMC2801940/ [Accessed 12 Sep. 2018].
Stohs, S. et al (2012). A Review of the Human Clinical Studies Involving Citrus aurantium (Bitter Orange) Extract and its Primary Protoalkaloid p-Synephrine. International Journal of Medical Sciences, 9(7), pp.527-538.
Publishing, H. (2018). Why the FDA banned ephedra – Harvard Health. [online] Harvard Health. Available at: https://www.health.harvard.edu/staying-healthy/ephedra-ban [Accessed 12 Sep. 2018].
Frank, K., Patel, K., Lopez, G. and Willis, B. (2018). Synephrine Research Analysis. [online] Examine.com. Available at: https://examine.com/supplements/synephrine/#hem-appetite [Accessed 12 Sep. 2018].
Scholars.unh.edu. (2018). [online] Available at: https://scholars.unh.edu/cgi/viewcontent.cgi?article=1102&context=honors [Accessed 12 Sep. 2018].
Astrup, A., Toubro, S., Cannon, S., Hein, P., Breum, L. and Madsen, J. (1990). Caffeine: a double-blind, placebo-controlled study of its thermogenic, metabolic, and cardiovascular effects in healthy volunteers. The American Journal of Clinical Nutrition, 51(5), pp.759-767.
 Grapefruit: Uses, Side Effects, Interactions, Dosage, and Warning. [online] Webmd.com. Available at: https://www.webmd.com/vitamins/ai/ingredientmono-946/grapefruit [Accessed 12 Sep. 2018].
von Woedtke T, e. (2018). Aspects of the antimicrobial efficacy of grapefruit seed extract and its relation to preservative substances contained. – PubMed – NCBI. [online] Ncbi.nlm.nih.gov. Available at: https://www.ncbi.nlm.nih.gov/pubmed/10399191 [Accessed 12 Sep. 2018].
Janssens, P. et al (2013). Acute Effects of Capsaicin on Energy Expenditure and Fat Oxidation in Negative Energy Balance. PLoS ONE, 8(7), p.e67786.
Kearney, T., Tu, N. and Haller, C. (2010). Adverse Drug Events Associated with Yohimbine-Containing Products: A Retrospective Review of the California Poison Control System Reported Cases. Annals of Pharmacotherapy, 44(6), pp.1022-1029.
Forbes.com. (2018). [online] Available at: https://www.forbes.com/sites/melaniehaiken/2014/06/18/dr-oz-senate-scolding-his-10-most-controversial-weight-loss-supplements/#1c11f0de29f7 [Accessed 12 Sep. 2018].
Frank, K. et al (2018). Cocoa Extract Research Analysis. [online] Examine.com. Available at: https://examine.com/supplements/cocoa-extract/?PHPSESSID=04f6a2uo9tti6pgjtbqkqiqel6 [Accessed 12 Sep. 2018].
Meredith Irsfeld, D. (2018). β-phenylethylamine, a small molecule with a large impact. [online] PubMed Central (PMC). Available at: https://www.ncbi.nlm.nih.gov/pmc/articles/PMC3904499/ [Accessed 12 Sep. 2018].
Kobayashi*, Y. et al (2001). Capsaicin-Like Anti-Obese Activities of Evodiamine from Fruits of Evodia rutaecarpa, a Vanilloid Receptor Agonist. Planta Medica, 67(7), pp.628-633.
Godard, M. et al (2005). Body Composition and Hormonal Adaptations Associated with Forskolin Consumption in Overweight and Obese Men. Obesity Research, 13(8), pp.1335-1343.
Henderson, S., Magu, B., Rasmussen, C., Lancaster, S., Kerksick, C., Smith, P., Melton, C., Cowan, P., Greenwood, M., Earnest, C., Almada, A., Milnor, P., Magrans, T., Bowden, R., Ounpraseuth, S., Thomas, A. and Kreider, R. (2005). Effects of Coleus Forskohlii Supplementation on Body Composition and Hematological Profiles in Mildly Overweight Women. Journal of the International Society of Sports Nutrition, 2(2), p.54.
Alkhatib, A. (2014). Yerba Maté (Illex Paraguariensis) ingestion augments fat oxidation and energy expenditure during exercise at various submaximal intensities. Nutrition & Metabolism, 11(1), p.42.
Elsawy, G., Abdelrahman, O. and Hamza, A. (2014). Effect of Choline Supplementation on Rapid Weight Loss and Biochemical Variables Among Female Taekwondo and Judo Athletes. Journal of Human Kinetics, 40(1), pp.77-82.
Elsawy, G. et al (2014). Effect of Choline Supplementation on Rapid Weight Loss and Biochemical Variables Among Female Taekwondo and Judo Athletes. Journal of Human Kinetics, 40(1), pp.77-82.
Fisher, M. et al (2002). Perturbations in choline metabolism cause neural tube defects in mouse embryos in vitro. The FASEB Journal, 16(6), pp.619-621.