Hunter Test is a premium testosterone booster by the brand of the same name. Each bottle contains 180 capsules (30 servings) and costs  $75.
Hunter Test claims to help you:
Boost your energy and verve
Cut body fat
Look and feel stronger, healthier and sexier
Raise your sex drive and sperm count
Lift your mood
We read all kinds of big claims about supplements – and testosterone boosters tend to be the worst for it. Let's see if Hunter Test be the exception to the norm.
About the Company
Hunter is a premium supplement brand with a suite of just three products: Hunter Focus (nootropic), Hunter Burn (fat burner) and Hunter Test.
Hunter products are only available from their official websites. You won't find them in stores or anywhere else online.
By cutting out the cost of paying retailers, the company claims to put all its time and money into making better products. The Hunter rep we spoke to says selling direct also means the company is always updating their formulas in line with the latest research.
We found the limited availability a little annoying at first. But to be fair, buying direct means you get the most up-to-date version of any Hunter product whenever you order.
Ingredients and How They Work
Unlike its many similar products, this testosterone booster uses nine safe, yet potent ingredients – all of which are backed by the latest research.
In fact, we've long hailed the likes of D-aspartic acid, vitamin D3 and Asian ginseng for boosting testosterone. With this in mind, it's great to find them here in more or less the optimal doses.
But to its credit, Hunter Test also adds testosterone boosting powerhouses indole-3-carbinol (I3C) and ashwagandha to the mix.
No proprietary blends
It's also great to see Hunter Test uses a transparent formula with no proprietary blends.
See for yourself: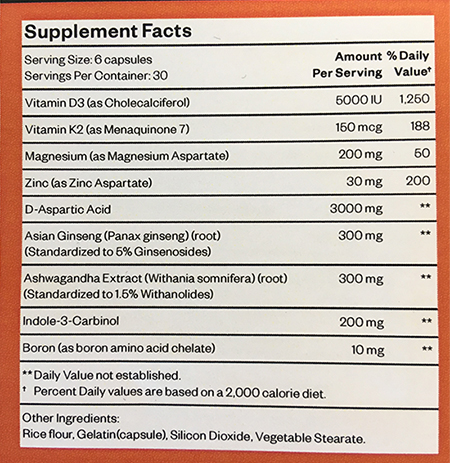 Vitamin D3
More of a hormone than a vitamin, D3 is proven to increase testosterone in men by up to 25%[1] . It also makes you stronger [2] and increases both lean muscle mass [3] and bone strength [4].
The body naturally absorbs Vitamin D through sunlight. So why do you need more Vitamin D3?
Well, experts claim over 1 billion people worldwide don't get enough of this vital nutrient [5]. And unless you live in a hot climate with plenty of sun, you're likely to be one of these people.
For this reason, it's great to find Hunter Test holds 5000 IU of Vitamin D.
Vitamin K2
One of testosterone's unsung heroes, Vitamin K2 is shown to increase T in the testes and blood plasma. One study by Ito, A. et al showed K2 can boost T by 70% in just five weeks [6].
With this in mind, K2 is a worthy addition to any T-booster in its own right.
But K2 really comes into its own when paired with Vitamin D3…
The mix of K2 and D3 also stops too much calcium from building up in your arteries [7]. This not only helps keep your heart healthy, but also leaves D3 free to flow around your body and stimulate more T.
Magnesium
Research by Cinar V. et al shows magnesium boosts both free and total testosterone levels in both active and sedentary individuals [8].
More than 300 enzymes need this mineral to help your body perform a host of different processes [9]. This includes directing nutrients to the right places in your body [10] to ensure you stay healthy.
So whether you want to boost your sex drive, strength, or self-esteem, it's important to get your fill of magnesium.
Zinc
Research shows a strong link between the amount of testosterone flowing through your body and the amount of zinc you consume [11]. The mineral helps your body create more of the Luteinizing Hormone [12], which leads your body to produce more of the male hormone.
Zinc deficiency can inhibit the androgen receptors [13], which causes your testosterone levels to rise.
Research from the American Journal of Clinical Nutrition shows zinc increases the proteins that promote DNA recovery [14], as well as raising the amounts of antioxidants in your body.
This gives your body the vital nutrients you need to induce muscle growth, recover faster and stay healthy.
See Supplement Tester's 
Highest-Rated Testosterone Boosters Here
D-aspartic acid
D-aspartic acid (D-AA) has been one of our must-have testosterone boosting ingredients for a long time now. In fact, one study shows the amino acid may boost testosterone by up to 60% in 90 days [15].
D-AA sends messages to your brain to signal the release of the Luteinizing Hormone (a key testosterone precursor) to increase levels of the male hormone [16].
It also acts on the Leydig cells in the testes to produce more of the male hormone [17]. D-AA is even shown to help the body convert cholesterol into testosterone [18].
This three-pronged attack makes D-AA a testosterone-boosting colossus.
Asian ginseng
Also known as Panax ginseng, Asian ginseng increases the sex hormones [19] which allow your body to produce more testosterone. As a result, it may enhance your sex drive and strengthen erections [20] to help you recapture your youth.
Research also shows this herb can boost energy levels and help you perform better under both physical and mental stress [21].
So whether you're at work, at home, or in the gym, you'll always be at your best.
Panax is the only form of ginseng shown to boost testosterone
While other forms of Ginseng contain ginsenosides (the active ingredient), only the Asian form has enough to boost your testosterone levels. The worst impostor is Siberian ginseng, which doesn't contain any ginsenosides at all [22].
And while American ginseng is superior to the Siberian version (because it contains the active ingredient), nothing compares to Asian ginseng.
With this in mind, it great to see Hunter Test lives up to the promise of  "premium performance" by using the only true form of the herb.
Ashwagandha
Widely hailed as the "king of the Ayurvedic herbs" [23], ashwagandha is shown to boost testosterone [24].
But the herb is also a potent adaptogen that reduces cortisol, a hormone related to stress [25]. Because of the proven link between high stress and low testosterone [26], the use of Ashwagandha is good news if you work in a high-pressure environment.
Indole-3-Carbinol
Indole-3-Carbinol (13C) is an aromatase inhibitor [27], which may stop your body from converting valuable testosterone into estrogen (the female hormone).
Boron
You'll find Boron in at least one of our favorite testosterone boosters, so it's awesome to find it here alongside so many other great ingredients.
Research shows the mineral may raise testosterone by as much as 28%, while reducing estrogen by up to 39% [28]. This helps you get (and stay) trim, while also lowering the risk of developing the dreaded 'man-boobs'.
Boron also helps your body absorb steroid hormones like Vitamin D3 more efficiently to raise your testosterone even higher.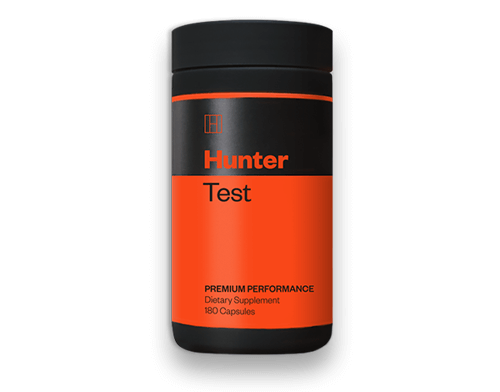 See Supplement Tester's 
Highest-Rated Testosterone Boosters Here
Dosages and Serving Sizes
Hunter Test contains 180 capsules per bottle (a monthly supply). This amounts to a daily serving size of six capsules, rather than the standard four. Why does this matter? Because it makes Hunter Test a more powerful formula with (more or less) the perfect amounts of key ingredients.
Of course, this also means it offers better – and even faster – results.
Hunter Test Side Effects
If you take Hunter Test at the recommended dosages you shouldn't experience any side effects. Though always remember to consult your medical professional if you're unsure or are taking any other medication.
Pros and Cons
Pros:
Increases your strength, sex-drive and self-esteem
Lifts your mood and your sperm count
Boosts muscle growth and recovery
Reduces estrogen – helps maintain your weight and prevents man-boobs
Prepared to strict FDA and cGMP standards
A truly high-grade product in every respect
Cons:
Premium price tag – $75 is a lot of money for a testosterone booster (even if you do get what you pay for)
Unsuitable for vegetarians – uses gelatin capsules
Only available from the brand website
See Supplement Tester's 
Highest-Rated Testosterone Boosters Here
Hunter Test Review Conclusion
Hunter Test contains all the ingredients you would expect to see in a testosterone booster and we're impressed with the construction of the product, to the capsules themselves to the packaging.
What we don't like 
The only thing we didn't like about Hunter Test is that it's only available from the brand website. But when we figured out that selling direct allows the behind-the-scenes boffins to ensure you only ever get the latest and best version of the product, we weren't too concerned.
Hunter Test uses gelatin capsules, so it's not suitable for vegans or vegetarians. But apart from these two minor gripes, we've got nothing but good things to say about this testosterone booster.
What we love about Hunter Test
Hunter Test has a clear and transparent formula, and contains no proprietary blends.
The list of ingredients are shown to work, and are dosed at an optimal level.
Our verdict
Hunter is very close to TestoFuel (still our number-one pick); they both contain the all-important D-AA, D3 and Asian ginseng – key ingredients in any decent testosterone booster.
As you'd expect from a premium formula, Hunter Test takes this power even further by adding ashwagandha, I3C and boron.
On the one hand, TestoFuel costs less, has many of the same ingredients and represents great value.
But while it costs $75 – which is a lot to pay for any supplement – Hunter Test is the best in every other respect. Its biggest selling points are the larger doses and serving sizes.
References