Hunter Burn is a premium fat burner from a new brand – Hunter. Each $75 bottle provides 180 capsules (six capsules per day for 30 days).
This fat burner claims to help you:
Shed fat
Retain muscle
Keep hunger cravings at bay
Increase energy
The Hunter website recommends taking Hunter Burn for 90 days to see the best results.
Many fat burners will claim to be premium, or have premium ingredients, though that isn't always the case when you scratch beneath the surface.
About the Company
Hunter is a specialist supplement brand based in the UK. Many brands will sacrifice quality for quantity, releasing a lot of products with a range of supposed benefits. Hunter makes and sells just three products. These are Hunter Focus (nootropic), Hunter Test (testosterone booster) and Hunter Burn.
The brand also ensures its products are only available from the brand website. I found this a little irritating at first as I like to shop around to find the best price.
However, Hunter say direct selling gives them complete control of their inventory. This direct-to-consumer model also allows Hunter to regularly update its products in line with the latest research.
The Ingredients and How They Work
We're glad to see Hunter Burn doesn't use proprietary blends. Here at Supplement Tester, we're on a crusade to stamp out these hidden formulas. Why? Because they give you no way to assess how safe or effective they are.
Hunter Burn uses a few key fat-burning ingredients in Konjac Root (Glucomannan), Green Tea and Cayenne Pepper.
This fat burner even throws in a couple of other top-notch ingredients. Vitamin D3 is the most surprising addition on the list as I don't tend to see it in many fat burners – it's more common in testosterone boosters. But the simple addition of D3 in this fat burner could be a masterstroke.
See the ingredients for yourself below: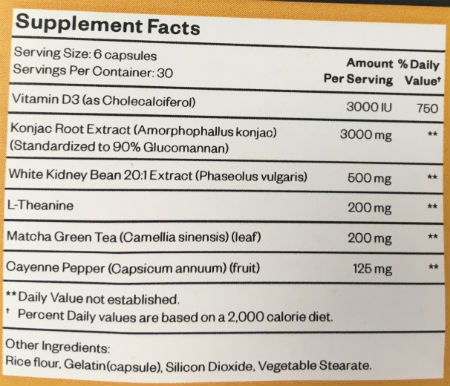 Vitamin D3
At Supplement Tester, we love vitamin D3. In fact, we wouldn't trust any test booster that didn't pack a healthy dose of this awesome steroid hormone.
But does it work in a fat burner?
I'll admit I was surprised to find D3 in Hunter Burn. But when I thought about it, I soon realized using D3 here is a stroke of genius…
Vitamin D3 has been proven to boost testosterone [1], which helps increase and maintain muscle mass [2]. At least one study also shows Vitamin D reduces fat mass [3].
Konjac root extract
Konjac root extract is better known as glucomannan. And if you've read Supplement Tester articles before, you'll know glucomannan is one our favorite fat-burning ingredients – and with good reason.
This dietary fiber is one of the few proven appetite suppressants on the market. It works by expanding in your stomach to make you feel fuller [4]. This in turn may make you less likely to give in to temptation while you're on a diet [5].
Konjac root also helps regulate blood sugar [6], which in turn helps aid weight/fat loss [7].
How much konjac root do you need?
A study by Keithley, J. et al recommends a dose of 2-4 grams per day to help control hunger. With this in mind, it's great to find an optimal 3000mg in Hunter Burn.
White kidney bean
White kidney bean extract is a carb blocker [8]. Or to put it another way, it stops your body from absorbing more carbs than it needs to perform at its best. And as excessive simple-carb consumption is shown to lead to weight gain [9], this is great news.
Carb blockers are most effective for those times when you slip up and eat the wrong foods. So you may be wondering why you need white kidney bean when Konjac is on hand to help you fight carb cravings.
But while konjac root is proven to keep your appetite in check, you wouldn't be alone if you raided the snack drawer every once in a while – you're only human. The Hunter Burn web page puts it well when it says white kidney Bean gives you "peace of mind" and helps "prevent diet disasters."
Why White Kidney Bean may be the king of carb blockers
White kidney bean is one of the few ingredients shown to break down complex carbs into less-healthy simple carbs [10]. The result? Food passes straight through your system – and your body stores less of it as fat.
See Supplement Tester's 
highest-rated fat burners here
L-theanine
On first glance, I was a little surprised to see L-theanine in Hunter Burn because it's usually paired with caffeine to create 'Smart Caffeine' [11].
But again, the guys at Hunter are one step ahead of us – and using the calming agent on its own makes complete sense.
Why? Because L-theanine has been shown to help users shed fat.
No-one seems certain how L-theanine induces fat loss, but you can't argue with the facts. It's thought the amino acid breaks down triglycerides (which help the body break down fat stores). L-theanine's calming effects may also influence your ability to lose weight.
Matcha green tea
Alongside cayenne pepper and konjac root extract, green tea is one of best fat-burning ingredients out there.
The key to green tea's fat-burning power are catechins. These natural phenols block the fatty acid synthase enzyme and induce lipid oxidation [12] to help you lose the belly. Green tea is also a thermogenic – in other words, it ramps up your metabolism to help keep your diet on track.
But the green tea in Hunter Burn is even better…
Matcha green tea is three times stronger than the common type [13], making it even more likely to help you shed the chunky excess.
Cayenne pepper
Cayenne pepper is crushed red-hot chili pepper. Rich in capsaicin (the main active compound) [14], it's also a powerful thermogenic and an awesome fat-fighting compound.
The fruit boosts your metabolism by heating your body up, which then forces it to burn more energy (calories) to return to normal.
Cayenne pepper also helps keep your blood-sugar levels in check and helps your body use carbs more efficiently.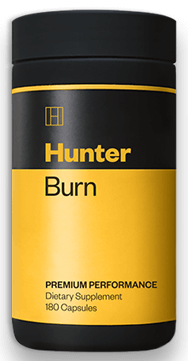 See Supplement Tester's 
highest-rated fat burners here
Dosages and Serving Sizes
With 180 capsules (rather than the standard 120), Hunter Burn offers larger doses and serving sizes than many other fat burners.
Side Effects
Given the list of common ingredients found in the supplement, there shouldn't be any risk of side effects. Though do check with a medical professional if you're unsure.
When using other supplements containing Cayenne Pepper in the past, we've experienced mild heartburn. You may encounter this but it is unlikely given the dose.
Pros:
Helps you cut fat without losing muscle
Allows you to shed fat quickly
Gives you a smooth energy increase (no crashes)
No proprietary blends
Good selection of ingredients
Cons:
Not veggie – capsule made from gelatin
Quality comes at a price – $75 makes it a premium product
Only available from the product website
See Supplement Tester's 
highest-rated fat burners here
Hunter Burn Review Conclusion
Hunter Burn is one of the best fat burners we've ever tested.
What I don't like
I can't think of much bad to say about Hunter Burn. The worst thing I can say about it? It's expensive. Sure – $75 won't break the bank, but it still costs more than most fat burners out there.
It's also a shame Hunter Burn isn't suitable for vegetarians, but you can't have it all. The vegetarians in the office have it tried by removing the powder from the capsule and it seems to work for them.
What I love about Hunter Burn
It may only contain six ingredients. But again, this fat burner is all about quality, not quantity. Plus, the six ingredients are some of the best-researched we've seen in any one of the hundreds of fat burners we've reviewed.
Our verdict
Hunter Burn is one of the best fat burners we've reviewed – and it deserves a place in our Top Three Fat Burners.
Yes, Instant Knockout contains the same three key ingredients (green tea, cayenne pepper, konjac root) at a more reasonable price. That said, the quality of the ingredients in Hunter Burn are slightly better quality – with matcha green tea a prime example of this.
Yes, it may cost more – but if you want premium performance, you have to pay a premium price.
To find out more or buy Hunter Burn, visit the official website 
References