Prime Male Enhance is a "virility support" supplement made by Roar Ambition. Each bottle contains 120 capsules and costs $65 per bottle.
According to the marketing for the product, Prime Male Enhance may give you:
Longer-lasting erections
"Bigger and better orgasms"
Increased confidence
More energy
Prostate support
Healthier skin, hair and nails
Greater powers of attraction
Okay – this product has our attention. It was only released in early 2020, but is already creating a real buzz online.
Having already tried – and loved – the brand's Prime Male test booster, its apparent quality hardly comes as a shock to us. But can Prime Male Enhance really help you achieve everything it claims to? We're here to help you find out…
About the Company
Prime Male Enhance is made by Roar Ambition – a specialist supplement company. The manufacturer is based in the UK, but has distribution centers on both sides of the Atlantic to aid quick delivery to all its customers – wherever they are in the world.
The Prime Male brand used to be owned and run by Propura until 2019, when the parent company and its trademarks were bought by Roar Ambition.
How selling direct may benefit both parties
All Roar Ambition products are only available direct through the company – either through their individual product sites or via roarambition.com.
While this may disappoint if you love shopping for the cheapest price, this business model ensures that the company is able to fulfill its promise to constantly update its products in line with the latest research.
And it can achieve this without fear that outdated versions will ever get into the hands of honest, unsuspecting customers after languishing on dusty shelves for years in advance.
In theory, this means that whenever you buy Prime Male Enhance, you can be sure you're getting the best version of the supplement at that time.
The Ingredients and How They Work
If you're familiar with Supplements Tested reviews, you'll know that the very first thing we look for are proprietary blends.
We're on a mission to stamp out these sub-formulas, which often show you ingredients without the dosage info you need to make an informed choice.
But as we've come to expect from Roar Ambition, Prime Male Enhance doesn't contain proprietary blends. Instead it uses a transparent list of all ingredients and their portion sizes – normally a sign that a supplement has nothing to hide. Check out the ingredients below…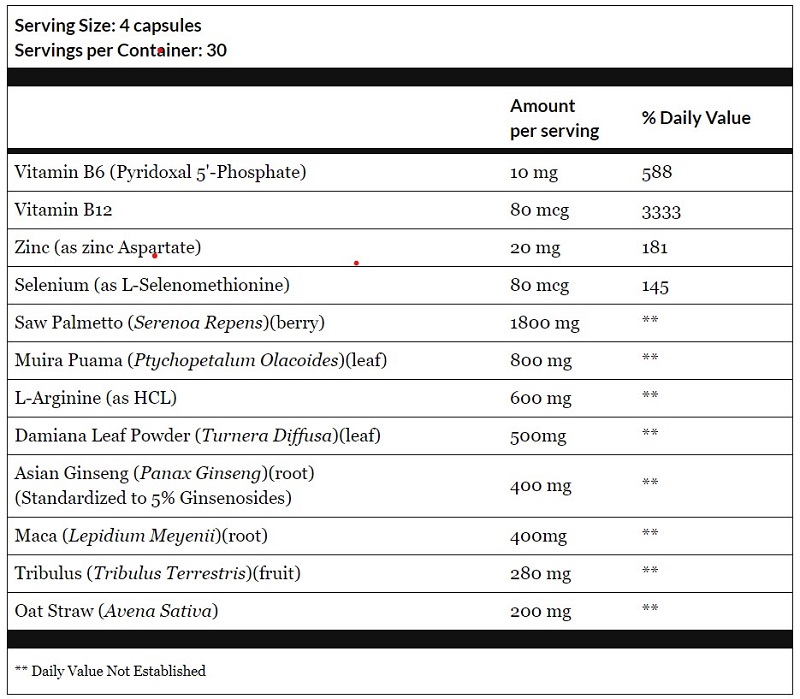 Vitamin B6
As a B vitamin, B6 (also known as pyridoxal 5'-phosphate) is said to play a vital role in energy metabolism[1].  As a result, two the symptoms of B6 deficiency are fatigue and low mood – which doesn't bode well for your sex drive or your motivation in life as a whole[2].
Are there any sexual symptoms of low B6?
Yes. Not getting enough B6 in the diet may lead to erectile dysfunction in men[3] [4]. This is said to be due to raised homocysteine levels, which have also separately been linked to loss of virility[5].
By decreasing your homocysteine levels, B6 supplementation could help restore or enhance male sexual function. B6 deficiency has even been linked to PMS symptoms in women[6].
Vitamin B12
Another important energy-producing nutrient, vitamin B12 (aka cobalamin) is said to play an essential role in the health of your brain and body. It helps your system convert carbohydrates into energy, which can keep you feeling driven and motivated – especially if you weren't getting enough B12 to begin with[7].
Obviously, energy plays a role in your sexual prowess, but does it enhance your bedroom performance directly?
According to research – absolutely! The results from one study recognize that B12 improves semen quality. It goes on to hypothesize that this may be due to "decreased homocysteine toxicity" and lower "oxidative stress"[8].
Zinc
Another essential nutrient, zinc must be obtained from food or through supplements. The mineral is main part of ZMA[9] bodybuilding formulas – and it's easy to see why. Zinc is important for growth and development and for protein synthesis[10].
As a result, it is also said to be vital for fertility. As evidence of this, zinc deficiency has been shown to "impede spermatogenesis"[11].
Selenium
Known for its antioxidant capabilities, selenium is closely linked with a decreased risk of prostate cancer[12]. In a 2012 meta-analysis 5007 studies analyzing the links between the mineral and prostate health, researchers pointed to positive results from selenium supplementation, despite some issues with testing procedures.
Further research from 2017 appears to confirm an "inverse relationship" between high selenium levels and the risk of prostate cancer[13].
Saw palmetto
Saw palmetto has long been touted as a test booster. Sadly, the available research appears to dispute this idea.
With this in mind, it's good that you won't find this ingredient in the Prime Male test booster.
So why is it in Prime Male Enhance?
For two reasons: One – Prime Male Enhance is not a test booster, but a "virility support" product.
And two, saw palmetto has been shown to help prevent prostate enlargement[14], which has been linked to urinary tract infections, erectile dysfunction and decreased libido[15].
Muira puama
Used as an aphrodisiac for centuries in Brazil, muira puama is one of the least well-studied ingredients in Prime Male Enhance.
That being said, examine.com reports that in one study, 51% of men using the extract reported increases in erectile potency after using it for just 14 days[16].
As webmd.com reports, taking the plant extract could also increase the desire for – and the frequency of – sexual activity[17].
L-arginine
L-arginine is a non-essential amino acid. In numerous studies, it has been shown to play a role in nitric oxide production, which could enhance blood flow around the whole body – including the penis[18]. This in turn could result in harder erections and increased sexual desire[19].
Damiana leaf
Derived from the Tunera diffusa plant, damiana leaf is another ingredient in this list that is said to help increase sexual desire.
Research suggests it is particularly effective at increasing libido and sexual energy in those who are "sexually exhausted"[20].
Korean ginseng
Also known Panax ginseng or Asian ginseng, experts have called this ingredient "True Ginseng". This name purportedly stems from the notion that the Korean/Asian strain is the best-researched form of ginseng[21].
It is also said to contain more ginsenosides than other forms[22]. Ginsenosides are the active ingredients which are thought to give "true" ginseng its potential power.
According to article from webmd.com, there's enough evidence to suggest that ginseng could increase sexual desire AND enhance erection strength[23].
But what does the science say?
According to a paper named "Ginseng and the male reproductive function", this "king of all herbs" could improve "copulatory performances" (sexual performance), enhance sex drive and boost sperm quality[24].
Maca
Maca – commonly known as maca root – is widely used as a libido enhancer. And the evidence appears to back this up. In fact, maca appears to help boost sexual desire in people different genders and demographics[25] [26].
Tribulus terrestris
Tribulus terrestris is an herb that has been used as a test booster and muscle builder since it was used as such by Bulgarian weightlifters in the 1970s.
There's one problem: Modern research suggests Tribulus doesn't boost test[27].
But wait! Tribulus has been shown in multiple studies to help increase sex drive[28], raise sperm count[29], and boost erection strength. Which is, of course, why you'll find it in Prime Male Enhance.
To find out more, go to primemale.com
Side Effects
As Prime Male Enhance uses all-natural and well-researched ingredients, it is unlikely to cause any adverse reactions unless you're allergic to any of its ingredients.
However, a small minority of users may experience:
Stomach cramps
Nausea
Trouble sleeping
Headaches
Pros and Cons
Pros:
No proprietary blends
Evidence-based formula
All natural
Could play a role in different markers of sexual performance
Made by a respected manufacturer
May work well with the Prime Male test booster
Multi-buy discounts on offer
Cons:
Only sold direct from Roar Ambition
Animal-based capsule – not vegetarian
Not cheap
Prime Male Enhance Review Conclusion
Prime Male Enhance is a research-based "vitality support" formula that promises a lot – and delivers (for the most part).
If we have a single issue with this product, it's the use of muira puama – which is not as well studied as every other ingredient in the formula.
That said, what do we love about this product? Well, where do we start? This product contains ingredients that appear to cover every aspect of sexual performance. From sexual desire, to potency and even fertility, the guys at Roar Ambition have every base covered.
It may be a relatively new product, but it's also one of the best libido enhancers we've ever tried.
To find out more out Prime Male Enhance, go to the official website.
[1] https://ods.od.nih.gov/factsheets/VitaminB6-HealthProfessional/
[2] https://www.ncbi.nlm.nih.gov/pubmed/11207460
[3] https://drsarahbrewer.com/a-z-of-vitamins/vitamin-b6#Vitamin_B6_and_erectile_dysfunction
[4] https://www.ncbi.nlm.nih.gov/pubmed/17272965
[5] https://www.hindawi.com/journals/ije/2018/7424792/
[6] https://www.ncbi.nlm.nih.gov/pubmed/26989667
[7] https://www.ncbi.nlm.nih.gov/pubmed/22276208
[8] https://www.ncbi.nlm.nih.gov/pmc/articles/PMC5485731/
[9] https://www.webmd.com/vitamins-and-supplements/zma-supplements#1
[10] https://www.ncbi.nlm.nih.gov/pubmed/7854157
[11] https://www.ncbi.nlm.nih.gov/pmc/articles/PMC6010824/
[12] https://www.ncbi.nlm.nih.gov/pubmed/22648711
[13] https://www.ncbi.nlm.nih.gov/pmc/articles/PMC5293444/
[14] https://nccih.nih.gov/health/palmetto/ataglance.htm#know
[15] https://www.medicalnewstoday.com/articles/320954#effects
[16] https://examine.com/supplements/muira-puama/research/#interactions-with-sexuality_erectile-properties
[17] https://www.webmd.com/vitamins/ai/ingredientmono-574/muira-puama
[18] https://www.ncbi.nlm.nih.gov/pmc/articles/PMC4806684/
[19] https://www.health.harvard.edu/staying-healthy/can-supplements-save-your-sex-life
[20] https://www.ncbi.nlm.nih.gov/pmc/articles/PMC5021457/
[21] https://examine.com/supplements/panax-ginseng/
[22] https://www.ncbi.nlm.nih.gov/pmc/articles/PMC6026386/
[23] https://www.webmd.com/a-to-z-guides/prevention-15/vitamins/sex-drive-supplements
[24] https://www.ncbi.nlm.nih.gov/pmc/articles/PMC3861174/
[25] https://www.ncbi.nlm.nih.gov/pubmed/19781622
[26] https://www.webmd.com/a-to-z-guides/prevention-15/vitamins/sex-drive-supplements
[27] https://www.ncbi.nlm.nih.gov/pubmed/17530942
[28] https://www.ncbi.nlm.nih.gov/pubmed/17530942