Hydroxycut Hardcore Elite is a "super thermogenic" fat burner from MuscleTech. It comes with 100 capsules (50 servings) and costs $35.99 from the MuscleTech website.
This fat burner claims to promote:
Fat loss
Extreme energy
Appetite suppression
Enhanced focus
"Powerful weight loss"
"Unrivalled intensity"
Note: There seems to be some confusion between this product and Hydroxycut Hardcore Next Gen. Follow the link to read our Hydroxcut Hardcore Next Gen review.
We've read some great Hydroxycut reviews recently, so it's about time we found out whether Hardcore Elite is worthy of the MuscleTech name. Here's our Hydroxycut Hardcore Elite Review…
Check out our
Highest-Rated Fat Burners Here
About the Company
MuscleTech isn't a company, but a brand. Founded by Iovate Health Sciences in 1995, MuscleTech and its parent company were purchased by Xiwang Foodstuffs Company for $730 million in 2016[1].
The MuscleTech name boasts a huge product range, which is split into five sub-brands: Performance Series, Essential Series, Pro Series, Lab Series, and SX-7 Series. Hydroxycut Hardcore Elite is part of the Performance Series.
Back in 2009, The Hydroxycut name became the subject of controversy after the FDA pulled MuscleTech products from shelves over safety concerns[2]. However, it appears MuscleTech has resolved these issues, as the Hydroxycut brand remains big in the fitness world.
How to Take Hydroxycut Elite
According to the MuscleTech website, you must take Hydroxycut Hardcore Elite "30 to 60 minutes before your two largest meals of the day." It recommends starting on one capsule for the first two days, after which you consume two capsules per day.
Ingredients and How They Work
Hardcore Elite contains just six ingredients, which is both good and (potentially) bad.
It's good because fat burners with more than 10-11 ingredients tend to be underdosed as each one fights for space. But it's potentially bad because a) it could deprive you of key ingredients and b) it could give too much of both great and not-so-great nutrients.
As we dig a little deeper, we see an all-too-familiar story: A fat burner with two or three great ingredients mixed in with two or three bad ones.
See the list of ingredients below: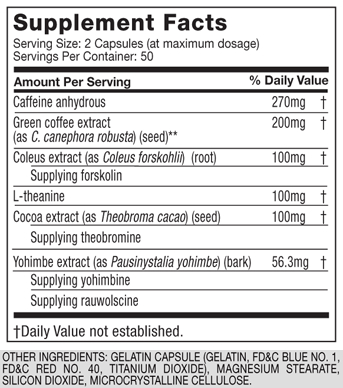 Caffeine Anhydrous
Caffeine is a very well-researched stimulant – perhaps the best-tested in the world.
As long as you take it in the right doses, Caffeine delays fatigue[3], boosts your strength in the gym and gives you back much of the energy you lose when you start cutting calories. It also improves focus and makes you feel more motivated.
How does Caffeine work?
The stimulant performs it magic by antagonizing the adenosine receptors[4] (which send sleep signals to your brain) and making you feel more alert.
Does Caffeine burn fat?
Caffeine also has a thermogenic effect[5]. In simple terms, this means it heats up your body and forces your system to use more energy (calories) to bring itself back to normal.
How much Caffeine do I need for fat loss?
For optimal fat burning, Caffeine works best at a dose between 300mg and 350mg.
Ideally, you should split this into four equal doses of 75-87.5mg. Why? Because this fills you with the energy you need to get through your day, without giving too much in one hit and making you feel anxious.
MuscleTech Hydroxycut Elite provides a daily dose of 270mg, which won't give you the best results. Plus, the serving size of two capsules per day means each dose gives you a whopping 135mg in one go – this could be too much unless you're getting ready to hit the gym.
Green Coffee Extract
Green Coffee Extract derives from Green Coffee Beans, which are exactly the same as the normal kind, except they're unroasted. They're also Caffeine-free and contain chlorogenic acid, the active ingredient that gives this ingredient its fat-burning power.
Chlorogenic acid inhibits the enzyme glucose-6-phosphatase, which reduces the formation of glucose in your liver[6]. This forces your body to use other sources of energy – namely fat[7].
Chlorogenic acid is also shown to improve triglyceride and cholesterol levels[8], which lowers the risk of heart disease.
We've found the perfect dose of Green Coffee Extract to be around 100mg. Sadly, Hydroxycut Elite contains 200mg – which is twice as much much as you need.
Coleus Forskohlii
Also known as Forskolin, Coleus Forskohlii is a tropical herb used for centuries in Ayurvedic medicine.
It's said to help reduce fat mass and levels of fatigue, while also increasing testosterone.
The herb contains the adenyl cyclase enzyme. In theory, this means it can help the body convert adenosine triphosphate (ATP) into cyclic adenosine monophosphate (cAMP)[9]. Again, in theory, this helps raise energy levels and induce fat loss.
Understudied
Early research suggests Forskolin can help overweight or obese men[10] and women[11] lose weight. However, there are a couple of issues with this herb.
First – it's understudied. There's no evidence it can help trained people with their cutting regimes, for example. Second, at least one of the few studies we've read on Forskolin are industry-funded and therefore unreliable[12].
So while Forskolin MIGHT be a decent fat-burning ingredient, there are plenty of better-tested alternatives out there.
See Supplement Tester's Highest-Rated
Highest-Rated Fat Burners Here
L-Theanine
L-Theanine is an amino acid found in Green Tea – it's also an awesome calming agent that works co-actively with Caffeine to give you all of the stimulant's benefits – just without energy crashes or jittery feelings[13].
In fact, the two ingredients work so well together that they're widely known as 'Smart Caffeine'[14].
But L-Theanine also works great in its own right – a wealth of robust research shows it aids relaxation and reduces anxiety[15].
The optimal dose of L-Theanine is 200mg. But sadly, Hydroxycut Hardcore Elite offers just half the amount you need for best results.
Yohimbe Extract
Yohimbe Extract is also known as Yohimbine. It derives from the bark of the Pausinystalia Yohimbe tree in western and central Africa.
And it's also on our list of ingredients to avoid. A great deal of research links the tree bark with a string of adverse side effects[16].
These include everything from sleep problems, to anxiety, rash, nausea… and the list goes on (see the Side Effects section of this review for more info).
But can Yohimbe burn fat?
Well, one study does suggest it can help users lose weight. Of the limited human trials, one study by Ostojic, SM. et al found two daily doses of 10mg lowered subjects' fat mass by 2.1% on average[17].
But another study by Berlin, I. et al declares that "Yohimbine does not represent an effective treatment of obesity."[18].
So not only is there no reliable evidence Yohimbe can help you lose the spare tire; it's also a potential risk to your health
Cocoa Extract
Marketers claim Cocoa Extract boosts fat metabolism to help you lose weight, and decreases inflammation to reduce bloating.
And some research shows a "potential, yet unreliable decrease in biomarkers of oxidation"[19]. Meanwhile, another study implies Cocoa Extract can increase insulin sensitivity[20].
These preliminary findings are clearly the basis for the claims Cocoa Extract can help you burn fat.
However, further research failed to find a direct link between Cocoa Extract and fat mass[21] – it's safe to say it won't shrink your waistline (or your belly).
What's Missing?
There's a number of important ingredients missing from the Hydroxycut Hardcore Elite formula. These include the three titans of the fat-burning world (plus one surprise):
1. Green Tea
Green Tea (Camellia Sinensis) contains a host of antioxidants[22] that can protect and repair every part of your body, including your heart, nerves, liver and more. It's also proven to protect your body against cancer.
Its fierce fat-burning power comes from the presence of catechins, the most potent of which is Epigallocatechin Gallate (EGCG)[23].
Research shows Green Tea increases fat oxidation[24] and boosts your metabolism through thermogenesis[25] which leads to weight loss[26].
2. Glucomannan
Glucomannan is a water-soluble dietary fiber and proven appetite suppressant[27]. When ingested, Glucomannan expands in your stomach to make you feel fuller and reduces the amount you eat.
Hunger is the number one reason diets fail[28], which is why the best fat burners also use appetite suppressants – and it's disappointing to find Hydroxycut Hardcore Elite doesn't contain one.
Of all the ingredients that claim to reduce hunger pangs, Glucomannan is by far the best.
3. Cayenne Powder
Cayenne Powder contains Capsaicin, the active ingredient which lends the fruit extract both its fat-burning power and its distinctive hot 'n' spicy flavor[29].
As a safe, yet potent thermogenic[30], Cayenne Powder lifts your core body temperature. As your body heats up, it goes in cooldown mode and burns more calories as it races to return to resting temperature.
4. Vitamin D3
Vitamin D3 is a staple of the best testosterone boosters – so you may be wondering why we've included in our list of great fat-burning ingredients.
Well, it's not exactly a key fat-burning ingredient. But it does help you maintain muscle mass[31] while cutting calories – so you'll be able to lose the belly AND maintain your manly frame.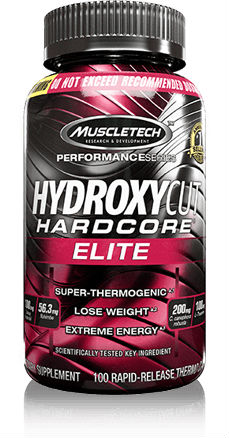 See Supplement Tester's Highest-Rated
Highest-Rated Fat Burners Here
Hydroxycut Hardcore Elite Side Effects
On the whole, the ingredients in Muscletech Hydroxycut Hardcore Elite are safe to take.
However, Yohimbe has been known to cause a long line of adverse reactions. These include:
Headaches
Nausea
Dizziness
Irritability
Frequent urination
Stomach aches
Rashes
Bloating
Anxiety
High blood pressure (hypertension)
Rapid heart rate (tachycardia)
Paralysis
Tremors
Kidney failure
WebMD describes Yohimbe as "not appropriate for unsupervised use" as a result of the potential side effects listed above.
Yohimbe can also have adverse reactions with antidepressants (MAOIs). If you use antidepressants, consult your doctor before taking Yohimbe/Yohimbine, or any product containing it.
Pros and Cons
Pros:
No proprietary blends – you know what you're buying
Lots of other positive reviews
At $35.99, Hydroxycut Hardcore Elite is cheaper than many other fat burners
Cons:
Doesn't contain any appetite suppressants
Yohimbe linked a string of mild and severe side effects
Not enough Caffeine for daily use
135mg dose of Caffeine may be too much in one go
Missing key ingredients like Green Tea, Glucomannan and Cayenne Powder
Hydroxycut Hardcore Elite Review Conclusion
This Hydroxycut fat burner is neither hardcore nor elite.
The good stuff
Caffeine and Green Coffee Extract are fantastic ingredients that we'd like to see in every fat burner.
Caffeine not only burns fat, but also fights the fatigue you may otherwise feel when dropping your calorie intake. Green Coffee Extract also reduces body weight by reducing the absorption of carbs in the digestive tract.
Meanwhile, L-Theanine is an awesome calming agent that works hand-in-hand with Caffeine to enhance focus and ensure you don't experience any energy crashes.
The bad stuff
After a decent start, the major downside to this fat burner is the use of Yohimbe – several case studies highlight a host of potential adverse side effects.
We would've also liked to see an appetite suppressant (such as Glucomannan) to counteract hunger pangs that bring so many diets to a screeching early stop. Green Tea and Cayenne Pepper are also potent thermogenics that would make much better AND safer alternatives to Yohimbe.
Our verdict
While it contains three great fat burners, the use of ingredients that are undertested (Forskolin), discredited (Cocoa Extract), or potentially unsafe (Yohimbe) ruins this MuscleTech fat burner.
So this is our advice: Don't buy Hydroxycut Hardcore Elite. Instead, spend your money on a fat burner with ONLY proven, safe and potent ingredients.
See what we do recommend
– Highest-Rated Fat Burners Here – 
References
Bloomberg.com. (2018). Xiwang Agrees to Acquire Canada's Iovate Health for $730 Million. [online] Available at: https://www.bloomberg.com/news/articles/2016-06-13/xiwang-agrees-to-acquire-canada-s-iovate-health-for-730-million [Accessed 14 Sep. 2018].
Cbsnews.com. (2018). Why Hydroxycut Had to Kill Someone Before the FDA Could Act. [online] Available at: https://www.cbsnews.com/news/why-hydroxycut-had-to-kill-someone-before-the-fda-could-act/ [Accessed 14 Sep. 2018].
Hunt, M. et al (2011). Effects of diurnal variation and caffeine consumption on Test of Variables of Attention (TOVA) performance in healthy young adults. Psychological Assessment, 23(1), pp.226-233.
Ribeiro, J. and Sebastião, A. (2010). Caffeine and Adenosine. Journal of Alzheimer's Disease, 20(s1), pp.S3-S15.
Astrup, A. et al (1990). Caffeine: a double-blind, placebo-controlled study of its thermogenic, metabolic, and cardiovascular effects in healthy volunteers. The American Journal of Clinical Nutrition, 51(5), pp.759-767.
Meng, S., Cao, J., Feng, Q., Peng, J. and Hu, Y. (2013). Roles of Chlorogenic Acid on Regulating Glucose and Lipids Metabolism: A Review. Evidence-Based Complementary and Alternative Medicine, 2013, pp.1-11.
Onakpoya, I. et al (2011). The Use of Green Coffee Extract as a Weight Loss Supplement: A Systematic Review and Meta-Analysis of Randomised Clinical Trials. Gastroenterology Research and Practice, 2011, pp.1-6.
Wan, C. et al (2012). Chlorogenic Acid Exhibits Cholesterol Lowering and Fatty Liver Attenuating Properties by Up-regulating the Gene Expression of PPAR-α in Hypercholesterolemic Rats Induced with a High-Cholesterol Diet. Phytotherapy Research, 27(4), pp.545-551.
Tresguerres, M. et al (2011). Intracellular cAMP signaling by soluble adenylyl cyclase. Kidney International, 79(12), pp.1277-1288.
Godard, M., et al (2005). Body Composition and Hormonal Adaptations Associated with Forskolin Consumption in Overweight and Obese Men. Obesity Research, 13(8), pp.1335-1343.
Henderson, S. et al (2005). Effects of Coleus Forskohlii Supplementation on Body Composition and Hematological Profiles in Mildly Overweight Women. Journal of the International Society of Sports Nutrition, 2(2), p.54.
User, S. (2018). Product Focus: Coleus forskohlii – Sabinsa Corporation | Health Nutrition Industry. [online] Sabinsa.com. Available at: https://www.sabinsa.com/index.php/newsletters-sep-oct-1999/764-product-focus-coleus-forskohlii [Accessed 14 Sep. 2018].
Parnell, H. et al (2006). Combined effects of L-theanine and caffeine on cognition and mood. Appetite, 47(2), p.273.
Supplement Tester. (2018). Pre Workout Ingredients For Focus – Supplement Tester. [online] Available at: https://www.supplementstested.com/pre-workout-ingredients-for-focus/ [Accessed 14 Sep. 2018].
Song, C., Jung, J., Oh, J. and Kim, K. (2018). Effects of Theanine on the Release of Brain Alpha Wave in Adult Males. [online] Koreamed.org. Available at: https://koreamed.org/SearchBasic.php?RID=0124KJN/2003.36.9.918&DT=1 [Accessed 14 Sep. 2018].
Ec.europa.eu. (2018). [online] Available at: https://ec.europa.eu/food/sites/food/files/safety/docs/labelling_nutrition-vitamins_minerals-sa_yohimbe_en.pdf [Accessed 14 Sep. 2018].
Ostojic, S. (2006). Yohimbine: The Effects on Body Composition and Exercise Performance in Soccer Players. Research in Sports Medicine, 14(4), pp.289-299.
Berlin I, e. (2018). [Lack of efficacy of yohimbine in the treatment of obesity]. – PubMed – NCBI. [online] Ncbi.nlm.nih.gov. Available at: https://www.ncbi.nlm.nih.gov/pubmed/3795978 [Accessed 14 Sep. 2018].
Frank, K. et al (2018). Cocoa Extract Research Analysis. [online] Examine.com. Available at: https://examine.com/supplements/cocoa-extract/ [Accessed 14 Sep. 2018].
Grassi, D. et al (2008). Blood Pressure Is Reduced and Insulin Sensitivity Increased in Glucose-Intolerant, Hypertensive Subjects after 15 Days of Consuming High-Polyphenol Dark Chocolate. The Journal of Nutrition, 138(9), pp.1671-1676.
Ried, K., Frank, O. and Stocks, N. (2009). Dark chocolate or tomato extract for prehypertension: a randomised controlled trial. BMC Complementary and Alternative Medicine, 9(1).
Rietveld, A. and Wiseman, S. (2003). Antioxidant Effects of Tea: Evidence from Human Clinical Trials. The Journal of Nutrition, 133(10), pp.3285S-3292S.
Wolfram, S. (2007). Effects of Green Tea and EGCG on Cardiovascular and Metabolic Health. Journal of the American College of Nutrition, 26(4), pp.373S-388S.
Venables, M., Hulston, C., Cox, H. and Jeukendrup, A. (2008). Green tea extract ingestion, fat oxidation, and glucose tolerance in healthy humans. The American Journal of Clinical Nutrition, 87(3), pp.778-784.
Dulloo, A., Seydoux, J., Girardier, L., Chantre, P. and Vandermander, J. (2000). Green tea and thermogenesis: interactions between catechin-polyphenols, caffeine and sympathetic activity. International Journal of Obesity, 24(2), pp.252-258.
Hursel, R. et al (2009). Effects of green tea on weight loss and weight maintenance. A meta-analysis. Appetite, 52(3), p.838.
Ods.od.nih.gov. (2018). Office of Dietary Supplements – Dietary Supplements for Weight Loss. [online] Available at: https://ods.od.nih.gov/factsheets/WeightLoss-HealthProfessional/ [Accessed 14 Sep. 2018].
Time. (2018). http://time.com. [online] Available at: http://time.com/3836378/why-diets-fail/ [Accessed 14 Sep. 2018].
Janssens, P et al (2013). Acute Effects of Capsaicin on Energy Expenditure and Fat Oxidation in Negative Energy Balance. PLoS One. 2013; 8(7): e67786.
Ludy, M. and Mattes, R. (2011). The effects of hedonically acceptable red pepper doses on thermogenesis and appetite. Physiology & Behavior, 102(3-4), pp.251-258.
Carrillo, A. et al (2013). Impact of vitamin D supplementation during a resistance training intervention on body composition, muscle function, and glucose tolerance in overweight and obese adults. Clinical Nutrition, 32(3), pp.375-381.