Recently, we gave you our review of Dymatize's ISO 100 whey protein isolate. If you have already read it, you may remember that I mentioned Dymatize's Elite Series WPI and that I am a regular user and fan of this particular protein.
Well, my boss here at supplementtester.com has given me the green light to give you a full review of Elite and as usual it will be an unbiased one so that you can make up your own mind as to whether it's the right protein for you.
About the Company
Dymatize have been in the business of making high quality supplements for nearly 20 years. In that time they have picked up numerous awards and gained a loyal following of customers.
Dymatize differ from most other supplement companies, in the fact that the whole manufacturing process is completed in-house, virtually eliminating any chance of contamination of the finished products. This even includes the manufacturing of their own flavors via their flavor development lab.
This lab is only one of eight at their facilities, the others being research and development and importantly quality control labs.
The facilities are USFDA inspected and have been NSF GMP Certified for Sport®.
If this isn't enough, every batch of supplements to come out of production is quarantined for three days while random quality control sampling for "potency and purity" is carried out for our peace of mind.
The Ingredients and how they work
The labeling "Dymatize Elite Whey Protein Isolate" is a little misleading. The mix is actually a blend of whey concentrates (WPCs) and Isolates (WPIs). The difference between the two is in their protein concentration after processing.
Generally, concentrates contain between 70-80% protein after processing compared to 90-100% for isolates.
While the branding is misleading, the nutritional facts are reassuring, with each serving providing you with 24gm of protein (from WPIs and WPCs).
BCAAs
Like all protein supplements, Dymatize Elite contains naturally occurring BCAAs as well as non-essential amino acids. The dosages and each BCAA's function are as follows and are an average content per scoop (31gm).
Leucine 3,180mg
It helps to maintain the nitrogen balance in our body and supplies energy to the body during our workouts. By doing this, it conserves glycogen used for muscle contraction.
It also increases alertness and focus during your workout. It is one of the most important amino acids for protein synthesis.
Low levels of Leucine mean your body won't be able to convert protein for building and repairing muscle tissue efficiently.
Valine 1,757mg
Essential for the growth and repair of tissue, Valine is another amino acid that helps to maintain the nitrogen balance in your body. It can also be used as a source of energy for muscle tissue during exercise, again preserving your body's glucose stores.
Isoleucine 1,878mg
A precursor for glutamine and alanine which we need during intense physical activity like weight training. It's also used as a fuel source by muscle cells and preserves others such as glycogen.
Isoleucine is also important for protein synthesis and has anabolic and anti-catabolic properties, increasing endurance while reducing fatigue and muscle tissue break-down.
Enzyme Blend
To speed and maximize absorption, Elite WPI uses 40mg of enzymes per scoop in a blend named Zytrix®. It contains three enzymes: Lactase, Protease and Lipase. These act by "predigesting" the protein, enabling your body to absorb it more efficiently.
This is important for two reasons.
1. In the periods immediately before and after our workouts, the delivery of BCAAs is essential for performance, growth and repair of muscle tissue. If the protein is slow to be absorbed, we actually miss the window of opportunity to maximize the benefits of our workouts and supplementation.
2. For anyone who is lactose intolerant, the predigestion through enzymes can greatly reduce or in some cases eliminate, the common problems encountered when they consume dairy products.
Nutritional Info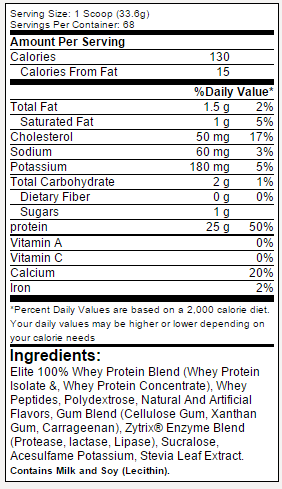 The macro nutrient breakdown for Dymatize Elite is nothing out of the ordinary, with the exception of the protein content, which is high for its class.
The calorie and fat content varies very slightly, depending on which flavor you use.
Serving size: 31gm (1 scoop)
Calories: 117
Calories from Fat: 17
Protein: 24gm
Total Fat: 1.5gm
Saturated Fat: < 1gm
Carbs: 2gm
Sugars: 0gm
Taste
One of the big selling points for Dymatize has always been the great taste of their products. (Remember they have their own flavor lab.) Although I'm not hugely swayed by the taste of my supplements, I still want something I can ingest without a chemical before, during and after-taste.
With Elite, I've never had that problem with any of the flavors I've tried so far.
My personal choice is Rich Chocolate. However out of the user reviews at Bodybuilding.com, Cafe Mocha was is the narrow winner, with a rating of 8.6 out of 10.
One flavor that gets a universal thumbs down is Butter Cream Toffee with only a 5.9. I haven't tried this flavor, but most of complaints I've read were that it is too sweet.
With that in mind, it's good to know Dymatize Elite is available in 9 flavors but it is surprising to me that the scores for all were quite low compared to other brands.
Mix-ability
This protein mixes very well. I use an old dinosaur of a shaker bottle, but twenty seconds and I've got a protein shake that's smooth with no grittiness or sediment. It mixes equally well in water or low fat milk.
I haven't tried mixing it with juice but by all accounts, it mixes equally well.
Cost
Dymatize Elite comes in 2lb, 5lb and 10lb containers and also 10 serving packs. The recommended retail prices are $41.60, $70, $130 and $20 respectively. At $0.87-$1.39 / serve, Elite is quite cheap to start with.
However there are some great savings to be made by shopping around.
The best deal I found was at www.goodforlifeshop.com where they were offering the 2lb containers at 3 for $62. ($0.68 / serve). Bodybuilding.com also had good promotions with
The best being 10lb for $87 ($0.58 / serve). The drawback there being there are only 4 flavors available in the 10lb size.
Pros and Cons
Pros
Low cost protein compared to others with a similar protein / BCAA profile.
Dymatize has a long history of quality supplements.
Made in-house from quality ingredients and with very strict quality control.
Low carbohydrate profile.
0 fat.
Good BCAA profile.
Good taste.
Very good mix-ability.
The company has FDA and NSF GMP Certified for Sport® certification.
Cons
Some of the flavors don't score as highly as other brands with users.
Dymatize Elite Whey Protein Isolate Review Conclusion
Although it is a blended protein, Dymatize Elite offers great performance at a lower price. At 24gm of protein per serve, it's right up there with the more expensive brands including its sibling, ISO 100.
In terms of its BCAA profile, they are in a lower concentration than some other proteins, but most of those are more expensive.
Also low carbs and sugar make it ideal for anyone on a carb restrictive diet and the enzyme blend makes it accessible for many of those who are lactose intolerant.
I recommend Dymatize Elite to anyone who is looking for a high protein content at a reasonable price. (That's all of us right?)
If there's anything negative to say, it would be to stay clear of the Butter Cream Toffee flavor.