AlphaTest is a testosterone booster from the well-known MuscleTech brand. It comes with 120 "rapid-release" capsules (60 servings) and costs $19.89.
This product claims to:
Support free testosterone
Boost ATP and "total testosterone already within a normal range"
Raise free testosterone
"Maintain peak testosterone to cortisol ratio"
Enhance training performance
A video on the MuscleTech website claims the ingredients in AlphaTest are backed by "multiple published studies", and that it uses "clinical doses of every serving."
Having reviewed hundreds of test boosters in our time, we read this kind of self-serving nonsense all the time – so we're a little skeptical. But we could be wrong.
Read our MuscleTech Pro Series AlphaTest review to see whether it really is "the most advanced testosterone-boosting formula you can get"…
About the Company
MuscleTech isn't a company, but a supplement brand owned by the Xiwang Foodstuffs Company. The Chinese company bought MuscleTech from Kerr Holdings for $5.84 million in 2016.
The MuscleTech product line is sold under four different sub-brands: Performance Series, Essential Series, SX-7 Series, and Pro Series (of which AlphaTest is part).
The MuscleTech Pro Series includes protein powders, creatine products, and vitamin supplements.
Ingredients and How They Work
AlphaTest contains six ingredients – which is both good and potentially bad. It's good because test boosters with more than 10-11 ingredients tend to be underdosed. And it's potentially bad because it could leave out, or overdose, key ingredients.
As is the norm with most test boosters, AlphaTest uses 2-3 ingredients we're glad to find, plus a few disappointing ones.
See for yourself: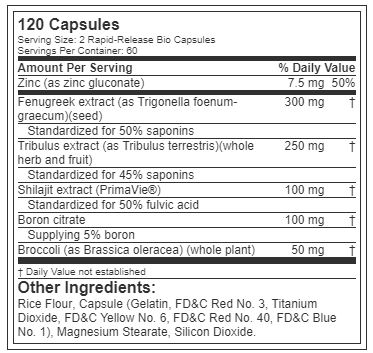 Zinc
Zinc is an essential mineral that supports everything from brain function, to healthy testosterone levels and libido. Research shows a strong link between Zinc deficiency and low testosterone.
This is particularly important for athletes and lifters; low levels of Zinc and frequent exercise can combine to sap the body of its anabolic power.
Zinc is also shown to have anti-depressive effects. And as being in a good mood can make you feel more confident and driven, it's clear Zinc has both indirect and direct influences on your T-levels AND performance in the weight room.
The optimal dose of Zinc is 10-30mg. Unfortunately, this means AlphaTest doesn't use enough to give you the full benefits.
Fenugreek Extract
Fenugreek is often ignored by many in the world of fitness nutrition –  but we're very pleased to find it in AlphaTest. The herb raises total and free testosterone, sharpens your sex drive, and help you shed the spare tire.
Studies show Fenugreek performs its magic by lowering insulin. This then leads to a fall in the levels of the sex hormone binding globulin (SHBG) and allows your testosterone to rise.
Tribulus Extract
Also known by its full name, Tribulus Terrestris, this ingredient was once considered a vital part of any T-booster.
Not anymore.
The herb became popular in the 1970s after Bulgarian weightlifters attributed their success to it. But hindsight tells us it's likely this claim was just a ruse to hide the illegal use of anabolic steroids – a practice we now know was rife behind the iron curtain during the Cold War.
Tribulus: The science
The notion that Tribulus could boost T does have a bit of science behind it. It contains the active ingredients steroidal saponins  – which add T-boosting power to Panax Ginseng.
However, several studies have dismissed claims Tribulus can boost T, or increase lean muscle and strength.
And while it appears to enhance sex drive, there's little need for this single benefit in a supplement using other proven T-boosters and sex-drive enhancers.
Health concerns
As you can see on the AlphaTest label, this product contains both the whole herb and its fruit. WebMD declares the Tribulus fruit to be "LIKELY UNSAFE." This is due to reports of lung problems developing in those who eat the fruit.
While thousands of people use AlphaTest, these potential health issues are certainly worth considering before you buy.
SupplementTester's Highest Rated
– Highest-Rated Testosterone Boosters –
Shilajit Extract
Shilajit is a mineral-rich, tar-like compound traditionally used to enhance the quality of life and prevent illness. It's also claimed Shilajit can lift users' moods, improve memory and raise energy levels.
But its use for a number of ailments of centuries, Shilajit remains surprisingly untested.
Industry-funded research
Of the limited research that does exist, this ingredient appeared to boost testosterone in infertile men aged 45-55. But this study was funded by people who stand to gain financially from the sale of Shilajit.
So without further research to confirm those findings, there isn't enough to justify using Shilajit in a supp.
Besides, even if the research was reliable, there's no way to tell whether the compound has the same effects on younger, or otherwise healthy, men.
Boron Citrate
Boron is a dietary mineral that's proven to be a potent test booster.
One study by Naghii, MR et al shows that taking just 10mg per day for two weeks may increase free testosterone by up to 28.3%. The same study suggests Boron achieves this by inhibiting the sex hormone binding globulin (SHBG).
This same mechanism results in lower estrogen levels, which allows T to rise and stops you from developing the dreaded man boobs.
After testing hundreds of test boosters in our time, we've found most users need to supplement their diets with just 5mg of Boron to achieve great results. AlphaTest supplies 5mg of Boron – which is perfect!
Broccoli
It's unusual to find Broccoli in a testosterone booster – its constituent compounds like Indole-3-Carbinol (I3C) are far more common. I3C is anti-carcinogenic, which is part of the reason why Brocolli has such a strong rep as a health food.
I3C also helps rid the body of excess estrogen, which makes the green vegetable a fantastic addition to any bodybuilder's diet.
However, most of the studies showing I3C's T-boosting power focus on a concentrated form of the compound in isolation, rather than on broccoli as a whole.
So while the Broccoli in this supp might do you good, using I3C would have been the better-tested and more reliable option to boost T.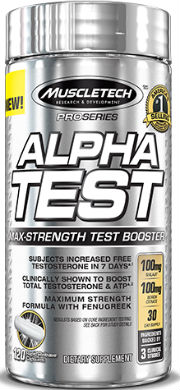 SupplementTester's Highest Rated
– Highest-Rated Testosterone Boosters –
AlphaTest Side Effects
On the whole, the six ingredients in AlphaTest are safe.
However, AlphaTest contains Tribulus fruit, as well as the herb. WebMD describes the fruit as "LIKELY UNSAFE" due to reports of lung complaints in some people who have eaten it.
Due to the very limited research on Shilajit, there's no way of knowing whether it is safe or not.
AlphaTest Pros and Cons
Pros:
Zinc, Fenugreek and Boron are great T-boosters
Contains a perfect dose of Boron
No proprietary blends
Cons:
Not enough Zinc
Too much Fenugreek
Tribulus does not raise T
Very little research on Shilajit – not enough to justify its use here
13C would be a more reliable T-boosting alternative to Broccoli
Misses out key ingredients like Vitamin D3, D-AA, and Panax Ginseng
SupplementTester's Highest Rated
– Highest-Rated Testosterone Boosters –
AlphaTest Review Conclusion
The marketing for Pro Series AlphaTest boldly claims the product is the world's "best testosterone-boosting formula" – but it isn't.
What we like about AlphaTest
Like most test boosters we review,  AlphaTest contains two or three great ingredients. In this case, it's Zinc, Fenugreek, and Boron – all of which you'll find in some of the best products on the market.
What we don't like about AlphaTest
AlphaTest uses Tribulus Terrestris, which in-depth research shows does NOT boost testosterone. It also uses Shilajit, which is seriously undertested.
In fact, of the limited research on its ability to boost T, the only positive results came from an industry-funded study (making it unreliable).
And while there's no doubt Broccoli offers a lot of health benefits, it's better to get your fill from food.
The cruciferous vegetable contains the active ingredient I3C, which is well-tested and shown in tests to boost T. With this in mind, it would be better to include this compound, rather than Broccoli as a whole.
Our verdict
AlphaTest is superior to many products at twice the price – but that doesn't mean it's good.
This product is far from being the best testosterone booster on the market. It's just a run-of-mill product that offers nothing special. The use of Broccoli is a slight break from the norm, but this isn't a reason to recommend it.
Yes, it contains some good ingredients, but it also misses out quite a few. The likes of Panax Ginseng, D-Aspartic Acid, and (especially) Vitamin D3 would improve this formula a great deal.
But as it stands, we recommend you look elsewhere.