As levels of testosterone invariably drop over the years – the average male loses one per cent of his testosterone a year from around the age of 30. Loss of energy and libido can sadly follow, but  Prime Male, looks to have the have the answer.
Aimed specifically at men with declining testosterone levels, Prime Male looks to combat the side effects of low testosterone by naturally and safely increasing levels.
The benefits of Prime Male include…
Increased energy
Improved libido
Lean muscle
Loss of excess weight
New confidence
Enhanced focus
Only available from the official website, www.primemale.com, Prime Male includes and extensive list of ingredients that work together to increase testosterone and benefit your life in a number of ways.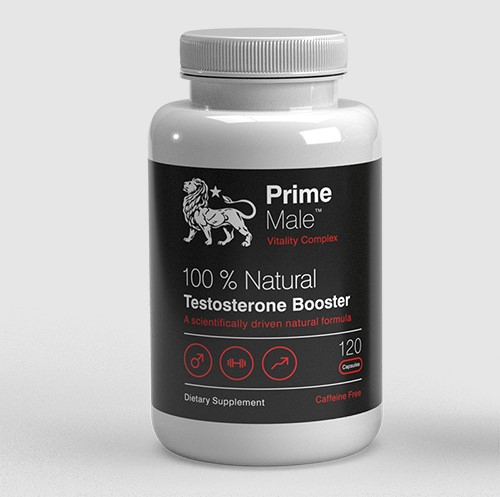 The company
Prime Male has been around since 2014 and looks to have a great reputation, there are endless positive customer reviews around the web and on YouTube.
The brand is endorsed by action move legend Dolph Lundgren and NFL hall of famer, Andre Reed. These guys would have only put their name to this brand if they believe in it.
Prime Males products are manufactured in an FDA registered facility in accordance with Good Manufacturing Practices for nutritional supplements.
They ship worldwide from their depots in the USA and UK and have various offers in their website.
As well as this flagship testosterone booster, they also have a male enhancement product called Prime Male Enhance. The two products work very well together.
Ingredients and how they work
With one capsule to be taken four times a day, Prime Male fits in nicely with effective supplement regimes.
It contains large doses of the main testosterone-boosting ingredients – and it is good to see no proprietary blends, meaning you know exactly how much of the good stuff you are getting:
D-Aspartic Acid – Plays a key role in the release the luteinizing hormone, helping create testosterone in the testes. Studies have shown that taking D-AA can significantly increase in testosterone levels after just 12 days.
Vitamin D3 – Produced in the skin via the exposure to sunlight, as well as being found in some foods, vitamin D3 has a positive impact on testosterone. It does so because Vitamin D3 is classed as a hormone, rather than a vitamin. Most men struggle to get enough vitamin D3 due to their country or job that doesn't allow for a lot of sunlight. Studies show that men with good levels of vitamin D have had higher amounts of testosterone than those with a deficiency in the essential nutrient.
BioPerine – This patented form of the piperine extract helps the absorption rates of key nutrients.
Luteolin – One of the best aromatase inhibitors of the natural world. Luteolin is key to reducing estrogen production. It was compared against over 1,400 different natural compounds and was found to be the most effective at shrinking the female hormone. It also stimulates androgens, which makes more testosterone.
Magnesium – Studies have shown that greater levels of magnesium in the blood have a direct link to an increase in the amount of free testosterone. This is because magnesium inhibits sex hormone binding globulin (SHBG), which makes less testosterone available for the body to use.
Boron – A difficult nutrient to incorporate into our diets naturally, but Boron is a big help at raising Testosterone. It has been seen to both raise testosterone and decrease estrogen and even reduces SHBG. In this study, men taking boron decreased their estrogen by 39% while raising their testosterone levels by almost 30%.
Mucuna Pruriens – This herb contains levodopa (L-DOPA), which is a direct precursor to dopamine. Mucuna pruriens can also reduces stress by inhibiting the hormone cortisol.
Nettle Root Extract – Helps free up testosterone by binding with SHBG, while also elevating testosterone levels naturally.
Ginseng – Research into the effects of this popular herbal medicines on testosterone has shown it can boost testosterone levels, while it can also help improve erectile dysfunction.
Vitamin B6 – Increases the production of testosterone in the testes by stimulating androgen receptors.
Vitamin K2 – Important for maintaining steady levels of testosterone in the testes, vitamin K2 also helps vitamin work more efficiently.
Zinc – Has been proved to increase testosterone levels, while having the added benefit of inhibiting the aromatase enzyme which converts testosterone into estrogen.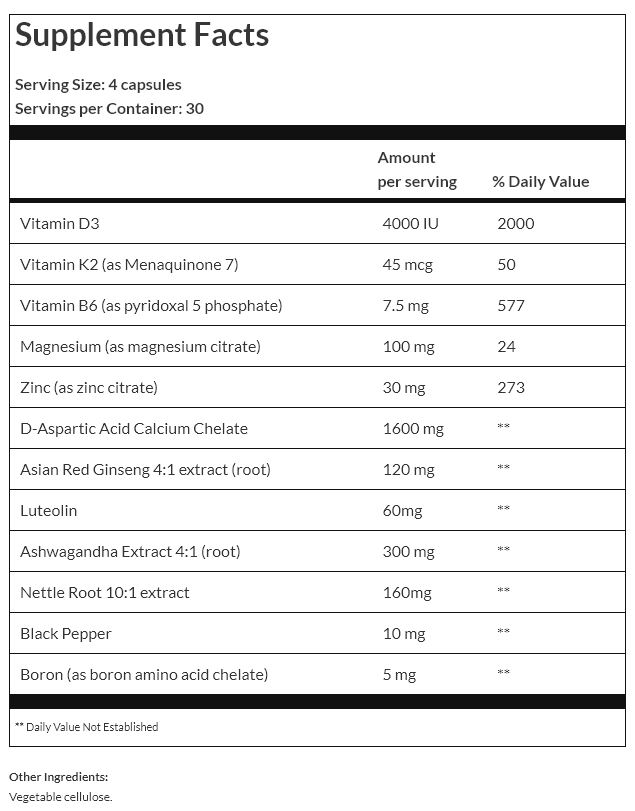 The formula is vegan, it uses clear veggie capsules.
How to take
Take one capsule four times per day with a meal or snack. For optimum results, take daily and consistently.
Prime Male side effects
Prime Male contains no harmful synthetic ingredients, so it is safe to use and should have no unwanted side effects. It is always best to check the ingredients list, though, in case you are allergic to anything contained in Prime Male.
Customer reviews
When searching around the web, on their website, on Amazon, trustpilot and YouTube. We found a huge number of positive reviews. So many men are raving about Prime Male and recommending it. Here's a video from YouTube:
The best place to see all the views is on the testimonials page Primemale.com/testimonials
Prime Male pros and cons
Pros
Boosts free testosterone levels & supresses estrogen
Specifically created for men with declining testosterone levels
An impressive list of testosterone-boosting ingredients
No side effects
Thousands of positive reviews and endorsed by known celebs
Fast worldwide delivery
Cons
Premium priced
Can't purchase in the shops or elsewhere
Review conclusion
There is no arguing with the impressive array of natural testosterone-boosting ingredients contained in Prime Male. The formula is impressive, it's the best that we have ever seen.
We like that it specifically boosts free testosterone, which is the type of testosterone that provides you with all the health benefits that you are looking for. It also helps to suppress estrogen levels. These two things combined will increase energy levels, libido, muscle and strength.
Out of the hundreds of testosterone boosters that we have reviewed, Prime Male is our top recommendation. There's no other brand out there that has such a good formula, has so many positive reviews and is used by a Hollywood star and top NFL player.
Buy from www.primemale.com
Our personal Prime Male review
What I bought:
Prime Male 3 Month Supply – Includes 3 Boxes of Prime Male + 1 Free Box + Free Worldwide Shipping
The Experience
After reaching 30 your testosterone levels drop by 1% every year, as I'm now over 35 the thought of taking Prime Male really appealed to me – and it did not disappoint.
Month 1 – 2
The first month using Prime Male I only noticed one real change – energy. I was more alert and definitely more focused in work.
After doing some research, numerous forums and reviews told me to stick with Prime Male for at least three months to get the full effects – and I'm glad I did.
They were right. Two months in you'll notice bigger changes. You feel overall more refreshed and focused. Life seems 'more manageable' and I personally found myself being generally more assertive.
If you're training you're going to have more motivation as well – I experienced faster muscle growth and not much soreness the day after.
You find yourself looking forward to the gym more, with your waist getting noticeably leaner, and shoulders becoming fuller and more sculpted.
Month 3
By month three a lot changes. My mood was up, my energy levels were up and I felt a lot more motivated both in and out of the gym. My sex drive was up as well, I had become 'intimate' with my partner a lot more frequently than usual (much to her delight!).
Final Thoughts
If you're on the fence about Prime Male, I suggest you try it like I did. When you buy 3 bottles, you get 1 bottle free – which I highly recommend, it can take a few months to boost testosterone levels. 
You can read more about the supplement and how it's been helping other guys over at www.primemale.com.
Our top-three testosterone boosters
To find out which supplements we have rated as our best testosterone boosters, check out our top-three guide.