In its description for 24/7 Burn, BPI Sports refers to the fat burner as both an energy booster and a stimulant-free product – surely a contraction in terms.
Nonetheless, 24/7 Burn does have a few fans (as well as detractors) online.
Claims to be:
A healthy weight-loss formula
An energy booster
Great for weight loss
An appetite suppressant
A metabolism booster
Stimulant-free
Available at around £22 in the UK and $30 in the US, 24/7 Burn sits at the cheaper end of the fat-burning market. And it's worth noting that it's not even listed on the BPI Sports website.
So is the company's obvious lack of faith in its own product justified, or is this inexpensive fat burner one of the industry's best-kept secrets? Let's take a closer look…
About The Company
BPI Sports is a UK-based nutrition company which sells a range of fitness and nutrition products. These include everything from protein powders, to testosterone boosters, and of course fat burners.
The company website claims the brand "[looks] beyond the supplements and products" to get "straight to the core of what helps you succeed".
It also promises to "help you reach your goals, whatever they may be".
The Ingredients and How They Work
When we looked at the 24/7 Burn formula, our hearts sank to find it contains two proprietary blends: CLA MATRIX (1g) and 24/7 BURN™ BLEND (750mg).
If you're a regular reader of our reviews, you'll know proprietary blends make us roll our eyes and breathe out a dejected sigh.
This is because proprietary blends contain unquantified sub-ingredients and are only listed as overall amounts.
This is no good because it doesn't allow you to pre-judge how effective a supp may be. It also increases the risk of side effects.
See for yourself: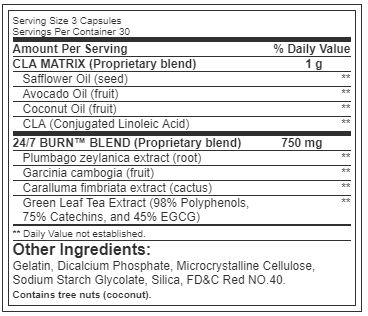 Safflower Seed Oil
Safflower oil is grown in arid and semi-arid climates across the world, especially Australia, India, Ethiopia, Mexico and the USA.
A good source of polyunsaturates, safflower seed oil is said to help users reduce abdominal fat.
The research on the subject highlights some interesting results.
While a 2009 study published in the American Journal of Clinical Nutrition showed safflower seed oil failed to induce weight loss, it did appear to reduce trunk size and boost lean body mass in subjects.
However, the research on safflower oil's efficacy as a fat burner is still relatively flimsy, so we'd advise taking these initial findings with a pinch of salt (at least for now).
Avocado Oil
The avocado hails from South Central Mexico and is known for its pear shape, smooth texture and creamy taste.
The fruit comes in many different forms, but the Hass variety constitutes 90% of the world's commercial crop.
The avocado is rich in nutrients, with large amounts of vitamins B, C, E and K, as well as copper, folate and potassium. It also has the highest lutein content of any fruit, in addition to many other cartenoids and flavinoids.
Along with coconut, avocado is unusual among the fruit family for its high fat content.
But the fruit mostly contains monounsaturated fats (MUFA), which help reduce cholesterol and the levels of the C-protein in your body. This in turn helps lower your risk of heart disease.
MUFA can also help reduce belly fat and protect your body against insulin resistance when eaten in place of saturated fats.
However, it's important to know that every gram of fat you eat adds 9 calories. So while avocado oil is very healthy, you should only take it in moderation to avoid gaining fat rather than losing it.
Coconut Oil
Coconut Oil comes from the flesh of the coconut and is rich in fatty acids. In fact, the oil is 65% medium-chain triglyceride (MCT) fatty acids. Lauric acid makes up 50% of the fat in Coconut Oil.
Research shows that replacing calories with the right amount of MCT can reduce fat levels by a small amount over time.
Studies also suggest Coconut Oil can speed up the release of fatty acids, which in turn boosts your metabolism.
But there's a catch…
The MCT found in Coconut Oil is not the same as that studied under medical conditions, despite what a lot of fitness-marketing spin would have you believe.
So while Coconut Oil does contain MCT,  half of its fat comes from lauric acid, which is 12 carbons long.
This makes it distinct from the fatty acids in medical MCT, which are 8-10 carbons long.
Fatty acids of less than 10 carbons or less are more soluble and act as electrolytes. So whereas your body can absorb 95% of the fatty acids in MCT, it can absorb only 25% of lauric acid.
All of this means that Coconut Oil is nowhere as effective as some shallow marketers would have you believe.
Conjugated Linoleic Acid (CLA)
Many fitness-industry marketers expound the idea that CLA is a stimulant-free fat burner. It's an essential fatty acid that your body can't produce on its own, so you have to get it from your diet.
CLA stimulates the peroxisome proliferator-activated receptor (PPAR). These molecular-signalling receptors can affect your metabolism and your ability to burn fat.
However, there is very little concrete proof that CLA actually works as a fat burner. Some research suggests it works better for obese subjects, although the results of different studies are inconsistent.
See SupplementTester's Highest Rated
Highest-Rated Fat Burners Here
Plumbago Zeylanica Extract (Root)
Plumbago Zeylanica Extract plays an important role in Chinese and Indian traditional medicine and it has done for thousands of years. With a reputation as a stimulant and fertility booster, the herb is proven to boost antioxidant levels and reduce cholesterol in rats.
However, there's very little published research to show it has the same fat-burning effects in humans. With this in mind, we recommend using Plumbago Zeylanica with caution – at least for now.
Garcinia Cambogia (Fruit)
Garcinia Cambogia hails from Southeast Asia and looks like a small green pumpkin. Like a lot of other 'miracle foods', this fruit is widely used in weight-loss and fat-burning supps.
But despite dubious claims to the contrary, there's very little evidence to show Garcinia Cambogia has a significant effect on fat loss.
One study involved 89 overweight female subjects aged between 18 and 44. These women were put on a reduced-calorie diet for 12 weeks.
Split into two groups, half the women took 2.4g of Garcinia Cambogia with their meals, while the other half were given a placebo. The women in both groups lost weight. And although those supplementing their diets with the herb lost slightly more weight, the results were far from conclusive.
Green Tea Extract
Rich in polyphenols and a host of essential vitamins, Green Tea is a key ingredient in any fat-burning supp.  It ramps up your metabolism and helps you stay alert and driven – even as part of a calorie-restricted diet.
However, the Green Tea in 24/7 Burn is part of a proprietary blend. As a result, there's no way of gauging how effective it is.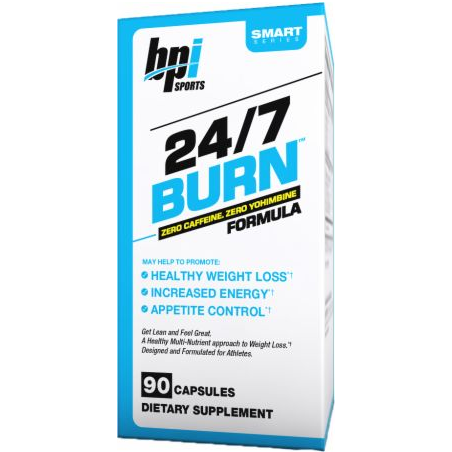 See SupplementTester's Highest Rated
Highest-Rated Fat Burners Here
Side Effects
A close look at the ingredients in 24/7 Burn shows it's safe to use. Despite this, the product may cause the following side effects:
Nausea
Stomach cramps
Diarrhea
Vomiting
Unpleasant aftertaste

Hemorrhaging

Acne
High cholesterol
Headaches
Liver damage
Fatigue
Skin rashes
Reproductive toxicity
Dry mouth
Bad breath
Pros and Cons
Pros:
Inexpensive
Contains fat-busting Green Tea
Lack of Caffeine makes it a non-stimulant (as advertised)
Cons:
Includes ingredients untested on humans (or not proven to work)
Two proprietary blends make it impossible to assess their effectiveness
Coconut Oil not as potent as the marketing suggests
Long list of nasty possible side effects
See SupplementTester's Highest Rated
Highest-Rated Fat Burners Here
Review Conclusion
It didn't look good for 24/7 Burn from the start. Its marketing blurb calls it both an energy booster and a non-stimulant, which just doesn't make sense. As it turns out, the product is a non-stimulant – but this shouldn't take a close inspection of its ingredients by an expert to conclude.
Worryingly, it also contains ingredients that are untested on humans, as well as those which are unproven to work, despite being dubbed 'miracle foods' in the media.
We couldn't find 24/7 Burn on the BPI Sports website, which shows its makers have little faith in their own product. As it turns, we don't either – and we recommend spending a little more money on a superior fat burner with fully-tested ingredients.