There's a lot of fat burners on the market. Some of them are quite intense, and some do nothing at all. However, one fat burner in particular has been garnering a lot of attention for both cases.
7-Keto MuscLEAN, from Beverley International has received mixed reviews in the supplement market for being both too intense (due to its 6 capsule a day regimen) with frustrating side effects, to also being criticized for being too weak, achieving little results if any.
7-Keto is apparently designed to:
Inspire thermogenesis
Raise metabolism
This doesn't seem like a lot compared to most of the fat burners I've reviewed, however, 7-Keto claims to do those duties very well. Although, some of their reviews may argue differently.
About the Company
Beverley International started in 1967, they have been in the supplement industry for close to 50 years. With half a century of supplying products, it seems more than apparent that BI knows how to make a good product.
Their time on the market has allowed BI to expand into almost every area of supplements, providing products from proteins, joint care, anti oxidants and more. Their ability to expand into these particulars speaks volumes for their success, and calls into the question the claims of them producing an ineffective product.
The Ingredients and how they work
For the 'full treatment' as it were, 7-Keto suggests taking 6 capsules a day for maximum results. This is done by taking three in the morning, with another ingested in the afternoon.
This may be somewhat intense for the unfamiliar, so 7-Keto also comes with a lighter set of directions, advising 3 capsules a day – 2 in the morning and the final capsule in the afternoon.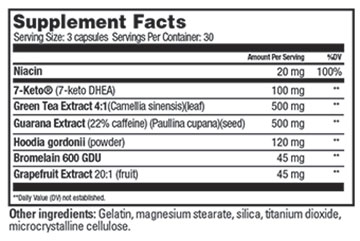 Niacin (Vitamin B3) 20mg – Regulates metabolism in over 60 processes in the body.
7-Keto (DHEA) 100mg – Has been thought to speed up metabolism and promote weight loss, however, there is insufficient evidence to fully prove this. It is also thought to produce lean body mass.
Green Tea Extract 500mg – A good metabolism booster, the catechins in green tea are great for thermogenesis and burning calories
Guarana Extract 500mg – Another caffeinated herb, boosting metabolism and raising energy levels
Hoodia Gordonii 120mg – Said to suppress appetite, but unfortunately has not been proven.
Bromelain 600 GDU 45mg – A protein and fat-dissolving enzyme extracted from pineapples. Whether it is effective enough, to promote weight loss in humans is unproven.
Grapefruit Extract 45mg – Has been used to suppress appetite, unfortunately the only study of this working was over a 24 hour period, and only showed a 4% reduction in intake.
It is worth noting here that Keto-7 only comes with 30 servings per container. As the product recommends taking 2 servings a day for maximum results, each container will only last just over a fortnight. This is terrible value for money.
Check out which ingredients work and which don't in our
– Fat burner ingredients guide –
Side Effects
The main problem I see with Keto-7 is the dosages, taking 2 servings a day results in over 2 grams of caffeinated herbs in a 24 hour period. This may make a user jittery, nauseous, insomniac, have raised blood pressure, and possibly have heart risks.
Aside from that, the remaining products seem to lack any real effect, which means you might just be paying for a caffeine fix.
7-Keto MuscLEAN Pros and Cons
Pros
Uses Green Tea Extract, natural stimulant
From a respected brand
Transparent Ingredient Dosages
Cons
Lots of caffeine for a daily dose
Only enough for two weeks per container
Have to swallow 6 capsules a day
A lot of ingredients unproven/ineffective
7-Keto MuscLEAN Review Conclusion
To remedy the thoughts from the start of this review, 7-Keto, is both an intense yet ineffective fat burner.
That may sound confusing, however, the ingredients used to make 7-Keto are largely ineffective, but the ones that aren't are caffeinated and plentiful. Those with a high tolerance to caffeine will not feel the effects from 7-Keto – as it's the high caffeine that causes them.
Those that don't have such tolerance feel the exact opposite about the product. The potency of the caffeine is more extreme for them, creating side effects like nausea and insomnia.
7-Keto fails to meet either party half way, and in doing so has isolated it from either camp – denying them the results they want.
This is unacceptable, and 7-Keto must rely on something more than caffeine to work more effectively as weight loss aid, until then I can't rightly recommend it.