One of the newer fat burners on the market, ADIPO-X PM, has become the center of attention recently due to its claim to burn fat overnight.
The ingredient profile is pretty basic but I feel for $18.34 on Bodybuilding.com, it's definitely a product that needs looking into, as although this may not be a 'game-changing' weight loss capsule, it may offer up some support for those who have already got their exercise and diet locked up.
ADIPO-X PM claims to help with:
Burning Fat
Controlling Appetite
Raising Metabolism
Unless you're a midnight snacker, I can see that second feature being redundant. However, we must keep in mind that this is a budget fat burner that we can give a wider berth to. Our expectations are not that high:
About the company
ADIPO-X PM is made by Axis Labs, who made SynthaLean, another fat burner I reviewed earlier this month. SynthaLean didn't score to highly on my scale as it used proprietary blends and skimped on any ingredients it fully revealed.
This product on the other hand has no proprietary blends, and falls under the Axis Labs guarantee. The Axis Labs guarantee was one to really watch the small print on, it allowed you to exchange a product you weren't happy with, for another Axis Labs product. The guarantee also only applied to those residing in the United States.
The Ingredients and how they work
ADIPO-X PM requries 1 serving of 2 capsules 30 minutes before bed. Although this is a night time supplement, I really don't feel this is the most beneficial use of a fat burner. Most of the successful fat burners on the market typically come with 3-4 daily servings per day. This keeps the effects of the fat burner constant and maintains elevated thermogeneic and metabolic rates in the body.
However, that won't make much of a difference if the ingredients are ineffective.
So let's see what we have: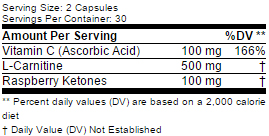 Vitamin C – Linked to promoting fat metabolism, however there is no evidence of it making significant evidence to fat mass. This is more of a supporting ingredient in most fat burners. It's troubling that Axis Labs would use this for a third of their ingredients.
L-Carnitine – Good for energy (which I'm not really sure matters here as it is taken before bed) and helps with raising metabolism. Axis Labs have really hit the recommended dosage right on the nose here as anything between 500-2000mg of L-Carnitine has been shown to yield positive results.
Raspberry Ketones – A very bad choice. Despite what Dr Oz may say in his commercials, raspberry ketones have not been seen to have any effect on humans, or their weight loss efforts. Although there has been some evidence that these ketones have an effect on rats, unfortunately the same benefits do not scale up to humans. Not much is known about the long term safety of Raspberry Ketones either.
Check out which ingredients work and which don't in our
– Fat burner ingredients guide –
Side Effects
There have been no reported side effects with this product.
Pros and Cons
Pros
Contains L-Carnitine
Is cheaper than most fat burners at $18.34
Cons
Not enough ingredients
Vitamin C & Raspberry Ketones aren't effective enough
No multiple servings
– Click Here to see my Highest Rated Fat Burners –
ADIPO-X PM Review Conclusion
Although this product is reasonably cheap compared to other fat burners on the market, ADIPO-X PM fails on too many occasions to be successful as a fat burner. The only ingredient it has that can make any real difference is L-Carnitine which can be found in some energy drinks, along with Vitamin C.
Raspberry Ketones on the other hands have never been proven to be effective in humans. The experiments where they worked successfully used rats, and a lot more raspberry ketone that is in any human serving.
In short this product only contains three ingredients, two of which that have little effect and one which is widely available. In addition when one considers the single serving that this product provides, it's established that even at it's low cost – ADIPO-X PM is not a worthy investment.
I do not recommend this product.