We won't lie here…we hadn't heard about Alpha Pro Nutrition before this review. But finding new supplements to examine is what we do best.
Claimed to promote:
This seems like a 'no-nonsense' kind of fat burner. But it's missing some key benefits that we would've liked to see (such as appetite suppressing).
About The Company
Alright, so we mentioned that Alpha Pro Nutrition are quite an unknown company in the supplements industry. But as this is quite an insulting statement, we made a big effort to research and learn more about them.
Alpha Pro Nutrition are a USA-based company that markets a variety of supplements – from protein powder to fat burners like Alpha Cuts.
However, there wasn't a great deal of information on their website…
The Ingredients and How They Work
When it comes to the supplement facts of Alpha Cuts, we like that it's very clean – and in fact, it looks like a good product.
Why? Answer: it contains some key fat burning ingredients such as chromium, oolong (green) tea extract and a sensible dosage of caffeine.
If this fat burner contained an ingredient such as glucomannan or african mango powder (both of which suppress your appetite), Alpha Cuts would've competed with the best products.
And we spotted something bad; Alpha Cuts contains a proprietary blend called 'Alpha Cuts Lipolytic Catalysts'.
In a nutshell, proprietary blends are bad as you're not given to dosages of each ingredient inside them (only the quantity of the entire blend). This can cause side effects – especially as this contains Citrus Aurantium, but we'll expand on this later on.
See for yourself: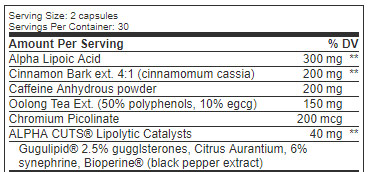 Alpha Lipoic Acid 
More commonly known simply as ALA, this is thought to keep your blood sugar levels stable (spikes in blood glucose can lead to increased fat storage).
However, there hasn't been any studies which directly suggest that it's able to promote fat loss – meaning it's unreliable.
But ending on a positive – ALA hasn't been reported to cause any side effects.
Cinnamon Bark Extract 
Yes, this the same cinnamon that you find on your cinnamon rolls…everyone knows that it's tasty, but how does it promote fat loss?
Answer: it's thought to be a 'carb blocker' which would help keep your blood glucose stable. However, there hasn't been enough studies t prove whether it works.
Not only that – do you really need this in a fat burner supplement? It's easy enough to consume cinnamon during your day without needing to pop any pills…
Caffeine Anhydrous 
Caffeine is our favorite stimulant in supplements. And it's a great addition to any fat burner; caffeine is able to raise your energy levels, which is very useful while you're in a calorific deficit and low on energy.
Alpha Pro Nutrition has done well by adding a sensible dosage of caffeine here. This means you'll stay safe from side effects like jitters.
See SupplementTester's
Highest Rated Fat Burners Here 
Oolong Tea Extract 
From the same species of plant (camellia sinensis) as green tea – it offers similar benefits too.
What benefits? Answer: raised metabolism and fat loss potential.
Good addition here, but Alpha Pro Nutrition has underdosed this herb here – we recommend consuming around 500mg dosages of green or oolong tea in order for it to work.
Chromium Picolinate 
This is a key fat burning ingredient proven to promote fat loss when orally supplemented.
How does it work? Well, it's a mineral that's proven to regulate your metabolism and blood sugar levels.
The best thing is, it's completely natural; found in high amounts in green vegetables such as brocolli. A great ingredient to have in a fat burner that works.
Alpha Cuts Lipolytic Catalysts 
We didn't notice this orginally, but this is a proprietary blend inside this fat burner. The worst part is that it contains citrus aurantium; this has shown to cause numerous side effects – and you don't even know the exact dosage of it inside!
Not only that – this blend also contains guggulsterones (which are shown to raise thyroid activity, which can be a bad thing if you have normal thyroid function.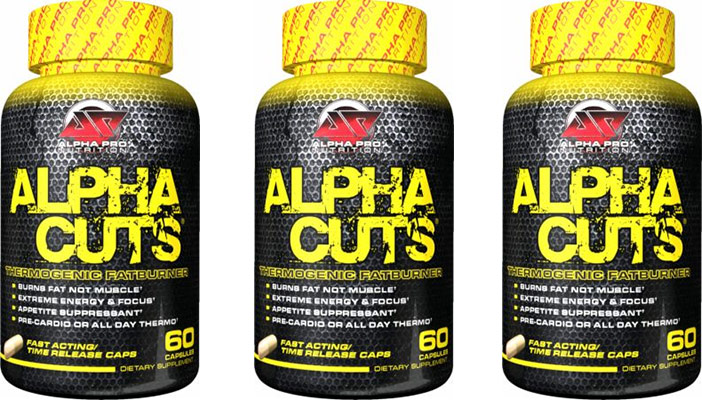 Check out which ingredients work and which don't in our
– Fat burner ingredients guide –
Pros and Cons
Pros: 
Sensible dosage of caffeine
Oolong (green) tea promotes fat loss
Chromium picolinate a key ingredien
Cons: 
Contains a proprietary blend
Oolong tea extract underdosed
Citrus aurantium reported to cause numerous side effects
Side Effects
As we mentioned, citrus aurantium has been reported to cause numerous side effects like nausea and high blood pressure.
But that's not all, guggulsterones are shown to raise your thyroid activity, which can lead to severe health issues if you have normal levels.
Take a look:
Nausea
High blood pressure
Rapid heart rate
High thyroid activity
See SupplementTester's
– Top Rated Fat Burning Ingredients Here –
Review Conclusion
To be fair to Alpha Pro Nutrition, this isn't a bad product. But it's ruined by the addition of a proprietary blend and citrus aurantium – if it didn't contain these things, then we would have been able to recommend it to you.
Unfortunately, as it can cause many side effects, we advise you to avoid Alpha Cuts; especially when there are fat burners that are effective and free from side effects.