---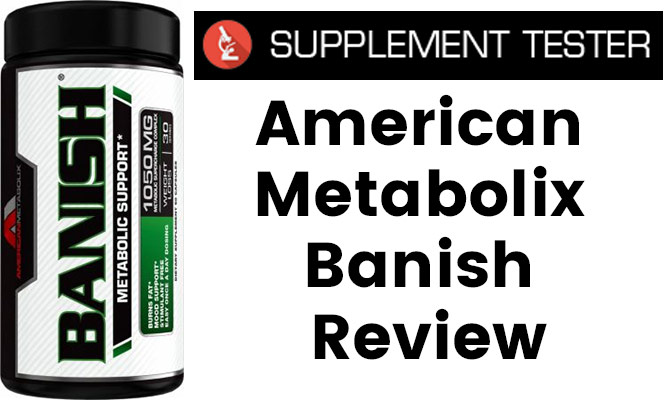 ---
We've seen more and more stimulant free products come out recently, which is why we've chosen tor review one here – Banish by American Metabolix.
Claimed to promote:
After seeing the advertisement for this fat burner, it's easy to see that it's aimed at women. Not only that, American Metabolix has tried to cover up a negative aspect of the product by making it sound good!
'Easy Once A Day Dosing' is advertised as one of the main benefits of Banish fat burner…but this means your body won't be burning as much fat throughout the day. This is why it's important that the best fat burners provide 3-4 capsule dosages.
Anyway, we'll tell you about the company – before taking a look at the ingredients inside Banish.
About The Company
American Metabolix are the company responsible for Banish. They're really tried to target women through their advertisement – promoting increased mood and 'easy once a day dosing' as this fat burners main selling point.
However, these aren't going to really help you get that flat stomach (or 6-pack) you've always worked towards. Anyway, we'll stop ranting for now…
This company was set up in 2012 and has since created numerous products – from pre workouts and testosterone boosters to this fat burner, Banish.
We liked their 'about us' page, so this was a positive; but the ingredients inside Banish will determine how good it really is. We'll expand on this below.
The Ingredients and How They Work
We were waiting for better things to happen after being impressed by American Metabolix's 'about us' page. But we were disappointed immediately after looking at Banish's nutrient profile.
In a nutshell, every ingredient is part of a proprietary blend – this means no-one knows the exact dosage of nutrients inside this fat burner.
So why is this bad? Answer: if you don't know the dosages of ingredients inside a product, you won't know whether they've been optimally dosed (meaning the whole product might be ineffective).
Anyway, we'll get straight into examining the ingredients for you – so you can see whether Banish is really worth trying out.
See for yourself: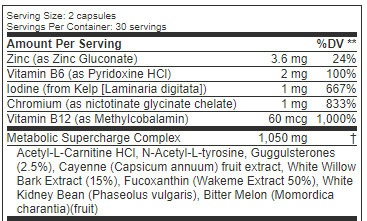 L-Carnitine 
L-Carnitine is a great ingredient in a pre-workout, but it's not as beneficial in a fat burner – it's shown to have little effect on fat loss, and is known for improving your focus while reducing fatigue.
At this point, you might be thinking – 'but these are good benefits'. Well, yes they are. But when you're buying a fat burner, you want ingredients proven to significantly promote fat loss.
As we've mentioned, L-Carnitine is a great ingredient when added into pre-workouts – but it can't compete with Green Tea Extract or Green Coffee Bean Extract when it comes to burning fat.
L-Tyrosine 
This is another ingredient that hasn't shown to have much effect on your fat loss. L-Tyrosine is known for it's ability to boost your focus.
While this is great in a Nootropic, it's not as handy in a fat burner. As we've mentioned, you want a fat burner to help you get rid of your unwanted fat.
Unfortanately, L-Tyrosine won't do this. But as it can improve your cognition, it's useful in Nootropic supplements.
Guggulsterones
Guggulsterones are extracted from a plant, and is believed to elevate thyroid function – but no study has proven it delivers this.
However, it's been reported to cause a side effect; Guggulsterones have shown to have adverse skin reactions – so it's not good if you want smooth skin…
Anyway, this won't help you burn fat anyway, so it's another ineffective ingredient inside American Metabolic Banish.
Cayenne Pepper Extract
Cayenne Pepper Extract is the first key fat burning ingredient Banish. Everyone knows how spicy chilli peppers are; this helps raise your body temperature, which encourages your body to burn more calories (by cooling itself down).
As a result, it's always handy to consume Cayenne Pepper Extract, and we always look out for this ingredient. Good job by American Metabolix here.
---
See SupplementTester's
– Highest Rated Fat Burners Here –
---
White Willow Bark Extract 
This contains salicin (which is a chemical similar to aspirin). It's used for centuries, but we're not sure why it's been added into this sfat burner.
In a nutshell, White Willow Bark Extract hasn't shown to have any effect on fat loss – making it an ineffective ingredient in American Metabolix's Banish fat burner.
Fucoxanthin 
This is found in brown seaweed and is believed to encourage your body to burn more fat. Here's why: some think that Fucoxanthin reduces fat mass by delaying the build up in fat tissue.
However, these studies were only conducted on obese women – it's much easier to lose fat when you're significantly overweight, rather than being average and simply wanting a flat stomach (meaning these studies aren't reliable).
White Kidney Bean 
White Kidney Bean is believed to act as a 'carb blocker' – this would mean you could consume carbs without the dreaded 'insulin spike'.
However, no study has shown whether White Kidney Bean actually works (making this another unreliable ingredient inside Banish fat burner.
Bitter Melon 
Also known as momordica chanrantia, this is commonly seen in Malaysia and Japan – even being used in their culinary dishes.
It's believed to be responsible for the long-life span in Okinawa (Japan), but no studies have confirmed this.
Not only that, it's believed to reduce blood sugar levels and promote fat loss (but there's no evidence to support this either). As a result, this seems to be another ineffective ingredient inside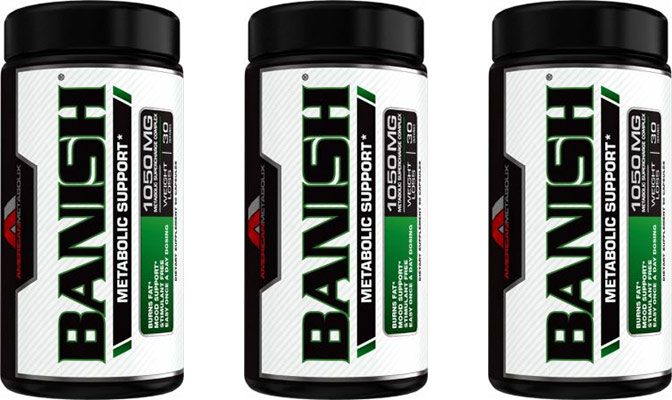 Check out which ingredients work and which don't in our
– Fat burner ingredients guide –
Pros and Cons
Pros: 
Cayenne Pepper Extract is a key fat burning ingredient
Cons: 
No ingredients to raise energy levels
Contains numerous ineffective ingredients
Missing key fat burning ingredients
Side Effects
Although the majority of the nutrients inside Banish fat burner are safe, there's one that's been reported to cause numerous side effects when consumed in supplements – Bitter Melon.
We always recommend that you look for fat burners that are side effects free – so you get the best value for your money.
Anyway, here's a list of side effects you might experience:
Low blood sugar levels
Abdominal pain
Damaged liver
Not what you're looking for? See our
– Top Rated Fat Burning Ingredients Here –
Review Conclusion
American Metabolix have marketed this fat burner all wrong…they've promoted benefits that aren't really backed-up by their ingredients (and aren't even necessary for fat burners).
Not only that, women don't need specific fat burners made just for them. The best fat burners on the market are usually unisex for good reason – they work.
You'll find that fat burners made for women usually come advertised with benefits such as 'improved hair' or 'improved mood' etc…at the end of the day, women want the same benefits as guys – either a flat stomach or some abs.
For this reason, we definitely not recommending this fat burner to anyone; especially as it doesn't contain more than 1 key fat burning ingredients. If you want results without side effects, see our highest rated fat burners list.