Burn Ultra caught our attention after we saw that it was strangely priced differently for different flavors. While its Mango and Raspberry Lemonade flavors are both $39.99, the Pineapple Strawberry version is priced at $61.49.
After looking closely at the nutrient profiles of each flavor, there didn't seem to be any difference between any of them. So let's see whether Burn Ultra can compete with the higher priced fat burners on the market.
Claimed to promote:
Fat Loss
Raised metabolism
Energy
We always look to see whether the fat burner we're reviewing offers appetite control; we believe that this is a key benefit that's often overlooked by companies.
Unfortunately, Burn Ultra didn't seem to advertise this benefit, or contain the right ingredients to deliver it. Anyway, you'll learn all of this and more in our in-depth review below.
Take a look:
About The Company
Burn Ultra is made by Core Nutritionals, a USA based supplements company. It was set-up by 2 drug-free bodybuilders and they pride themselves on the quality of their products.
This makes us wonder why they've priced different flavors of Burn Ultra so differently; surely the costs of the unique flavoring can't amount to a $21 change costs…
We might not be able to answer this question, but something we can do is tell you how good the ingredients are inside Burn Ultra.
The Ingredients and How They Work
One thing we appreciate when looking at Burn Ultra's ingredient list, is that none of them are hidden in proprietary blends. It's always good to see the dosages of ingredients inside a supplement, so you can see how safe and effective it is.
But after that initial compliment, we have seen some things we don't like; bitter orange extract is a particularly bad addition to Burn Ultra, as it's known for causing many side effects.
Not only that, Burn Ultra contains 3 different stimulants, which puts you at serious risk of suffering from jitters and energy crashes.
See for yourself: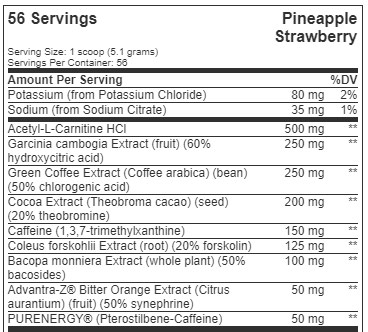 Acetyl-L-Carnitine 
While this has shown to have a slight effect on fat loss, it's certainly not significant enough to make it a 'main' ingredient in a fat burner supplement.
However, that's exactly what Core Nutritionals has done, as l-carnitine is the highest dosed ingredient in Burn Ultra.
We would have much preferred something more effective at promoting fat loss like green tea extract here.
Garcinia Cambogia Extract
This shows us that Core Nutritionals haven't done enough research while formulating Burn Ultra.
Why? Answer: garcinia cambogia extract hasn't shown to help you lose fat in modern studies.
However, garcinia cambogia was added to supplements after it was publiced to be 'one of the most effective fat burning supplements available'.
Ultimately, it's a rookie error to add garcinia cambogia to fat burners, and Core Nutritionals should have replaced this ingredient by now.
Green Coffee Bean Extract 
Finally, it's good to see that Burn Ultra contains at least 1 key fat burning nutrient.
Green coffee bean extract is a great addition to supplements, as it's proven to raise your metabolism, being a thermogenic ingredient.
What does this mean? Answer: it raises your body temperature, so your body burns more calories to cool itself back down,
Studies have shown that it works, and you can't really argue against it.
Theobromine 
Theobromine is the stimulant that's found in cocoa beans. It's thought to work in the same way as caffeine, to keep you alert and raise your energy levels.
However, this isn't a good thing, as Burn Ultra contains 2 more stimulants in the form of caffeine and 'Purenergy' (which is a patented form of caffeine).
As a result, this puts you at risk of suffering from jitters and energy crashes – which can cut your gym session short.
Caffeine 
We just mentioned that having too many stimulants in 1 supplement isn't a good idea. But caffeine is usually a great addition to a fat burner, as it's proven to be effective at raising your energy levels – this helps you stay active and keep burning calories, when you'd otherwise be too tired.
It's just a shame that Core Nutritionals has added 2 other stimulants here, which puts you at risk from side effects.
See SupplementTester's Highest Rated
– Fat Burner Supplements Here –
Coleus Forskohlii 
Now, this is an interesting ingredient. Coleus forskohlii is thought to help you burn fat while raising your testosterone levels at the same time.
If this belief is proven by any studies, then we'll consider coleus forskohlii to be a perfect addition to both fat burners and test boosters. However, as it's still unproven, it's we have to consider it as an unreliable ingredient here.
Bacopa Monniera Extract 
We're not sure why Core Nutritionals has added bacopa monnieri to their fat burner, Burn Ultra.
Why? Answer: bacopa monnieri is known as a nootropic ingredient that's able to improve your cognition.
While this is definitely useful to help your day to day activities, it's not really a vital benefit that you'll want when paying for a fat burner supplement (as it has no effect on fat loss).
Bitter Orange Extract 
This was a big mistake by Core Nutraceuticals to add bitter orange extract. It's known for causing side effects, due to containing high amounts of synephrine.
Now, synephrine has been banned from certain countries due to being harmful, so this should ring alarm bells.
The bottom line is that you should stay away from ingredients that can cause you harm – especially if you're paying good money to try and improve yourself.
So we recommend that you try to stay away from supplements that contain bitter orange extract.
PURENERGY 
In case you're confused, purenergy is basically a patented form of caffeine. It's going to offer the same benefit – increased energy levels.
But as we mentioned, this isn't a good thing; as Burn Ultra already contains numerous stimulants, putting you at risk from suffering jitters and energy crashes.
As a result, we always recommend that you choose fat burners with only 1 stimulant that's contained in a sensible dosage.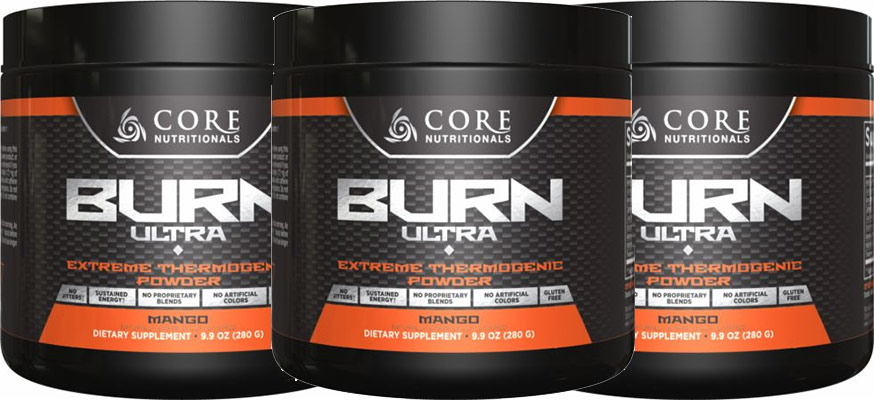 See SupplementTester's Highest Rated
– Fat Burner Supplements Here –
Pros and Cons
Pros: 
Green coffee bean extract promotes fat loss
L-carnitine has a slight effect on fat loss
Cons: 
Numerous stimulants likely to cause jitters and energy crashes
Lacking useful fat burning nutrients
Bitter orange extract causes side effects
Side Effects
When choosing a supplement, it's important that it only offers benefits without any side effects – to provide you with the best value for money.
The bad news is that Burn Ultra seems to contain ingredients that are more likely to cause side effects like jitters, rather than help you burn fat.
See the possible side effects here:
Jitters
Energy crashes
Anxiety
Nausea
High blood pressure
Not what you're looking for? See the
– Best Fat Burner Supplements Here –
Review Conclusion
You can see that Core Nutraceuticals has tried to put together a fat burner that will sell on the market. With ingredients such as garcinia cambogia, which many people believe will help them burn fat, we're sure that it has sold in good numbers.
However, the bad news is this; Burn Ultra can't compete with other fat burners at around the same price range – especially its Pineapple Strawberry version at $61.49.
Ultimately, as we already mentioned, this fat burner is more likely to cause side effects than help your shred a 6-pack.