Burn-XT is a 'thermogenic fat burner' from Jacked Factory, which retails for $29.99.
This marketing for Burn-XT says the product:
Burns body fat
Preserves muscle
Works well for both men and women
The Jacked Factory reviews we've read range from OK to great, so we're eager to see which camp this fat burner falls into. Let's find out in our Burn-XT review…
About the Company
Jacked Factory is based in Canada and manufactures in the US. Its products include pre-workouts, post-workouts, 'muscle builders', test boosters, and (of course) fat burners.
The brand website doesn't give us much specific info about Jacked Factory, so we can't tell you when it started.
Despite this, the About page does promise "no-nonsense, transparent, and carefully-selected ingredients" – which is great. It also says Jacked Factory started as a direct response to "the hype and lies that became the status quo in the supplement industry", and that's also nice to read.
But over the years, we've grown used to big claims about 'transparency' and 'carefully-selected ingredients', so we're a little skeptical. Let's hope we're wrong.
Burn-XT Ingredients and How They Work
Right away, Burn-XT is off to a great start – this supp doesn't use any proprietary blends, which holds true Jacked Factory's claim to be transparent.
Note: Proprietary blends are lists of sub-ingredients that hide vital dose info. We – and most experts – hate proprietary blends because they allow manufacturers to charge you through the nose for weak or ineffective amounts of key ingredients.
Burn-XT also contains a few great fat-burning ingredients.
See for yourself: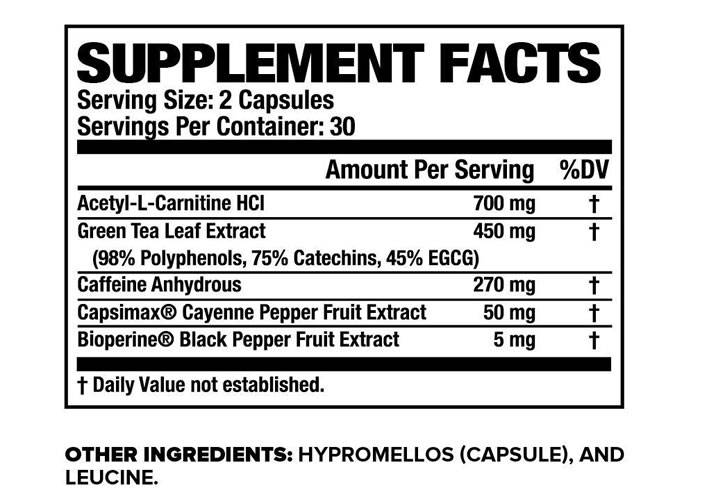 Acetyl-L-Carnitine HCI
Acetyl-L-Carnitine (ALCAR) is an amino acid shown to reduce fatigue and ease the symptoms of muscle damage, which is why you'll find it in some of the best pre-workouts on the market.
But research shows ALCAR does not burn fat. As a result, this awesome amino could be wasted in Burn-XT.
Green Tea Leaf Extract
It's always great to Green Tea in any fat burner – in fact, we wouldn't trust one without this key ingredient.
The herb's active ingredients are catechins, with the most potent being EGCG. Catechins have a thermogenic effect – this means they heat up your system and force your body to burn more energy (calories) to return to normal.
This speeds up your metabolism and burns fat more efficiently to help you shed the spare tire faster.
How much Green Tea do I need to burn fat?
To get the best results, we recommend you take at least 500mg of Green Tea. But as Burn-XT contains 450mg, it falls just short of the optimal amount for daily use.
Caffeine Anhydrous
Caffeine is a popular stimulant – 9/10 American adults use it every day. And you'll also find it in some of the best fat burners out there. There are two key reasons for this…
First, it's not unusual to feel tired and listless when reducing your calorie intake. The stimulant can give you back the energy you lose on a low-calorie diet – and for this reason, it can be a godsend for many users.
Second, Caffeine is also a mild thermogenic, so it can help you burn fat.
What's the ideal dose of Caffeine?
We recommend 300-350mg of Caffeine every day. As Burn-XT contains 270mg, it falls just short of the amount you need to take full advantage of Caffeine's fat-burning benefits.
To ensure Caffeine can perform its magic all through your day, we recommend taking around 75mg-85mg of the stimulant in four equal servings.
The guys at Jacked Factory recommend a serving size of two capsules per day, which means you're more likely to feel tired for large parts of the day.
Capsimax (Cayenne Pepper Fruit Extract)
Capsimax is a branded version of Cayenne Pepper Extract. Cayenne Pepper is a potent thermogenic – and it's also the third key ingredient in the Burn-XT formula.
Its active ingredient is capsaicin, which lends Cayenne the familiar hot 'n' spicy taste, as well as its fat-burning power. In fact, Cayenne induces a full-body burn that ensures you burn calories around the clock.
Where's the evidence?
In one study published in the Journal of Nutritional Science and Vitaminology, a group of men ate the same 650-calorie meal – but some were given an additional 10g of Cayenne with theirs.
The results? The men given the Cayenne burned many more calories than those in the control group, but their heart rates were not affected. In other words, Cayenne burns fat without any adverse effects.
How much Cayenne Pepper ideal for fat loss?
We recommend you take at least 100mg (and no more than 150mg) of Cayenne Pepper to enjoy all its thermogenic benefits. For this reason, it's disappointing to find Burn-XT uses just 50mg.
Bioperine (Black Pepper Fruit Extract)
Bioperine is a brand name for Piperine or Black Pepper Extract. Rich in Vitamins A, C and K, many supplements include Bioperine to help the body absorb more of other nutrients and make them more effective.
Research also shows Black Pepper Extract helps inhibit the leptin and lipase hormones, which can help control hunger pangs.
Where to Buy Burn XT
The Burn-XT Thermogenic Fat Burner is available directly from the Jacked Factory website: www.jackedfactory.com.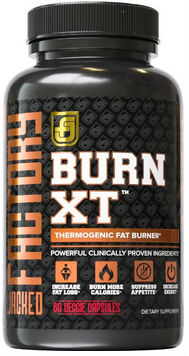 See SupplementTester's Highest Rated
Highest-Rated Fat Burners Here
Burn-XT Side Effects 
The five ingredients in Burn-XT are safe to take and are unlikely to cause any unwanted side effects.
Pros and Cons
Pros:
No proprietary blends – you can see what you're paying for
At $29.99, Burn-XT costs less than some other fat burners
Contains three key fat-burning ingredients
Cons:
ALCAR more suited to a pre-workout (it won't help you burn fat)
Not enough Green Tea
Not enough Caffeine for daily use
Contains just 50% of the optimal dose of Cayenne Pepper
Doesn't contain a true appetite suppressant
See SupplementTester's Highest Rated
Highest-Rated Fat Burners Here
Burn-XT Review Conclusion
There are things we like about Burn-XT and things we don't.
Here's what we like…
We were so pleased to see Green Tea, Caffeine Anhydrous and Cayenne Pepper in the formula – these are arguably the best fat-burning ingredients, due largely to how safe, yet effective they all are.
Black Pepper Extract is also a mild thermogenic and helps your body absorb more of these key nutrients – which is awesome.
And this is what we don't like…
Each one of these ingredients is underdosed – meaning you're less likely to get the results you want. Plus, Burn-XT also contains ALCAR, which works great in pre-workouts, but not so much in fat burners.
We also like fat burners that contain an appetite suppressant – the addition of Glucomannan (for example) would improve this product. After all, hunger cravings are the number-one reason why most diets fall flat.
Our final verdict
Burn-XT isn't a bad fat burner, especially for just $29.99. However, we reckon you could do better. If you're willing to spend a little more, you'll probably get better results.