Capsiplex Sport is one of the more popular fat burners emerging on the market.
However, does it actually work?
Claiming to help promote:
Energy
Strength
Stamina
Fat Burning
We took a closer look at what goes into this supplement and its servings to see if it really is up to standard. We made a shocking discovery, this is what we found:
About the Company
Capsiplex is owned by BUYYO LTD, a company we could find nothing about online. This is the same company that owns Bauer Nutrition. We've covered some of Bauer's products in the past and they didn't receive positive feedback.
There is essentially no information out there on the owning company, which suggests they don't want to be associated with the brand. We only knew BUYYO LTD was responsible by reading the fine print on the product website.
That said. we kept an open mind when reviewing this product in the hopes that things would be different. It was quite interesting what we saw:
The Ingredients and how they work
With only one serving a day, there's only so much benefit you can expect to get out of Capsiplex. The fat burning effects will wear off a few hours after taking the supplement making it not supply constant fat burning benefits.
For the best results you need a fat burner that provides around 3 – 4 servings a day, this helps keep the supply of nutrients constant and continuously supplies your body with what it needs to keep burning fat.
To see our best recommendations check out
– Our Top 3 Fat Burners –
So we're off to a bad start, and unfortunately, it doesn't get much better. Here's what we found with the ingredients: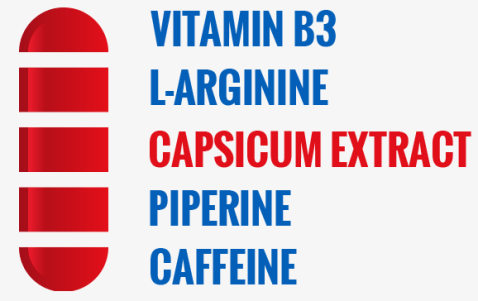 Vitamin B3
An essential B-vitamin for overall health, also known as Niacin, there's nothing to prove B3 helps with fat loss or energy levels.
It may even create insulin problems if over-used, but it's unlikely that Capsiplex would use that much.
L-Arginine
An amino acid thought to raise nitric oxide levels and increase overall 'pump' in the gym. However, this isn't the whole story.
Supplementing L-Arginine isn't as beneficial as once thought, with it failing to be absorbed by the body after consumption. For the best results you need something like L-Citrulline, which is well absorbed and converted into L-Arginine in the liver.
Capsicum Extract
One of the main active compounds in chili which gives it that 'heat'. Capsicum is great for suppressing appetite and releasing thermogenic effects throughout the body. This increases the amount of calories burned. However, it's not enough on it's own to have a serious impact.
Piperine
Essentially black pepper. Piperine helps with bioavailability and overall absorption of the supplement.
Caffeine
One of the best natural stimulants out there, Caffeine has been seen to increase metabolism, energy levels and overall power output. However, it's unclear how much is actually used in Capsiplex, and whether or not this could cause side effects.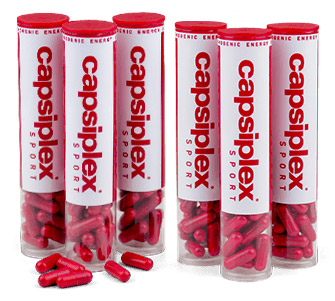 Overall the two main ingredients that matter here are the capsicum and the caffeine, that aren't going to do much on their own.
Check out which ingredients work and which don't in our
– Fat burner ingredients guide –
Side Effects
No side effects have been reported with this fat burner.
Pros and Cons
Pros:
Contains Caffeine and Capsicum
Cons:
Poor servings
Some ineffective ingredients
Few 'Core Fat Burning Ingredients'
No appetite suppressants
 Capsiplex Sport Review Conclusion
On the whole, there are three main problems when it comes to Capsiplex Sport and why it didn't perform so well in this review.
The first problem was the servings. With only one a day, there's only so much benefit you can expect to get out of a product like this. For full fat burning benefits you need a supplement that delivers around 3 – 4 servings a day giving your body the constant supply it needs.
Secondly, Capsiplex Sport relies on a proprietary blend. This means they don't disclose how much of each ingredient is being used, or how effective it will be on the whole.
Thirdly, not a lot of the 'core' fat burning nutrients have been used in this blend. Things like Green Tea, Glucomannan and Green Coffee Bean are some of the best choices in a natural fat burner. It's a shame that none of them were used in this blend.
To see our best choices at the moment, check out the top 3 Fat Burners on the market below: