I've seen wild marketing attempts before by supplement companies, but I'd never thought I'd see one as bold as this.
This is a fat burner called Clenbutrol. Clenbuterol? No, Clenbutrol. Literally a vowel away from sharing the name of a banned substance.
Although nowhere near as illegal as Clenbuterol, Clenbutrol claims to be just as effective, delivering lean body mass and ripped results to whoever uses the products. It's a big claim to make, and proving that it is just as effective as performance enhancing drugs is a very dangerous statement, and opens them up to a whole range of criticism.
About the Company
Clenbutrol comes from a company called CrazyBulk. Interestingly, Clenbutrol isn't the only product on there using a similar namesake to known steroids.
However, the case becomes even more concerning when there is another company called CrazyMass which is doing exactly the same job, with a very similar name. It's all very suspicious, as one of the companies seem to be a rip-off of the other one, which is in turn ripping-off steroid culture.
It's very intriguing, and the fact that the CrazyBulk website has no address listed, strengthens the theories of it being suspicious. That said, I can assume it's in the UK judging by the waiting times for shipping to each country
The Ingredients and how they work
To take Clenbutrol, ingest one capsule serving three times a day, to be taken with a meal or 30 to 45 minutes before a workout. This consistent dosage bodes well for the product not being responsible for causing energy crashes within a user.
The ingredients for Clenbutrol are as follows: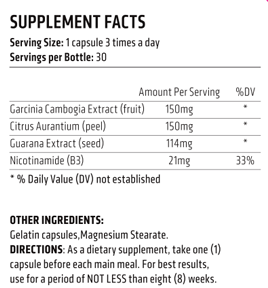 Garcinia Cambogia Extract 150mg – Has been viewed to be an effective aid with fat reduction, so far however there is not enough convincing evidence.
Citrus Aurantium 150mg – Also known as Bitter Orange Extract, so far has not been proven to provide users with weight loss benefits, however it has been linked to cause numerous side effects in the heart and brain, especially when mixed with caffeinated herbs.
Guarana Extract 114mg – Caffeinated herb that helps with focus and raising metabolism. Does not react well when mixed with Bitter Orange Extract.
Nictotinamide (Vitamin B3) 21mg – Has been known to be effective as a metabolic regulator in up to 60 different process in the human body, however, there is only a light dose per serving.
Check out which ingredients work and which don't in our
– Fat burner ingredients guide –
Side Effects
Clenbutrol is relatively safe in comparison to its ephedrine-based namesake, that doesn't mean it is totally risk free. The Citrus Aurantium in Clenbutrol has been known to cause side effects such as raised blood pressure, strokes and increased heart attack risks when mixed with caffeinated herbs like Guarana. In some individuals Citrus Aurantium has also been recorded to cause headaches for unknown reasons.
Pros and Cons
Pros
Uses natural ingredients and vitamins
Consistent dosing throughout the day
Doesn't have a potent enough dose to deliver severe side effects
Cons
Company seems very suspicious
Leading two ingredients are either unproven or cause side effects
Doesn't deliver same results as namesake, nowhere near potent enough
Money back guarantee only applies if product is unopened
Clenbutrol Review Conclusion
Clenbutrol an interesting product, from an even more interesting company. However, I do not recommend this product.
The claims that this product delivers the rapid weight loss that its namesake does is simple not true. Partly because CrazyBulk argue results are most noticeable after an eight-week period. It would be a far shorter time frame on the real thing, however the side effects of doing so would incredibly dangerous.
Clenbutrol is clearly just a product designed to make money out of naive customers that are considering purchasing steroids.