We're giving you an exclusive 'sneak-peak' at this fat burner here. So thank us later…but first, let's see what Defiance Hardcore is designed to do.
Claimed to promote:
Metabolism
Fat loss
Energy
Appetite suppressant
To be honest, these are all the benefits we look for when choosing a fat burner. So if Defiance Hardcore really can deliver all of them, then it'll no doubt be one of the highest rated fat burners on the market.
About The Company
We tried finding more about Defiance Labs, but their website was broken at the time…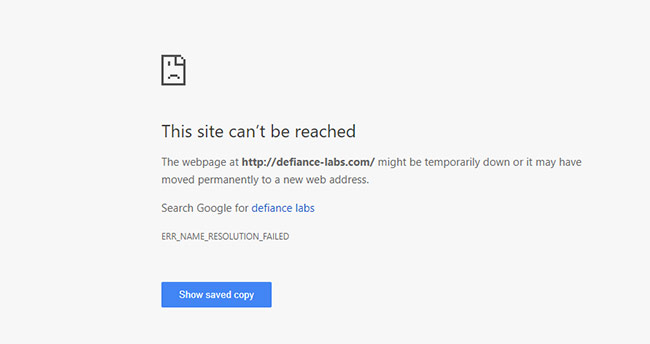 But all this means is that there's less things to write about – saving us both time here.
So let's get straight into the nutrient profile of Defiance Hardcore…
The Ingredients and How They Work
We're a bit confused after looking at this fat burner's nutrient profile – one of the ingredients is raspberry ketones, which you should know doesn't work…so this isn't a good start.
However, we're hoping that first impressions aren't everything with Defiance Hardcore. So we'll go deeper into the ingredient list and hopefully find some better nutrients (that might back up this supplement's claims).
Take a look: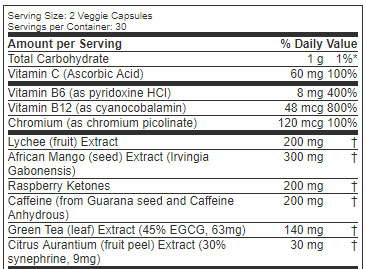 Lychee Extract 
We enjoy eating this fruit as it tastes very nice…but that doesn't make it useful in a fat burner supplement.
The only good thing about lychee; it contains some minerals and vitamin c, but no studies have shown that it's able to promote fat loss.
As a result, this is very likely to be a waste of time here.
African Mango Extract 
This is derived from the seeds of the African mango…call us Sherlock Holmes.
Anyway, this might actually be a good addition to Defiance Hardcore; the seeds are used as a thickening agent in soups and expands in liquid.
How does this help? Well, there's a possibility that African mango might keep you feeling full for longer (suppressing your appetite).
The only issue is that African mango extract hasn't proven to be 100% safe or effective. As a result, we still believe that glucomannan is the best nutrient to suppress your appetite.
But African mango extract definitely shows promising signs. We'll keep you updated when we know more.
Raspberry Ketones 
You might remember this being popular in the media; it gained a lot of attention for being a 'super ingredient' to help you lose fat.
However, not long afterwards, studies showed that raspberry ketones didn't actually have any effect on fat loss at all…
As a result, everyone should know that this ingredient is a gimmick. And it's actually quite embarrasing for a company to include this into their fat burner – we just hope they're not fooling people that don't know the truth.
See SupplementTester's
Highest Rated Fat Burners Here 
Caffeine 
This stimulant is one of the best ingredients you can find in fat burners. Why? Because it raises your energy levels while you're cutting calories from your diet (in order to lose fat).
It's been dosed well too; we always recommend that you consume under 100mg caffeine per capsule in fat burners, so Defiance Hardcore has done well here.
Green Tea Extract 
Now, green tea extract is definitely one of the best ingredients you can find in fat burner supplements.
Here's why; this ingredient contains a high amount of catechins, which has proven to boost your metabolism. Ultimately, this helps you burn through more body fat in your day.
But there's a problem – green tea extract has been underdosed at 150mg. To put this into perspective, the optimal dosage is 500mg, so you can see that Defiance Hardcore needed to add a lot more to this fat burner.
Citrus Aurantium 
Also known as synephrine and bitter orange extract, this is believed to promote fat loss. But while it has shown to work slightly, it's also been reported to cause numerous when added to supplements.
In fact, citrus aurantium is actually banned in a few countries for this reason – the big nations being the UK and Canada.
As a result, we recommend that you avoid this fat burner, in order to stay safe; there's many better ingredients such as Cayenne Pepper extract that haven't been reported to cause side effects.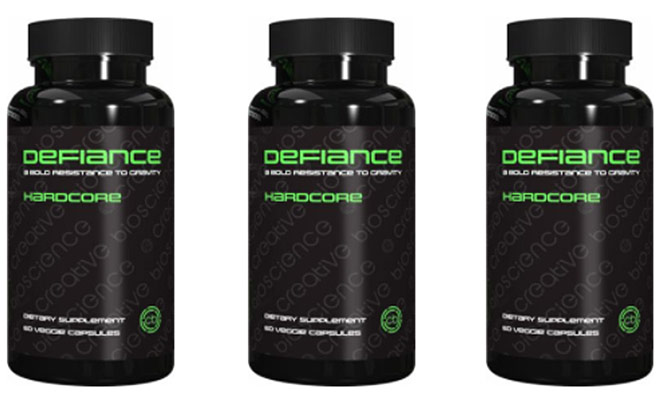 Check out which ingredients work and which don't in our
– Fat burner ingredients guide –
Pros and Cons
Pros: 
Green tea extract shown to work
Caffeine raises energy levels
Cons: 
Green tea extract underdosed (not likely to work)
Contains mostly ineffective ingredients
Citrus aurantium known for causing harmful side effects
Raspberry ketones are one of the biggest gimmicks
Side Effects
We've mentioned a few times that citrus aurantium causes side effects. Well, this section is where we'll expand on this.
In a nutshell, citrus aurantium was first used in fat burners when ephedrine was banned by the FDA. However, since then, citrus aurantium has caused similar side effects – and it's only a matter of time before this gets banned too (it's already banned in the UK and Canada, among other countries).
See which side effects Defiance Hardcore can cause:
Nausea
High Blood Pressure
Rapid Heartrate
Jitters
See SupplementTester's
– Top Rated Fat Burning Ingredients Here –
Review Conclusion
The best thing about Defiance Hardcore is that it might suppress your appetite due to containing African mango extract – which is a great benefit for a fat burner to deliver.
However, there's not much chance that Defiance Hardcore will improve anything else.
Bascially, when you're thinking about buying a supplement, it's only natural to compare them to others – but Defiance Hard can't compete with the highest rated fat burners on the market.