There are a variety of fat burners on the modern market, with such rapid and expansive choice selecting a product that best suits your needs can be a paralyzing experience.
With a flavor for boosting energy levels and experiencing thermogenic benefits, dieters are starting to look to Dren by MHP as this has brought something new to the table. Drenbuterol. Which sounds remarkably similar to the banned weight loss aid Clenbuterol.
But is this a wise choice?
With mixed reviews about the product from Amazon, GNC and Bodybuilding.com there are many that claim Dren is a fantastic product, whereas others describe it as ineffective trash and a few more say that this fat burner has some dangerous side effects..
About the Company
MHP, or Maximum Human Performance, is a supplement company that deals in all types of workout products from testosterone boosters, to pre-workouts and even high protein foods.
They're a big name on the market, which of course brings with it a large reputation – and usually a guarantee. In this case 100% satisfaction guarantee, if you're not entirely overwhelmed by the product. They are more than happy to take it back and refund you the money. This shows MHP's confidence behind the product, and the fact that it hasn't been pulled off the market shows that it's doing something right.
To really get to the bottom of whether this product is effective or not, we'll have to consult the ingredients.
The Ingredients and how they work
Dren has been recommended as a 1 pill per day serving, which I've always struggled to trust. I've always firmly believed in using supplements with more than one dosage per day. This keeps the fat burning benefits at full capacity throughout use and lessens the risk of a user crashing afterwards.
Although Dren has failed to do that here, I do understand that they're going by a slightly different formula to the norm, so I'll start by giving them the benefit of the doubt.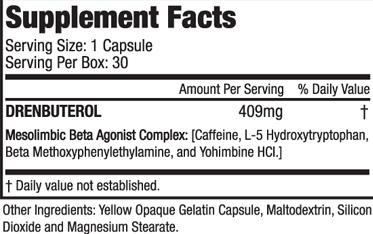 It is here that we learn the ghastly the truth about Drenbuterol. That it is nothing more than a proprietary blend.
This makes the 409mg label relatively pointless when trying to work out how much of that is in each ingredient.
Caffeine – A fantastic weight loss aid, however that's debatable as the dosage for it remains unknown. It raises energy levels and metabolism which all push towards shedding the pounds.
L-5 Hydroxytryptophan – Known only as a weight loss aid by anecdotal evidence of appetite suppression. As a building block amino acid of serotonin this component can have horrendous side effects when used in appropriately – like as a weight loss aid.
Beta Methoxyphenylethylamine – Phenylethylamine, an ingredient that regulates mood, stress and focus. Associated with multiple side effects.
Yohimbine HCL – Has been known to cause side effects, but usually okay in small doses, Yohimine HCL has been known to suppress fat metabolism in the body. However, as we don't know the dosages, this ingredient could be doing more harm than good.
Check out which ingredients work and which don't in our
– Fat burner ingredients guide –
Side Effects
I really don't want to say this phrase but the ingredient choices have really drove me to it: Where do I start?
This is possibly one of the most crazy fat burners I have ever seen, and in no way does that mean it's good. It's terrible.
First, this is a proprietary blend – that's not great but you can usually use it to manage your expectations of the product around any other ingredients. This product as no other ingredients, it is all proprietary blend which all have risks of dangerous side effects.
Caffiene: Could cause jitters and headaches
L-5 Hydroxytryptophan: Bowel problems, heart problems, stomach problems, blood disorders and severe muscle pain
Beta Methoxyphenylethylamine: Tachycardia, hypertension, headaches
Yohimbine HCL: Hypertension, Anxiety, Gastrointestinal Distress
Pros and Cons
Pros
Cons
Only one serving per day
Lots of dangerous side effects
Proprietary Blend – unknown dosages
Dren Review Conclusion
Don't buy this product.
It's really unclear as to why MHP has put so much effort into hiding the ingredients in this blend? Is because they're too potent, too dangerous? Whatever the reason, steer very fairly clear of this product.
People have even taken themselves to hospital in fear of the effects of this product. It may be cheaper than most fat burners, but your health is priceless.