Destroy the Enemy is a fat burner from YouTube Fitness celebrity Dana Linn Bailey which claims to:
Cut Fat
Increase Energy
Boost focus
However, does it actually work?
We've been taking a closer look at the servings and the dosages behind DTE to see if it really is worth the investment and if it can help you cut fat.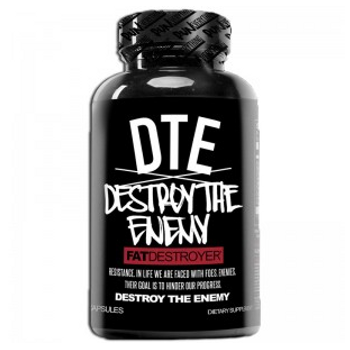 Here's what we've found:
About the Company – Dana Linn Bailey/Run Everything Labs
Dana Linn Bailey is a YouTube fitness celebrity that has been active in the industry for the last couple of years. With her knowledge, charisma and physique, she's gained a large fanbase and become an icon for female bodybuilding.
Due to her success in the industry DLB has launched a range of supplements catered to both men and women looking to improve their performance in the gym.
However, DLB's fame isn't a guarantee seal of quality. We've looked into the ingredients and here's what we've found.
The Ingredients and how they work
The servings of DTE aren't that great. With only one recommended serving a day, there's only so much benefit you can get from this product.
It would've been better to see this supplement delivering 3 – 4 servings a day instead. This gives your body a constant supply of the nutrients it needs to keep burning fat.
To see our best recommendations check out
– Our Top 3 Fat Burners –
Without constant top-ups you're only going to get a few hours of benefit a day.
As for the ingredients here's what we've found: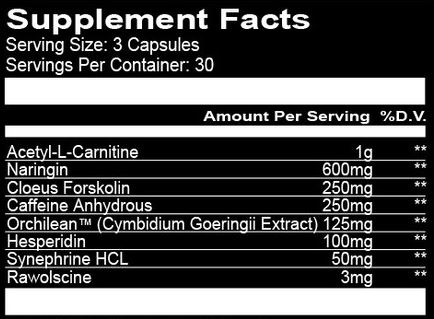 Acetyl-L-Carnitine
One of the best amino acids for improving energy and metabolism levels when dosed correctly. Perfect for helping you with longer gym sessions.
Studies suggest you need around 500 – 2500mg per serving to get the full effect. DTE contains 1000mg, that's more than enough.
Naringin
Essentially Naringin is grapefruit extract – but unfortunately it's not that effective. The polyphenols have been linked to a reduction in fat mass, but the effects are minor.
Even though there's 600mg in this product, we can't see it making a lotof difference.
Cloeus Forskolin
This is a traditional fat loss medicine that in some cases has been seen to even boost testosterone levels.
However, the studies that suggest these benefits use 500mg of the nutrient throughout the day, double the amount in this fat burner.
Caffeine Anhydrous
One of the best natural stimulants you can get in a fat burner, caffeine anhydrous has been seen to improve energy, metabolism and power output.
Although we believe that the amount used in this fat burner may be a bit too much, with 250mg of caffeine being higher than some pre-workouts.
If you don't have a high tolerance to the stimulant, be careful with this product.
Orchilean
Thought to be up to three times stronger than DMAA (a banned stimulant) however, this has only been declared in the marketing of the product, there has been no evidence to support this.
Synephrine HCL
Also known as Bitter Orange Extract, Synephrine has been seen to give a minor increase in energy levels. However, it has also been linked to side effects when combined with Green Tea and Caffeine.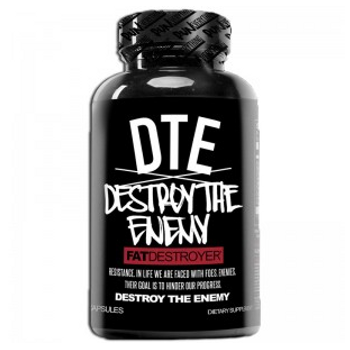 As you can see, there are some good ingredients used in Destroy The Enemy, but they are outweighed by potential side effects, and other ingredients that have less of an effect.
This isn't the best fat burning profile we've seen, but it isn't the worst either. You can learn more about what you should be looking for below:
Check out which ingredients work and which don't in our
– Fat burner ingredients guide –
Side Effects
There are two main concerns when it comes to this fat burner. The synephrine and the caffeine as they both cause side effects together, and in their own right.
Firstly the caffeine, there's too much in this product. With a huge 250mg dosage, this supplement contains more than most pre-workouts, and if you find yourself with a low tolerance to caffeine it could lead to a range of side effects, such as:
Jitters
Light-Headedness
Dizziness
Nausea
Add on to this the synephrine, and this can lead to further side effects such as:
Headaches
Migraines
Raised Blood Pressure
Raised Heart Rate
Pros and Cons
Pros
Cons
Potential Side Effects
Not enough thermogenic ingredients
Not enough appetite suppressants
Conclusion
On the whole, DTE has some good ingredients, but a lot of work needs doing to make it perfect.
It's the thermogenic profile that needs the most work, green tea, green coffee bean or cayenne pepper would all help towards increasing body temperature and the amount of calories burned.
On top of this the caffeine and synephrine have the potential to cause side effects which could damage your progress and affect your training.
If you're looking for the safest, most effective option when it comes to burning fat and seeing results. You need to check out our current top fat burners. You can find out more below: