---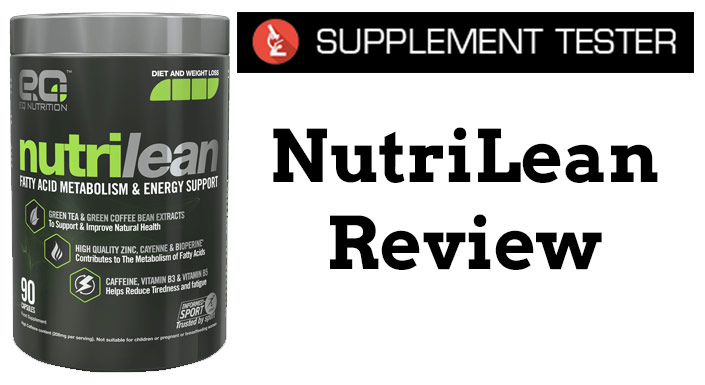 ---
We found this fat burner supplement under the 'best sellers' section on bodybuilding.com. If people are buying it, it must be good – but we'll be judge of whether it's worth buying in this review.
Claimed to promote:
We're disappointed that NutriLean doesn't offer the benefit of appetite surpression – so it'll be interesting to see how effective it is.
About The Company
There's a chance that you haven't heard of EQ Nutrition before. So we'll give you a quick overview about this company here.
This sports nutrition brand was founded in 2009 by a 'natural bodybuilder and powerlifter'. They claim that they're dedicated to quality, so we're looking forward to seeing which nutrients they've chosen to add into NutriLean.
The Ingredients and How They Work
We can see why NutrLean is one of the best sellers on bodybuilding.com; it contains some great ingredients, and we're actually impressed by this fat burner's nutrient profile.
However, there's one problem – it contains a banned substance, synephrine.
Anyway, we'll examine the nutrients in detail for you below. This will give you an idea of how effective this fat burner is.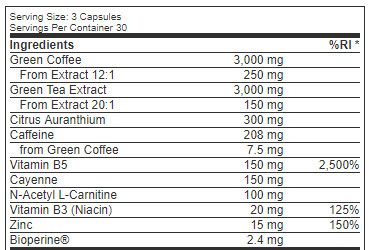 Green Coffee Bean Extract 
One thing we've noticed is that EQ Nutrition hasn't gone cheap on the dosages in NutriLean; there's a massive 3,00mg of green coffee bean extract here, which is great.
Why? Because this is a fat burning nutrient that's proven to work in numerous studies. Great start by EQ Nutrition here.
Green Tea Extract 
Another key fat burning ingredient, green tea extract is tried-and-trusted to help you shred fat. Again, it's been dosed generously here, which is a good thing.
Citrus Aurantium 
More commonly known as synephrine, this is one of the worst ingredients you can find in fat burner supplements. In fact, it's the only negative nutrient inside NutriLean – so we're disappointed that this basically ruins this product.
Why? Because synephrine has been banned in countries after causing harmful side effects.
It's not worth suffering side effects when trying to lose fat – especially when there's enough high-quality fat burners that won't cause any unwanted effects.
As a result, we always advise that you avoid supplements containing synephrine.
See SupplementTester's
Highest Rated Fat Burners Here 
Caffeine 
Caffeine is the best stimulant you can find in gym supplements. Here's why; it's really useful in fat burners, as it raises your energy levels, helping you cut back calories (therefore making it easier to lose fat).
However, one thing you need to watch out for is the dosage of caffeine in supplements.
EQ Nutrition has clearly done their research, as they've dosed caffeine well here. This means you won't suffer from jitters or energy crashes when taking NutriLean.
Cayenne Pepper Extract
If you're unsure what this is, it's basically a chilli pepper. It's used in cooking, and it can really make you sweat after eating it.
This raise in body temperature is exactly how cayenne pepper extract encourages your body to burn more fat (by boosting your metabolism).
As a result, we also consider cayenne pepper extract as a key fat burning ingredient – it's proven to work in numerous studies, and you can't argue against it.
L-Carnitine 
While this has shown to slightly promote fat loss, it's not enough for us to consider it as a 'key' nutrient here. But it's also not a bad addition either.
In a nutshell, L-Carnitine's main benefit is reducing fatigue while raising your focus in the gym; as a result, we believe it's perfect in pre workout supplements.
However, it's not as useful when added into fat burners.
Bioperine 
This is patented version of black pepper extract…yes, someone patented black pepper…
Anyway, it's actually more beneficial than you think; black pepper extract has shown to improve the absorption rate of other nutrients it's consumed with.
It's not a 'key' ingredient, but it's a good 'bonus' ingredient to have.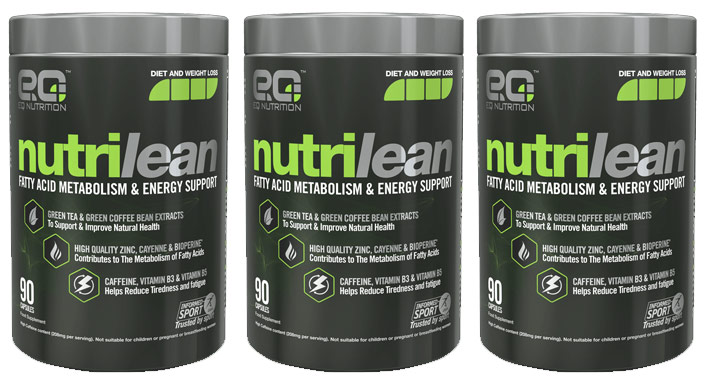 Check out which ingredients work and which don't in our
– Fat burner ingredients guide –
Pros and Cons
Pros: 
Contains numerous key fat burning ingredients
Good dosage of caffeine
Good value for money
Cons: 
Synephrine (Citrus Aurantium) banned in numerous countries due to causing harmful side effects
Risk of side effects
Side Effects
While most of the ingredients inside NutriLean are great, 1 nutrient ruins this product for us – synephrine.
Why? Because synephrine has consistently been reported to cause numerous side effects. In fact, it's been banned in numerous countries for this very reason.
As a result, we have to advise you to avoid supplements containing synephrine – we wouldn't want any of our readers to suffer any side effects after reading our reviews.
See a list of NutriLean's possible side effects here:
Nausea
Dizziness
Anxiety
Rapid Heartbeat
High blood pressure
Not what you're looking for? See our
– Top Rated Fat Burning Ingredients Here –
Review Conclusion
We're very disappointed that EQ Nutrition decided to add synephrine into NutriLean. Without this harmful nutrient, we would have ranked this fat burner as one of the best we've seen on the market.
However, it's the little things that make or break a product. And unfortunately, adding citrus aurantium into NutriLean has ruined this fat burner.
There's no reason to consume ingredients that might cause side effects – especially when there are fat burners available, which haven't been reported to cause any side effects.