Evogen are a reputable company in the industry, and Lipocide IR looks to be a great addition to their line-up of supplements.
With some key fat burning nutrients included like green coffee bean extract and cayenne pepper extract, it seems to have a great mixture of ingredients to boost your metabolism.
Claimed to promote:
Energy
Appetite Control
Thermogenesis
Along with the positives of Lipocide IR, we have spotted some concerns. So we'll let you know everything in this review.
See SupplementTester's Highest Rated
– Fat Burner Supplements Here –
About The Company
Evogen are a USA-based supplements company that market numerous different products. As you know, this includes fat burners and pre workouts.
But apart from that, we didn't learn a great deal more about this brand, as their 'about us' section didn't have much information on there.
So without wasting anymore time, let's check out the nutrient profile for Evogen Lipocide IR.
The Ingredients and How They Work
As we've already mentioned, the nutrient profile for Lipocide IR is very respectable. Evogen seem to have spent time researching while formulating this fat burner, with some great metabolism-boosting ingredients like green coffee bean and cayenne pepper extract added.
But one of the problems we have with Lipocide IR, is that it contains a proprietary blend; this means that you're not shown the exact dosages of nutrients inside this fat burner.
Why is this a problem? Answer: some people are more sensitive to nutrients than others, so it's much safer and beneficial to know exactly what you're putting into your body.
On a positive note, Evogen seem to be aware of this, as they've left caffeine anhydrous out of the blend and provided the exact amount included in Lipocide IR.
See for yourself: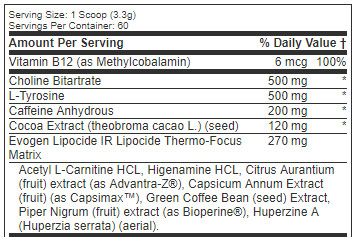 Choline Bitartrate 
Not the best ingredient to start with, if we're being honest. Choline is thought to help improve your general health and help muscle movement, which doesn't sound too bad.
But you should know that choline bitartrate is associated with causing fishy odors in your body – not really something you want.
As a result, we prefer to stay away from choline when we can. Saying that, this side effect isn't exactly going to negatively affect your life too much either.
L-Tyrosine 
L-tyrosine isn't really necessary in a fat burner. Why? Answer: it doesn't have any effect on fat loss at all.
So you might be wondering what l-tyrosine is used for…it's able to improve your cognition, so it's more useful in nootropic supplements.
Saying that, there's absolutely no negatives to consuming l-tyrosine, so there's no issues here. We just would have preferred something more effective at promoting fat loss (eg. green tea extract).
Caffeine Anhydrous 
When it comes to stimulants, caffeine anhydrous is the king. It's known to be safe, as it's a pure form of caffeine.
But it's important to always keep an eye on your intake with caffeine anhydrous; consume too much, and you'll be suffering from jitters and energy crashes before you know it.
So what's a safe dosage? We always recommend consuming under 100mg caffeine anhydrous per serving with fat burners.
Now, you can see that Lipocide IR only comes with 1 serving per day. This isn't great, as it means you'll be consuming the full amount of each ingredient at once.
Overall, Lipocide IR contains 200mg, which still should be safe. But just bear in mind that this is equal or more than the caffeine dosage in pre workout supplemens – so you shouldn't consume this while sat at your office desk…
(Evogen Lipocide IR Thermo Focus Matrix) 
*All ingredients from this moment onward are part of the proprietary blend in Lipocide IR. 
Acetyl-L-Carnitine
L-carnitine can be a key player in pre workouts due to being able to reduce muscular fatigue.
We understand why Evogen has included this in their fat burner as l-carnitine has shown to have some effects on fat loss. But the problem is that this secondary benefit isn't significant enough to make a big difference in fat burner supplements.
While l-carnitine certainly isn't the worst ingredient in Lipocide IR, it's not the best either.
See SupplementTester's Highest Rated
– Fat Burner Supplements Here –
Citrus Aurantium Extract 
Better known as bitter orange extract, this isn't an ingredient that we advocate.
Why? Answer: bitter orange extract has commonly been reported to cause side effects, which we would rather avoid.
In fairness though, citrus aurantium extract has shown to help people lose fat, which is why many companies choose to include this nutrient in their fat burners.
Capsicum Annum Extract 
This is the name that Evogen has chosen to represent the patented ingredient 'capsimax'.
We won't get into boring details, but all you need to know about this ingredient is that it contains capsicum; this has shown to directly raise your metabolism, helping you burn fat more efficiently in the long-run.
The only bad thing is that you're not shown the exact dosage in Lipocide IR, due to it being contained in a proprietary blend.
Green Coffee Bean Extract 
We've been talking positively about green coffee bean extract throughout this review for one reason – it works.
There have been enough clinical studies proving that green coffee bean works, so it's safe to regard this as a key player in any fat burner supplement.
How does it work? Answer: green coffee bean contains high amounts of chlorogenic acid, which is a proven thermogenic that boosts your metabolism.
As a result, we consider this to be one of the most effective ingredients in Lipocide IR.
Bioperine 
Also known as 'black pepper extract', this is more commonly added to foods. But many aren't aware that it's able to improve the absorption rate of supplements it's added to.
So while it's not an essential ingredient that we look for, it's certainly a useful addition to any supplement.
Huperzine A 
We mentioned that l-tyrosine is able to improve your cognition. It's the same story with huperzine a, so you've probably guessed that this ingredient is also more commonly found in nootropic supplements.
Simply put, as an increase in memory etc isn't a key reason for taking a fat burner supplement, huperzine a isn't actually necessary in Lipocide IR.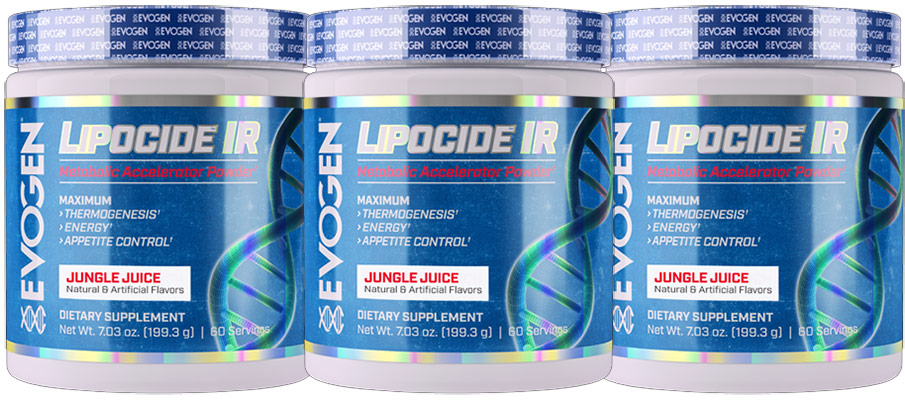 See SupplementTester's Highest Rated
– Fat Burner Supplements Here –
Pros and Cons
Pros 
Green coffee bean extract helps boost metabolism
L-tyrosine can improve cognition
Capsicum annum extract helps promote fat burning
Cons 
Citrus aurantium extract reported to cause side effects
No ingredients to suppress appetite
Big dosage of caffeine for a fat burner in 1 serving
Side Effects
There are some ingredients in Lipocide IR that can cause side effects. Most notably, these include citrus aurantium extract and choline bitartrate.
See the possible side effect here:
Nausea
High blood pressure
Anxiety
Fishy odors
Review Conclusion
Evogen hasn't done a bad job with Lipocide IR. There are many good things about this fat burner, but there are also many things wrong with it too.
One of the main problems is that most of the ingredients in Lipocide IR have been added to a proprietary blend; as you'll know by know, it's much better to know exactly what you're putting into your body.
Not only that, as Lipocide IR contains citrus aurantium and choline bitartrate, it has the potential to cause side effects too. As a result, it's not going to battle against our favorite fat burners we've tried.
Check out our
– Best rated fat burner list –