---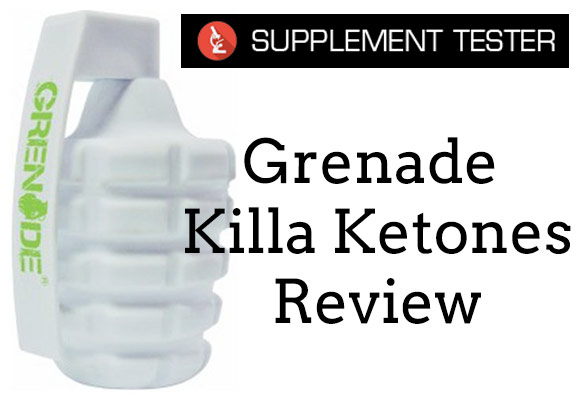 ---
We're used to seeing the green grenade container of this company's most popular fat burner, so this white grenade container caught our attention in the retail store.
It's named Killa Ketones, which is worrying as Raspeberry Ketones are one of the biggest gimmicks in the industry – so a product designed around this ingredient won't be very effective.
The advertisement for this product claimed it was aimed at women, so it'll be interesting to see what ingredients are inside.
Claimed to promote:
To be honest, there wasn't many claims on Grenade's advertisement – usually, fat burners offer other benefits such as increased energy – with the best ones offering appetite suppression too.
For those that don't know, let's take a look at the company behind Killa Ketones.
About the Company
Founded in 2010, Grenade is company that's best known for their 'thermo detonator' fat burner. However, we didn't learn much more from their 'about us' section of their website – it was filled with ego boosting achievements and trophies won.
But you're here to read about whether Killa Ketones is filled with safe and effective ingredients – and that's exactly what we'll give you below.
The Ingredients and How They Work
As we mentioned at the start of this review, Killa Ketones is designed around the fact it contains rasperry ketones – this is one of the biggest gimmicks in the industry, so this is disappointing.
However, it's not too late for this fat burner to gain some credibility; it also contains over 9 ingredients as well as raspberry ketones, so hopefully these will prove to work.
See for yourself: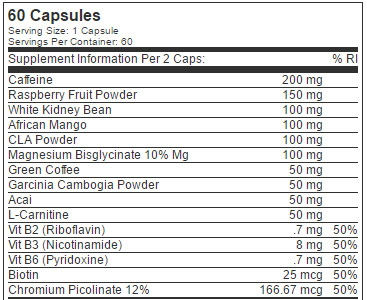 Caffeine 
This is the best and safest stimulant you can find on the market – if it wasn't people wouldn't drink tea and coffee everyday…
Anyway, the only thing you have to look out for, is the dosage – as Killa Ketones come with a 1 capsule per day serving, this means you're getting the full 200mg in one hit (this is as much as most pre workout supplements, so you should take this before the gym, not at your office desk).
This isn't a good thing, as we believe 3-4 capsules spread through the day is better – this allows your body to be constantly topped up with nutrients needed to burn more fat. But saying this, 200mg Caffeine per serving isn't going to cause any side effects either.
Raspberry Ketones (Fruit Powder) 
We've already mentioned that this is ineffective at promoting fat loss – making it useless in fat burner supplements. It's just worrying that Grenade has named their fat burner after this ingredient.
White Kidney Bean
This is believed to be a dietary carbohydrate blocker (meaning it reduces the absorption of carbs). However, it's not very reliable in studies – making this an ineffective ingredient.
Not only that, there's no need to reduce the absorption of carboydrates; the best thing you can do is keep tracking your calories, and make sure you've got a deficit. Remember: the elevator to success is our of order – but the stairs are always open.
African Mango 
This is extracted from the seeds of the African Mango plant, but it's not shown to be effective in helping you lose fat.
CLA Powder 
This is believed to promote fat loss – which is why there are many individual CLA supplements on the market. It's shown to be slightly effective, but it's not a reliable as other ingredients out there.
Magnesium Bisglycinate 
All you need to know about this ingredient, is that it's not shown to promote fat loss. Let's move on.
Green Coffee Bean Extract 
Finally, an effective fat burning ingredient. Green coffee bean extract has proven to help you shred fat in numerous studies. However, you need at least 100mg for it to work – as Killa Ketones only contains 50mg, it's not likely to be effective here.
Acai 
This is believed to promote general health and potentially lifespan – it's not proven to deliver these benefits, but all you need to know is that it has no effect on fat loss.
L-Carnitine 
We prefer L-Carnitine in pre workout supplements, as it's main benefits are reducing fatigue and improving focus. While it's shown to have a small effect on fat loss, it's not enough to justify having it in a fat burner supplement.
Chromium Picolinate 
This is an essential mineral that can regulate glucose metabolism and insulin sensitivity. You've probably heard that broccoli is great on a diet, well it's because it contains high amounts of Chromium Picolinate.
If you don't like eating brocolli, then this will help consume this ingredient.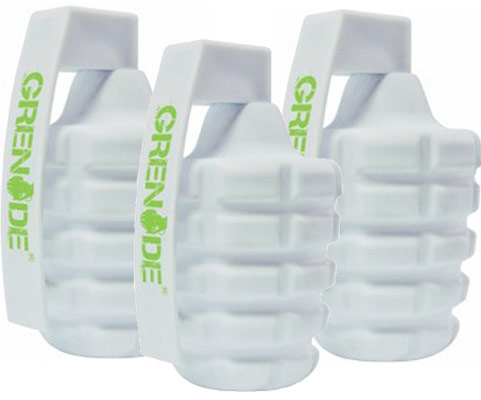 Check out which ingredients work and which don't in our
– Fat burner ingredients guide –
Pros and Cons
Pros: 
Green Coffee Bean Extract is a key fat burning ingredient
L-Carnitine reduces fatigue
Chromium Picolinate can promote fat loss
Cons: 
Most ingredients are ineffective
Raspberry Ketones are one of the biggest gimmicks in the industry
Side Effects
Perhaps the best thing about Killa Ketones, is that it doesn't contain any ingredients capable of causing any side effects.
We like this – if a supplement is going to be mostly ineffective, then it can save itself slightly by not causing any side effects – this might help raise its profile to match a product with better ingredients that causes side effects.
Not what you're looking for? See our
– Top Rated Fat Burning Ingredients Here –
Review Conclusion
After taking a closer look at the ingredients in Killa Ketones, it's better than we originally gave it credit for – but we were always going to criticize a product named after an ingredient that's not proven to work in any studies.
Anyway, this isn't the worst fat burner we've seen – as it doesn't cause any side effects, it's definitely saved itself that title. However, it can't compete with our favorite fat burners at the moment.