The Hourglass website describes the product as "the intelligent, hype-free fat burner" that's "specifically designed to help you reach your targets."
This is music to our ears, as we're only interested in fat burners that work – we want to know whether they're worth our money before we buy.
This product claims to give you:
Fat burning that reveals the "confident you hiding beneath"
More energy and focus on a low-calorie diet
Powerful, yet safe and natural ingredients
A fat burner that won't mess with your hormones
No unpleasant side effects
Permanent results
100% product refund if not you're not satisfied
All the above looks fantastic – but is it too good to be true? Or could Hourglass replace Lean Bean as our favorite fat burner for women? Find out in our Hourglass fat burner review…
About The Company
Propura is a UK-based supplement company. It began life in 2013, and its first product was Prime Male – a testosterone booster aimed at men over 40.
Hourglass is Propura's flagship product for women – and it's getting some glittering reviews from users all over the world.
The company's tagline is a "science-driven pathway to health and longevity." And after a little research, we find that all Propura products are prepared to FDA regulations in the US and GMP guidelines in the UK for your safety.
Propura also ships worldwide and offers a 90-day, money-back guarantee when you order a three-month supply.
Hourglass Fat Burner Review: The Ingredients and How They Work
Looking at Hourglass's list of ingredients, the first thing we notice is that it doesn't contain any proprietary blends.
Please note: Proprietary blends are sub-formulas that show you the ingredients, but not the individual doses.
The fact the guys and girls at Propura avoid proprietary blends means you get a proper look at what you're getting before you hand over your money.
Take a look: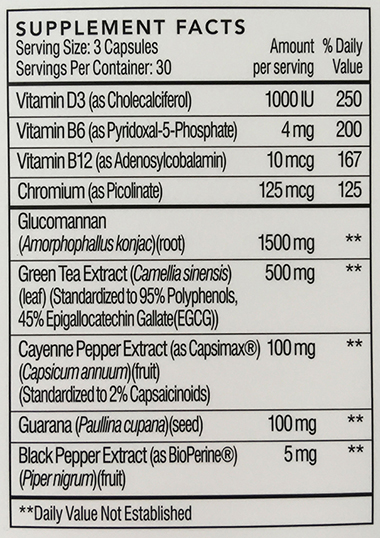 Vitamin D3
Vitamin D3 is an essential nutrient that's widely known as the "sunshine vitamin." This is because our bodies naturally absorb Vitamin D through the skin via sunlight.
Research shows Vitamin D deficiency increases the risk of obesity and related health issues, so it's imporatnt to make sure you get enough.
If I can get Vitamin D from the sun, why do I need more?
Well, most Americans don't get enough Vitamin D. In fact, this is a global problem that even affects people living in countries where the sun shines all year round.
As a result, it's wise to make sure you get your fill of Vitamin D3 by taking more in a supplement.
While we're used to seeing D3 in supplements, we don't usually see it fat burners – this is a great start!
Vitamin B6
Vitamin B6 is the second essential nutrient on this list.
It boosts your metabolism and improves muscle tone. It even helps prevent food cravings by regulating blood sugar, keeping your hormones in check and helping your body to burn more carbs.
Vitamin B12
Vitamin B12 plays a vital role in many of your body's essential functions. In addition to boosting your immune system, it helps the body convert protein and fat into energy, while also assisting the breakdown of carbs.
B12 is a well-known energy booster. And f you've ever been on a diet before, you'll know that dropping your calorie intake can make you feel tired and lacking motivation.
B12 works with many of Hourglass's other ingredients to help replace the energy you lose on a calorie-controlled diet. So in addition to boosting your metabolism, the vitamin also helps you work out for longer, which in turn helps you reach your goals sooner.
Chromium
Chromium is found in lots of different green vegetables – and the mineral is one of the main things that makes broccoli so healthy.
Otherwise known as Picolinate, Chromium normalizes blood sugar levels, which speeds up weight loss. Keeping your insulin levels in check also helps reduce cravings for sugar and other carbs.
Why can't I just eat more green veggies?
Because to burn fat, the optimum amount of Chromium is 100-125mcg. As one cup of broccoli contains 22mcg, this means you'd need at least 4.5 cups to burn fat effectively – that's a lot of broccoli, so getting your fill from food may be impractical.
Compare it to SupplementTester's 
Highest-Rated Fat Burners Here
Glucomannan
Ah, we love Glucomannan! In fact, we've seen it in at least one of our favorite fat burners. But sadly, we don't see it enough.
Taken from the konjac plant, the soluble dietary fiber expands in your tummy to make you feel fuller, lowers your appetite, and keeps hunger cravings at bay. This makes you less likely to raid the cookie jar in between meals.
We find Glucomannan is most effective when you consume it in doses of 1500-1800mg, so it's wonderful to find 1500mg in Hourglass. But to make the most of the fat-burning power, we prefer doses closer to the upper end of that range.
Green Tea Extract
Green Tea is our favorite fat-burning ingredient – and we always say that we wouldn't trust a fat burner without it!
It contains four bioactive catechins, the most potent of which is EGCG. In addition to protecting your heart and immune system, these active ingredients have a thermogenic effect.
This means that when you ingest it, it heats up your body and forces it to burn more calories faster as it races to return to a normal temperature.
It's great to see Hourglass contains an optimal 500mg of Green Tea.
Cayenne Pepper Extract
Taken from the South American Capsicum Annuum. Cayenne Pepper contains capsaicin, a compound which gives this fruit its fat-burning power and its spicy taste.
Capsaicin is a neurogenic inflammatory which induces high levels of thermogenesis to turn your body into a fat-burning furnace. It works with Green Tea to ramp up your metabolism, which helps you burn more calories and lose weight faster.
Guarana
Native to the Amazon (particularly Brazil), Guarana is a climbing plant and a member of the maple family. Early research suggests Guarana increases fat oxidation. It also acts as a stimulant, which helps replace the energy you lose when you drop the number of calories you consume.
But while the plant extract shows promise for this purpose, we tend to prefer Smart Caffeine (a blend of Caffeine and L-Theanine).
This is because heaps of research shows Smart Caffeine gives you all the benefits of Caffeine, but without any nasty energy crashes.
Black Pepper Extract
Black Pepper Extract (aka Piperine) is one of the most popular spices in the world. It has a mild thermogenic effect, which adds to the awesome fat-burning power of Green Tea and Cayenne Pepper.
But Black Pepper's main function is to help your body absorb more of the other nutrients in the supplement. This obviously works best in supplements with a great nutrient profile – so it's just as well Hourglass (mostly) contains impressive ingredients.

See SupplementTester's Highest Rated
Highest-Rated Fat Burners Here
Side Effects
Hourglass is 100% natural and safe to use – and best of all, it won't mess with your hormones.
Pros and Cons
Pros:
No proprietary blends – you know exactly what you're paying for
Similar nutrient profile to the best fat burners on the market (but at a lower cost)
Doesn't patronize you, feed you hype, or make unrealistic promises
Made by a respected company (Propura)
Safe and natural – and it doesn't mess with your hormones
Gives you a clean energy boost, with no nasty crashes
Reduces hunger cravings to help keep your diet on track
90-day money-back guarantee
Cons: 
Premium price – more expensive than many other fat burners
Prefer Smart Caffeine to Guarana as a fat burner/stimulant
You can only buy from one place: www.hourglassfit.com
See SupplementTester's Highest Rated
Highest-Rated Fat Burners Here
Hourglass Fat Burner Review Conclusion
We're very impressed by (almost) everything about this product – and we enjoyed every minute of this Hourglass fat burner review.
It's so refreshing to find a women's fat burner made by a company that refuses to patronize you or try to feed you hype at the expense of science.
While we would've liked a smidge more Glucomannan and a blend of Caffeine and L-Theanine instead of the as-yet-unproven Guarana, these are small concerns.
Apart from that, Hourglass contains a bunch of fantastic, natural ingredients that we'll always recommend as effective ways to burn fat, reduce your appetite and keep you alert and focused all day long. Hourglass really is one of the best fat burners we've ever tested.