If you're looking to achieve that lean physique you crave, a food fat-burner could be the answer.
Hydroxycut Hardcore Next Gen Non-Stimulant from MuscleTech is a fat-burner for those who want an alternative to the usual caffeine based products out there.
This main aim of this product is to boost both fat and weight loss, without having to rely on stimulants to get the job done.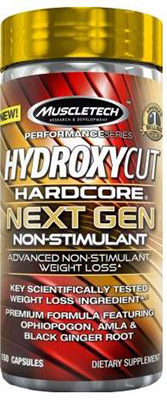 About the Company
MuscleTech have been in the industry for years, and have built their reputation around a huge range of products – anything from fat-burners to protein supplements.
Started in 1996, they claim to offer "The Hardest Hitting Performance Supplements" in the market.
They're known for their Hydroxycut series of fat-burners – and now they've produced this Non-Stimulant product.
The Ingredients and How They Work
MuscleTech recommends taking 3 capsules, twice every day. Straight away this gives you a problem.
You body only digest so much at time – this means a lot of the nutrients used will be wasted, while the others will only last for a few hours in your system.
For the best results you want 3 – 4 servings a day. This means the nutrients are constantly in your system, keeping your body in that fat burning mode.
As for the nutrient profile itself, along with the usual vitamin B6 and B12 seen in many fat-burners, there are few unique choices in the list. We'll let you know if they're good or bad.
Take a look: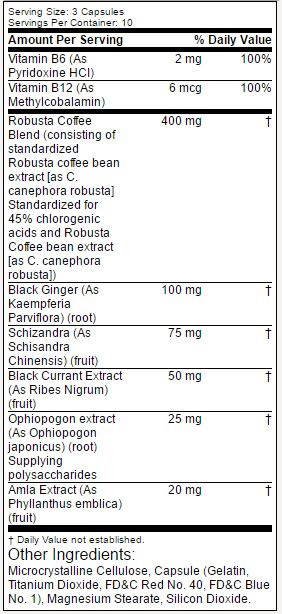 Robusta Coffee Blend
One of the main things you need to know about this blend is that it supplies chlorogenic acid level. This is great for fat burning.
It's optimal for slowing down your body's fat absorption. This acid also moderates the glucose in your liver – which encourages your body to look for other sources of energy. Namely your fat cells.
Black Ginger
We've seen normal ginger in supplements, but not a lot of black ginger. Although claimed in traditional medicine to have some thermogenic effects, there have been no human studies that clinically prove this to be the case.
More research needs to be done on this nutrient to know if it really will be effective.
Schizandra
This is rumoured to improve your Glucose Metabolism and protect your liver, but there is no solid evidence to prove either in human studies.
Black Current Extract
Although this has significant amounts of Vitamin A and flavanoid anti-oxidants, we can't see many benefits of having this in a fat-burner.
Ophiopogon Extract
This again moderates glucose metabolism. This is good because high glucose and insulin levels mean more fat storage.
However, this has been linked to numerous side effects, so the risks could outweigh this benefit that can be found in many other ingredients. You can find more about that in the later sections.
Amla Extract
An indian gooseberry that is rumoured to help glucose moderation, it also offers a high amount of Vitamin C and anti-oxidants.
Again, another anti-oxidant to add to the stack in this fat-burner.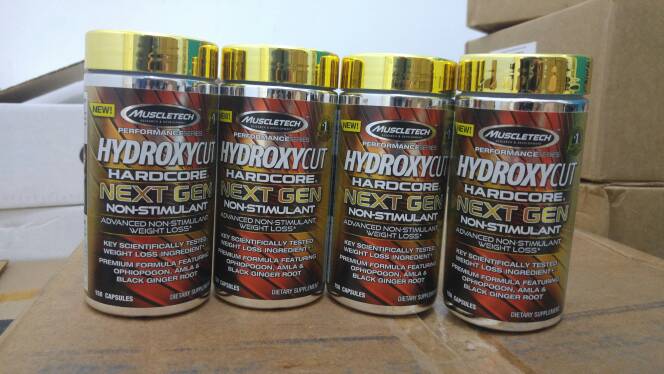 This isn't the best fat-burner we've seen. It's tried to succeed as a Non-Stimulant, but it contains many ingredients that have the same effects – control glucose. It doesn't have enough thermogenics to really make a noticeable difference. 
Check out which ingredients work and which don't in our
– Fat burner ingredients guide – 
Side Effects
The main risks in Hydroxycut Hardcore Next Gen Non-Stimulant is the Ophiopogon Extract. This can lead to such side effects as:
Nausea
Vomiting
Palpitations
Irritability
Itching
These would definitely prevent you from reaching your weight-loss goals.
We'd recommend a normal fat-burner with better overall thermogenic and glucose moderation effectiveness.
Not what you're looking for? See your best options in our
– Top 3 Fat Burners Page –
Pro's and Con's
Pro's 
Robusta Coffee Blend slows down your body's fat absorption rate.
Con's 
Ophiopogon Extract comes with numerous precautions
A lot of the nutrients do not promote direct fat loss
Servings need improving (Only 2 a day)
HydroxyCut Hardcore Next Gen Non-Stimulant Review Conclusion
The only great benefit from this product is the 45% chlorogenic acid level from the Robusta Coffee Blend, many core fat burning ingredients have been missed out from this product .
Also, the risk of numerous side effects from the Ophiopogon Extract outweigh the ingredients benefits – MuscleTech have worked hard to try and find alternatives to stimulants here.
There are many better options out there, especially ones with stimulants giving thermogenic effects. You can find out more about them in our top 3 below: