---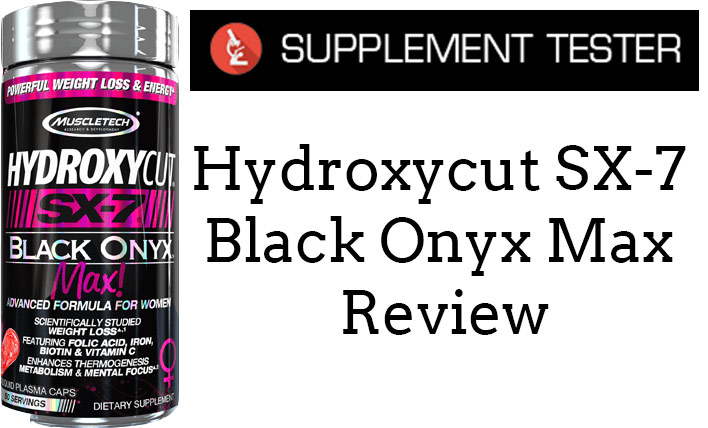 ---
When we see another addition to the Hydroxycut SX-7 line-up, we have to take notice. This series of a fat burners by MuscleTech is their most popular in their range, but this one is made specifically for women.
Claimed to promote:
Energy
Fat loss
Metabolism
One thing we noticed straight away, was that there are no ingredients to help suppress your appetite. For us, appetite suppression is a benefit that every fat burner should have – but we won't hold this against MuscleTech's product.
About The Company
MuscleTech needs no introduction, but this is for those new to supplements. In a nutshell, MuscleTech are one of the biggest sports nutrition brands in the industry – they're well-known for their fat burners (this hydroxycut series), but they also market a range of other supplements (from test boosters to pre workouts).
Anyway, enough about MuscleTech. Let's see which ingredients are inside Hydroxycut SX-7 Black Onyx Max.
The Ingredients and How They Work
We know that other Hydroxycut fat burners contain proprietary blends. So we're happy to see that each nutrient is listed clearly with their exact dosages shown here.
As Hydroxycut SX-7 Black Onyx is specifically marketed at women, we'll be keeping an eye on whether there are ingredients to justify MuscleTech's approach.
However, after looking at the nutrients inside this fat burner – we can't see any reason why this would benefit women more than 'unisex' fat burners.
Anyway, we're here to analyze the nutrients for you. So we'll get to business below.
See for yourself: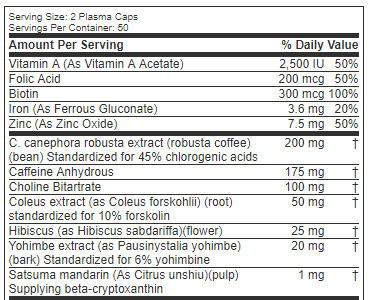 Green Coffee Bean Extract 
You might be confused here, as this nutrient is labelled under its fancy name "C.canephora robusta extract". But all you need to know is that green coffee bean extract is great for promoting fat loss.
Studies have shown that it's able to reliably help your fat burning journey; this is due to containing chlorogenic acid, which boosts your metabolism.
Great start by MuscleTech – and we expected nothing less from this respected brand.
Caffeine Anhydrous 
This is our favorite stimulant in any gym supplement. It's been proven to work – and as long as its dosed sensibly, it's safe too.
So what's an effective dosage? Well, this depends on each individual. But as a general rule, we advise that you consume under 300mg caffeine overall in fat burners – this is a dosage that will be safe for everyone (regardless of tolerance to this stimulant).
MuscleTech has done well by dosing caffeine at a safe dosage. So good job by them here – you can even drink some tea while taking this fat burner and be safe.
Choline 
Now, choline is the first bad ingredient on Hydroxycut SX-7 Black Onyx Max's nutrient profile. Basically, its an unreliable nutrient that's not shown to be effective at promoting fat loss.
Not only that, we know that choline can cause fishy odors in your breath and body secretions…so this is a reason to avoid taking choline.
See SupplementTester's
Best Fat Burners On The Market Here
Coleus Extract 
Otherwise known as Coleus Forskohlii. This has actually shown promising results as a fat burner (particularly in men).
What is it? Answer: a herb that's been used for a long time in traditional medicine.
However, at least for now, Coleus Forskohlii isn't reliable – but we'll keep an eye on it in future.
Hibiscus 
This is more commonly used to brew tea. It's considered an effective herb to reduce blood pressure and stop you from experiencing a spike after consuming carbohydrates.
But there's a few problems with Hibiscus; it's shown to be toxic in large amounts and hasn't shown to promote fat loss.
In our opinion, you shouldn't be consuming any nutrient that's shown to be toxic – safety comes first when taking supplements.
As a result, we recommend that you avoid supplements containing Hibiscus.
Yohimbe Extract 
Yohimbe isn't a great addition to any fat burner. Here's why; while it's shown to be effective in promoting fat loss, it's also shown to cause numerous side effects.
We don't like it. as it's derived from yohimbine (which has been banned in a few countries). Yohimbe is basically what companies use instead, as it passes 'loopholes' in regulations set by countries.
But don't be fooled – yohimbe is still as potentially harmful as yohimbine and we won't be surprised if its banned soon.
Satsuma Mandarin 
If you've ever eaten a satsuma before, then you know how tasty they are. But unfortunately, they don't offer any benefits apart from slightly improving your health (due to containing vitamins).
There's no reliable evidence to suggest that satsuma will help you burn fat – making it an ineffective addition by MuscleTech here.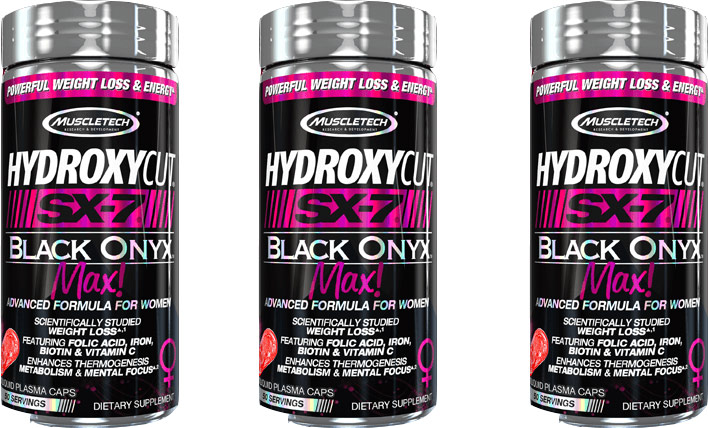 Check out which ingredients work and which don't in our
– Fat burner ingredients guide –
Pros and Cons
Pros: 
Contains safe dosage of Caffeine
Green coffee bean shown to help burn fat
Cons: 
Yohimbe shown to cause many side effects
Hibiscus can be toxic
Missing key nutrients
Side Effects
We mentioned that there are a few side effects that you can suffer from taking Hydroxycut SX-7 Black Onyx Max. Well, we'll tell you exactly what they are in this section.
Instead of writing long paragraphs that you probably won't read, we'll get straight to bullet points below.
See the side effects you might suffer:
Fishy odors in your breath and body secretions
Headache
Nausea
Anxiety
Not what you're looking for? See our
– Top Rated Fat Burning Ingredients Here –
Review Conclusion
Hydroxycut SX-7 Black Onyx Max is a fat burner marketed at women, so we're guessing your female if you're reading this review. Well, there's no reason to suggest that this product is more effective at helping women burn fat at all.
In fact, it contains ingredients commonly seen in other fat burners, so there really is nothing 'special' about MuscleTech's fat burner – so don't be fooled into thinking this is magically better for women.
In our experience, products targeted specifically at women are always bad. Because there's really no reason to make them.
You'll find that the best fat burners on the market are unisex for one reason – they work, for both men and women.