MuscleTech's Hydroxycut series of fat burners has gained a great reputation. In fact, it's quite hard to avoid these supplements when looking for products to help you shred fat, so let's see how safe and effective it is.
Claimed to promote:
To be honest, looking at the advertisement for Hydroxycut SX-7 Non-Stim, the only obvious benefit that this fat burner offers is increased fat loss. We were expecting to see more advantages such as appetite control, but this didn't seem to be the case.
As this is a non-stimulant fat burner, it's clear that you won't benefit from any boosts in energy levels.
Simply put, this is why we personally prefer fat burners containing sensible dosages of caffeine to keep your energy stable while you cut calories (and potentially carbs).
You'll learn this and more after reading our review:
About The Company
You can't argue with MuscleTech's reputation in the supplements industry. They've managed to tie down some of the biggest athletes in the game to their brand, even the Austrian Oak at one point.
As we've already mentioned, the Hydroxycut line of fat burners have built a great reputation too. This is definitely why there are now so many different types of 'Hydroxycut' fat burners out there.
In this review, we'll be looking at whether this non-stim fat burner comes with any more benefits than others on the market.
Let's start by seeing Hydroxycut Non-Stim's nutrient profile.
The Ingredients and How They Work
One positive about Hydroxycut SX-7 Non-Stim is that it doens't contain any proprietary blends. It's always better to know exactly what you're putting into your body, so MuscleTech has done well here.
Also, we can see that there are some good fat burning ingredients in Hydroxycut SX-7 Non-Stim; green coffee bean extract is one that has specifically shown to help you shred fat in clinical studies.
See for yourself: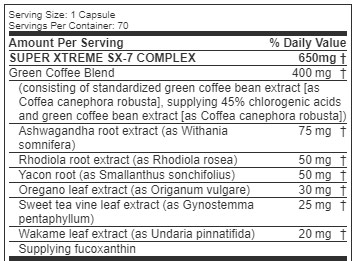 Green Coffee Bean Extract 
In simple terms, this is the extract of unroasted coffee beans.
So what makes them more beneficial? Answer: green coffee beans contain higher amounts of chlorogenic acid than in their roasted form, and this is what makes them themogenic.
As studies have confirmed that green coffee bean extract is able to help you burn fat, it's one of our favorite ingredients to find in fat burner supplements.
MuscleTech has dosed this well in Hydroxycut-SX-7-Non-Stim-Ingredients, so no issues here.
Ashwagandha Root Extract 
Ashwagandha is a herb that's been used for a long time in traditional Indian medicine.
What does it do? Answer: it's shown to reduce anxiety and improve your general health.
Now, while these are useful advantages, it's important to know that ashwagandha hasn't shown to help you lose fat. This is why we don't think that it's necessary in Hydroxycut SX-7 Non-Stim.
Saying that, there are no negatives to ashwagandha, so there's nothing wrong with having these in Hydroxycut SX-7 Non-Stim either.
Rhodiola Rosea 
A Scandinavian herb that's been used to reduce fatigue and improve cognition for good reason; modern studies have shown positive results, and it's become a popular addition to both pre workouts and nootropics as a result.
While it's clear that rhodiola rosea is beneficial, one thing it's not shown to do, is promote fat loss. So we're a bit confused as to why MuscleTech has dosed this nutrient the 3rd highest in Hydroxycut SX-7 Non-Stim.
What would have been better instead? Answer: a proven fat burning ingredient such as green tea extract.
See SupplementTester's Highest Rated
– Fat Burner Supplements Here –
Yacon Root Extract 
This looks a bit like a potato in appearance. It's a tuber vegetable that's commonly consumed as food in South America.
It's known to contain high amounts of good bacteria and have a prebiotic effect; this could be the reason why MuscleTech has added this into Hydroxycut SX-7 Non-Stim.
But while it might improve your digestion, there's no evidence that yacon root extract helps you on your fat burning journey.
Oregano Leaf Extract 
If you enjoy cooking italian food, then you probably have the dried herb version of oregano sitting in your herb & spice draw.
As well as being able to enhance the taste of your meals, oregano is thought to protect against cancer and improve your general health.
Sounds good right? But in all honesty, you can consume enough in your meals to obtain these benefits. Since Hydroxycut SX-7 Non-Stim is a fat burner supplement, we expected to see more thermogenic nutrients like cayenne pepper extract instead.
Sweet Tea Vine Leaf Extract 
There's a reason why you haven't heard about this ingredient before…it's not a common addition to supplements at all.
But in fairness, we do appreciate that MuscleTech are trying to stand-out from the crowd here.
Now, we had to conduct our own research here, and we found that the main benefit of sweet tea vine leaf extract was that it's thought to lower your cholesterol levels.
Wakame Leaf Extract 
MuscleTech has really made the most of this here. Before you research, you think to yourself 'what is this impressive exotic ingredient'.
But it doesn't take long to learn that it's actually just edible seaweed.
In fairness, it does contain high amounts of fucoxanthin that is now considered to be effective at promoting fat loss.
The bad news though, is that studies show high amounts up to 800mg to be necessary to help you burn fat; you can see that MuscleTech has only added a small 20mg into Hydroxycut SX-7 Non-Stim.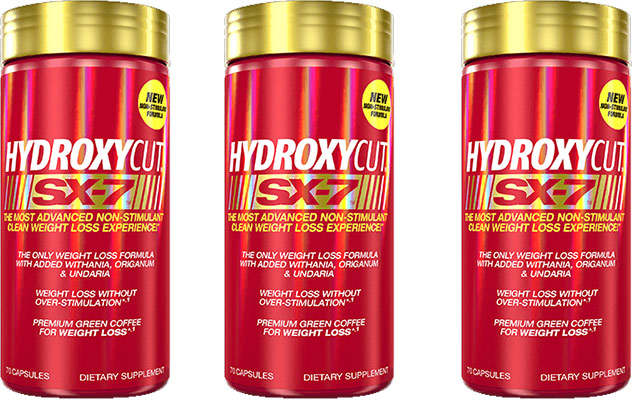 See SupplementTester's Highest Rated
– Fat Burner Supplements Here –
Pros and Cons
Pros: 
Green coffee bean is a proven thermogenic
Rhodiola rosea can reduce fatigue
Wakame leaf extract can promote fat loss
Cons: 
Wakame seriously underdosed
Nothing to suppress appetite
Only 1 proven thermogenic nutrient
No raise in energy levels while you cut calories
Side Effects
While Hydroxycut SX-7 Non-Stim might not contain the best fat burning ingredients, it doesn't contain any that might cause side effects either.
So one of the best features about Hydroxycut SX-7 Non-Stim is definitely that it's not likely to cause unwanted side effects – unless you're allergic to any of its ingredients.
Not what you're looking for? See our
– Top Fat Burner Supplements Here –
Review Conclusion
It's clear to see that MuscleTech are trying to keep up with the times, which is good to see. They're attempting to set new trends by including unique nutrients like wakame extract and sweet tea vine leaf extract into Hydroxycut SX-7 Non-Stim – but this isn't always a good thing.
Call us old fashioned, but we prefer to stick to what's proven to work. With this in mind, we'd rather choose a fat burner supplement containing the likes of the trusty green tea extract and cayenne pepper extract.
We have to admire MuscleTech for their work in the industry. But Hydroxycut SX-7 Non-Stim just can't compete with the best fat burners we've seen on the market.