Considering the number of glowing reviews online, there's no surprise Instant Knockout Cut is one of best-selling fat burners on the market.
Are you looking to get ripped over the next few months? Because if the claims on the Instant Knockout Cut website are right, this product could be for you. Here's what it promises:
Shredded abs – cut fat around your torso
A sculpted frame – maintain your muscle mass while losing body fat
Better workouts – stay motivated to train on a cut
The  manufacturer also claims this fat burner's ingredients enable:
Faster fat burning – shed pounds quicker
Increased energy – train harder for longer
Reduced appetite – crave less food between meals
Sounds great! But does it stand up to scrutiny? I look at everything from the ingredients, to the company background and customer service to help you make the right buying choice…
The company
Roar Ambition is a specialist UK-based sports supplements company which also produces Hourglass Fit and Hunter Evolve.
It claims to stay at the "forefront of nutritional research" and "develop products for fitness enthusiasts, gym warriors, amateur and professional athletes that require the most effective and well researched formulas."
The company says it produces supplements in GMP-certified and FDA-approved facilities to ensure a higher-quality product. It also ships from the USA and the UK for fast delivery wherever you are in the world.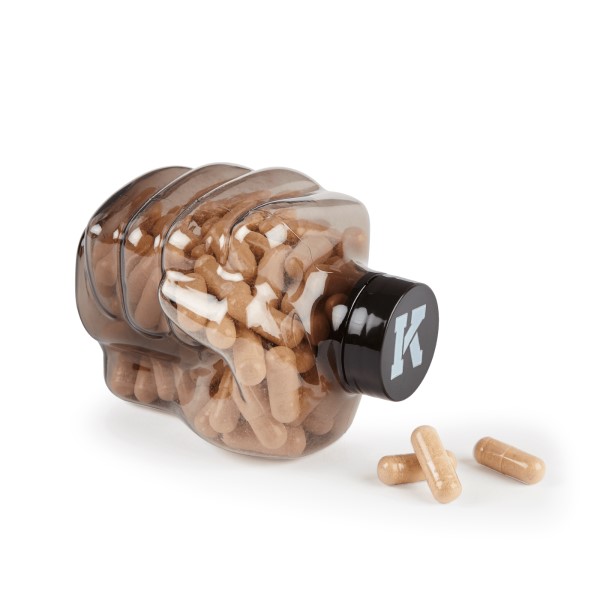 Direct selling "ensures better quality"
At first, I was a little perturbed to find we could only buy Instant Knockout direct from Roar Ambition – I'm a bit of a bargain hunter. But a member of the customer service team tells me selling direct allows the company to regularly update its products.
This ensures that whenever you buy Instant Knockout, you get the best and most-up-to-date formula on the market.
Used by MMA fighters
Top UFC fighters Diego Sanchez and John Dodson currently use this fat burner to help them cut fat before a fight – without losing muscle or strength.
You can read more about Sanchez and others who endorse this product at: www.instantknockout.com/pro-athletes
Ingredients and how they work
Its clear from the Instant Knockout label that it contains some of the best ingredients in any fat burner. For example, glucomannan is a proven appetite suppressant – and it's the only one approved by the FDA [1].
Instant Knockout also contains 300mg of caffeine – which is great for boosting energy on a low-calorie diet. Split into four doses throughout the day, it's likely to give you a good energy boost without causing jittery feelings.
You can also clearly see how much you are getting because Instant Knockout doesn't use proprietary blends.
Take a look: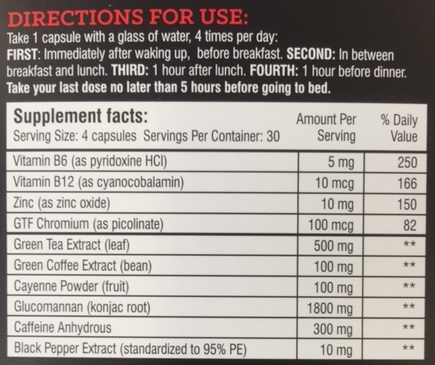 Green tea Extract
A popular ingredient in a lot of fat burners – and for good reason.
When you start cutting calories, your metabolism can slow down to a crawl and make it harder to burn fat. But Green Tea speeds up your metabolism to keep your diet on track.
Green Tea is rich in catechins. These natural phenols induce lipid oxidation and block the fatty acid synthase enzyme to speed up the fat-burning process [2].
Cayenne powder
A powerful weapon in the fat-burning arsenal. This red hot chili pepper is rich in capsaicin [3] – a compound which adds the spicy flavor and fat-burning fire.
As a thermogenic, it heats up your body and forces it to burn more calories to cool down.
Some studies have also shown that it can suppress appetite [4].
Glucomannan
The number-one reason most diets fail: Hunger.
And this is why we love glucomannan.
Found in the root of the konjac plant, this fiber swells in the stomach to help you feel fuller and crush food cravings [5].
As we mentioned earlier, glucomannan is the only appetite suppressant approved by the FDA. We used glucomannan before trying Instant Knockout and got great results – so we're pleased to see it again here.
Caffeine anhydrous
Caffeine is a popular stimulant – in fact 90% of Americans use it in some form every day.
When you cut down calories, this can sap your energy and make you feel weak, irritable and tired. This in turn can kill your motivation to cut fat or lose weight.
But caffeine replaces the energy you lose to help you power through your day [6].
Caffeine also has thermogenic properties – meaning it helps boost your metabolism for faster fat burning [7].
Vitamin B6
An essential nutrient, vitamin B6 – or pyridoxine – helps speed up the body's metabolism, while it also increases the pancreatic fluids to break down fats in food [8]. Research shows B6 even helps you control your appetite [9].
Vitamin B12
B12 fuels your metabolism by breaking down fats and proteins in food to use as energy [10].
Discover more about Instant Knockout Cut's ingredients at:
www.instantknockout.com/ingredients.
Zinc
An essential mineral, zinc helps the body process carbs, fats and proteins as fuel to sustain energy levels [11]. It also helps improve mood [12].
GTF chromium
By helping to control blood sugar levels, chromium is shown to reduce carb cravings and help keep your diet on track [13].
Green coffee extract
This ingredient comes from unroasted coffee beans, which are rich in chlorogenic acid.
This bioactive compound inhibits the enzyme glucose-6-phosphatase to lower blood sugar and reduce food cravings, which in turn aids fat loss [14].
Black pepper extract
Also known as piperine, black pepper extract helps your body absorb other key nutrients faster [15].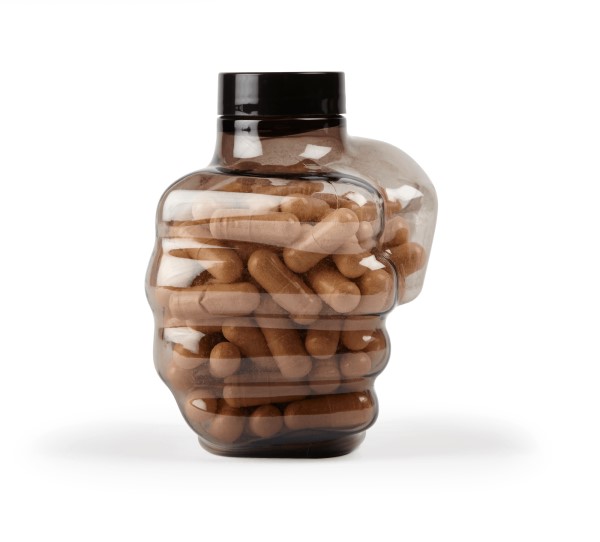 To find out more about what goes into Instant Knockout, go to www.instantknockout.com/ingredients.
What's missing?
Honestly? Nothing. Instant Knockout contains nine of the best fat-burning ingredients we've ever seen. It might change in the future, but right now this is our number-one fat burner.
Side effects
Instant Knockout contains natural, safe ingredients – so you're unlikely to experience side effects – although too much caffeine can have an impact. Around 300-400mg of caffeine a day is considered safe, so it's good to see Instant Knockout within that range.
As a result, I don't recommend taking it with other products that contain caffeine or stimulants, or taking your last capsule no later than five hours before bed.
Pros and cons
Pros:
Suppresses hunger – glucomannan is the only appetite suppressant approved by the FDA.
Helps you get cut quickly – we started noticing the pounds dropping off after just a few weeks.
Boosts energy without energy crashes – 300mg caffeine is split into four daily doses to help you stay strong and alert all day.
Made to strict standards – Instant Knockout is manufactured in cGMP and FDA-approved facilities in the UK and USA.
Ships worldwide – you get next-day delivery on all orders before 2pm EST or 2pm GMT.
Cons:
Premium price – At $59, Instant Knockout costs more than some other fat burners.
Includes caffeine – Not suitable for everyone
Only available from the official website: www.InstantKnockout.com.
What it's done for other guys
While researching Instant Knockout, you find more than a few success stories.
Guys in forums, YouTube and various websites all have promising things to say about Instant Knockout. And we can see why – just look at the transformations on some of these guys: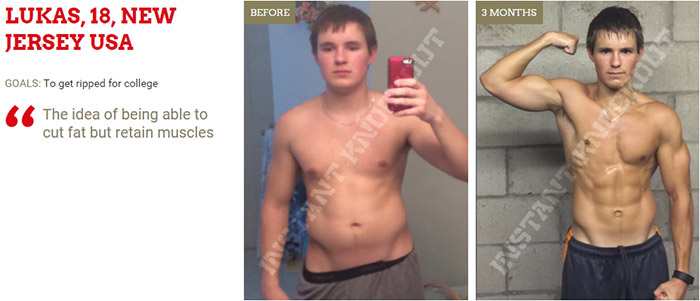 And this guy Kevin looks like a totally different person: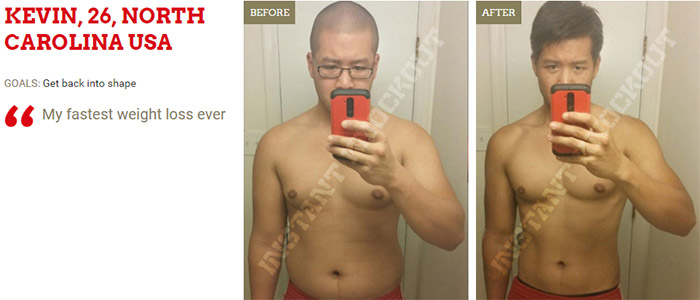 There's loads more of these too – you can see them all on the supplement's testimonial page: www.instantknockout.com/our-testimonials/
Review conclusion
Instant Knockout Cut packs a punch. It has a superb ingredients and the right doses to not only burn fat, but to suppress hunger at the same time.
Though it does mean you shouldn't really take any of the capsules just before bed if you want a good night's sleep.
If you look around then you will find plenty of positive reviews from users, which is an encouraging sign and it is used by Pro MMA fighters and recommend by the number one MMA coach in the world, Greg Jackson.
I highly recommend Instant Knockout Cut as our top fat burner. It will help you to get the results you are looking for, faster.
My personal results
What did I buy?
Instant Knockout 3 Month Supply – includes 3 Boxes of Instant Knockout + 1 Free Box 
Energy 5/5
The first thing you're going to feel when you take Instant Knockout is the caffeine – it's just enough to get you energized without giving you jitters or an 'energy crash'. I liked it a lot.
It offers similar effects to a pre-workout, except it helps you burn fat in the process – it's incredibly useful if you're looking for extra energy while you're cutting and taking in fewer calories.
Fat loss 5/5
The next thing you're going to feel is the 'whole body burn' – this supp is a potent thermogenic, and is great for making the burning away the fat.
The best way to describe it is that you feel warmer than usual, for me it felt like the fat was melting off. If you do a lot of cardio you'll notice that you sweat more. This is down to the green tea, green coffee bean and cayenne pepper all working together.
It's incredibly effective.
Appetite suppression 5/5
When cutting, I always find the hunger to be the worst part. But when using Instant Knockout, I didn't notice hunger as much.
The fibrous complex in this fat burner really fills you up if taken between meals and helps you stay on track with your diet.
My results 5/5
Using Instant Knockout Cut I went from 16–17% body fat to just under 9%. I maintained a similar weight and was the most sculpted I've been in a long time.
My adonis belt pops out of my hips and I'm a lot more vascular than when I started Instant Knockout Cut.
If you're looking to shred down and maintain the most amount of muscle, I strongly suggest you consider this fat burner.
References