Each of these fat burners boasts some great reviews online – but which one is best? Here's our Instant Knockout vs Blade comparison…
Both Instant Knockout and Blade claim to promote:
Fat burning
Appetite suppression
Focus
Higher energy levels
Despite offering many of the same benefits and using some of the same ingredients, Instant Knockout and Blade are by no means the same…
About The Companies
Roar Ambition

Roar Ambition is a specialist supplement company. The UK-based company began life in 2012 when it began making and selling TestoFuel (a T-booster). Its other products include the 4 Gauge pre-workout and, of course, the Instant Knockout fat burner.
Where can I buy Instant Knockout and other Roar Ambition products?
You can only buy Roar Ambition supplements from the product websites. Unlike supplements from many other brands (including Blue Star), you won't see Instant Knockout in brick-and-mortar stores or on Amazon – and you won't find an Instant Knockout GNC price either.
You might find this a little inconvenient at first – we spent quite a while searching for "Instant Knockout cheapest price" on Google, as we love our bargains. But as it turned out, none of this matters…
Passing savings on to the consumer
After speaking to Roar Ambition's customer service team, we quickly realized the company's direct-to-consumer model cuts the costs of paying retailers, which in turn allows it to put all its resources into creating better products.
This approach also gives Roar Ambition complete control over its stock. This, combined with regular updates to the Instant Knockout formula, ensures that whenever you order, you can be certain you're getting the best product on the market at that time.
Roar Ambition also a risk-free, 90-day Instant Knockout money-back guarantee. So you can try the fat burner for three months, and if you're not satisfied with the results after that time, Roar Ambition will refund your money.
Where does Roar Ambition ship from?
Roar Ambition ships all over the world from dedicated distribution centers in the US and UK. The company claims this ensures your orders arrive quickly, wherever you are in the world.
Find out more about Roar Ambition's shipping policies on the product website: www.InstantKnockout.com
---
Blue Star Nutraceuticals

Blue Star Nutraceuticals is a well-known supplement company based in Ontario, Canada. It sells everything from pre-workouts, to test boosters, post-workouts, joint formulas, and nootropics for men.
The Blue Star website claims the company has "been setting the bar and breaking it for close to 10 years."
Where can I buy Blade and other Blue Star products?
Blade and other Blue Star products are available in several different places, both online and offline. These include the company website, Bodybuilding, Amazon, and even Walmart.
Where does Blue Star Nutraceuticals ship from?
It isn't clear where Blue Star products sold on the brand website ship from. The shipping locations of products sold on third-party sites obviously depend on the locations of the retailers in question.
As a result, it's possible for products to sit on shelves getting dusty until some unsuspecting customer hands over their money for a (possibly) outdated supplement.
Learn more about Blue Star Nutraceutical's shipping policy at www.bluestarnutraceuticals.com.
---
TestoFuel Vs Blade: The Ingredients and How They Work
You're probably already aware that the supplement industry is awash with hype. There are thousands of fat burners out there – and all of them claim to be some sort of magic fat-loss elixir. But while some of them live up to their promise, most fall flat under scrutiny.
So what's the ONLY way to make sure the fat burner you buy is worth your money? Check the ingredients.
Proprietary blends
For example, the first thing we notice about Instant Knockout vs Blade is that the Blue Star product contains a proprietary blend, but the Roar Ambition does not.
Note: Proprietary blends are sub-formulas that list their ingredients, but not their dosages. We don't like proprietary blends because they give you no way to tell whether they contain enough – or too much – of each key ingredient.
See for yourself: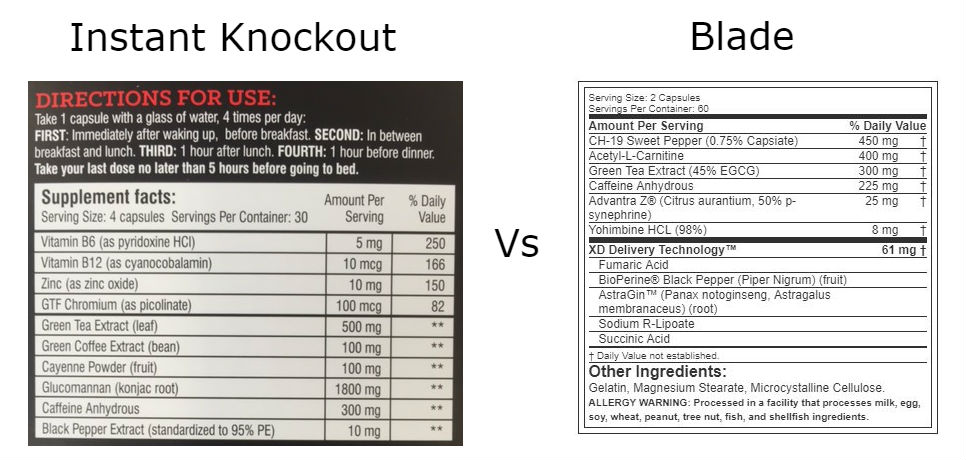 Shared Ingredients
Instant Knockout and Blade share some great ingredients – which comes as no surprise, considering they both claim to give you the same results. Take a look…
Green Tea Extract
Green Tea is the number one fat-burning ingredient to look for in a fat burner – so it's great to see it in both Instant Knockout and Blade. Its main active ingredients are catechins. These bioactive phenols block the fatty acid enzyme, via lipid oxidation, to help you shed fat.
Green Tea also has a thermogenic effect on your body. In other words, it ramps up your metabolism by heating up your body, which then forces your system to burn more calories to return to normal.
And as you burn more calories, you lose more weight and shed fat faster.
Over our years testing supplements, we've found 400-500mg of Green Tea to be ideal for fat burning. It's therefore great to see the amount of in Instant Knockout (just) falls within this range (500mg). On the other hand, Blade contains just 300mg of Green Tea, which falls 100mg below the optimal range.
Caffeine Anhydrous
You – and pretty much everyone else in the world – knows Caffeine is a common, proven and popular stimulant. Decades of research shows it boosts focus, strength and endurance.
So how does Caffeine burn fat?
Well, it helps you shed the chunky excess in two ways. First, it replaces the energy you lose when you cut calories (a must if you want to lose weight). Second, Caffeine boosts and prolongs the thermogenic effects of Green Tea, to help you burn fat faster and maintain a slimmer body.
The optimal amount of Caffeine for fat burning is 300-350mg. So again, while Instant Knockout holds more or less the ideal amount of the stimulant, Blade falls some way short with 225mg.
Having said that, the serving schedule for Blade is two capsules per day. This means that you'll be taking 112.5mg of the stimulant with each dose – this is a lot to consume in one hit and may cause you to crash if you're sensitive to Caffeine.
By contrast, Instant Knockout gives you a more sensible four capsules per day.
Black Pepper
Also known as Piperine (or BioPerine, in its patented form), Black Pepper stimulates the TRPA1 and TRPV1 receptors to boost your metabolism.
The nutrient is also popular for its ability to help the body absorb more of the other nutrients in a supplement.
Unique Ingredients
Despite a few similarities, several different ingredients make it clear these fat burners are worlds apart in many ways…
Instant Knockout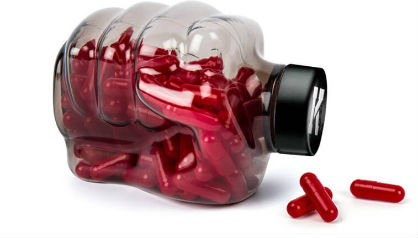 Cayenne Pepper
Cayenne Pepper is another potent thermogenic in the Instant Knockout formula. It contains the bioactive compound capsaicin, which lends Cayenne both its hot 'n' spicy taste and its awesome fat-burning power.
Cayenne Pepper not only boosts your metabolism and helps you burn more calories; it also increases fat oxidation, which allows the body to burn fat more efficiently.
Glucomannan
Glucomannan is a proven appetite suppressant. The water-soluble dietary fiber works by expanding in your stomach to make you feel fuller for longer. It also helps control blood sugar levels to help control carb cravings and keep your diet on track.
Blade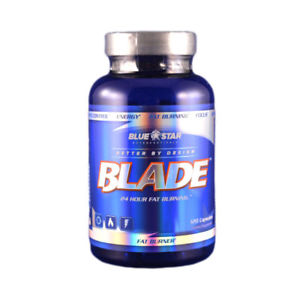 Sweet Pepper
Otherwise known as Bell Pepper, Sweet Pepper is rich in Vitamin A, C and E – and offers many health benefits. These include the ability to boost your immune system and protect your heart against disease.
However, there is very little evidence Sweet Pepper burns fat. We found a single reference to a study published in a 2006 issue of "Bioscience, Biotechnology and Biochemistry", in which subjects ate sweet pepper regularly over the course of two weeks, which led to reduced body weight and fat.
However, we cannot find the study in question, or any reliable corroborating evidence to show this is the case.
Acetyl-L-Carnitine
We're big fans of Acetyl-L-Carnitine (ALCAR) – but not in a fat burner.
You'll find ALCAR in some of the best pre-workouts on the market. That's because studies reveal it reduces exercise-related fatigue and muscle soreness.
Does ALCAR burn fat?
There is some evidence ALCAR burns fat in elderly people, but research suggests this isn't true of young, or otherwise healthy people. As a result, there just isn't enough evidence to justify its use in Blade or any other fat burner.
Citrus Aurantium
Otherwise known as Synephrine and Bitter Orange, Citrus Aurantium is perhaps the WORST ingredient to find in any supplement – especially in one that also contains Caffeine.
This ingredient is structurally close to Ephredrine – a banned weight-loss supplement. But while not illegal in the US, Synephrine has been linked to increased risk of a number of health conditions – these include seizure, stroke, myocardial infarction – and even sudden death.
So while some research notes Citrus Aurantium may induce minor weight loss, the reported dangers make it an ingredient to avoid.
Yohimbine
Yohimbine is a compound subset of Yohimbe – and it's another ingredient to avoid.
While one study suggests Yohimbine can induce a small amount of fat loss in elite athletes, there is no evidence it does the same for untrained or non-professionals.
Our main issue with Yohimbine 
Common side effects of Yohimbine include high-blood pressure and increased heart rate. It's also been linked rapid heartbeat, heart attack, and kidney failure.
It may also interact dangerously with neurological medications, including those used to treat depression, high blood pressure, and opioid withdrawal. Those taking Yohimbine must also avoid eating foods in tyramine, such as aged cheeses, wines and cured meats.
Due to the long list of potential of side effects and interactions, we recommend avoiding both Yohimbine and Yohimbe at all costs – the possible benefits just are not worth the risks.
Learn more about Instant Knockout's ingredients here
or
Learn more about Blade's ingredients here
---
Side Effects
Instant Knockout
Instant Knockout is 100% natural contains nine great fat-burning ingredients, all of which are safe to take (unless you're allergic to any of them).
Blade
Blue Star Blade contains two of our least-favorite ingredients to find in any supplement: Citrus Aurantium and Yohimbine.
Citrus Aurantium may increase your risk of:
High blood pressure
Heart arrhythmia
Heart disease
Stroke
Seizure
Sudden death
Irregular heartbeat (esp. with Caffeine)
Yohimbine may cause:
Dizziness
Headaches
Nausea
Anxiety
Kidney problems
Fast heartbeat
---
Pros and Cons: Instant Knockout Vs Blade
Instant Knockout pros: 
Nine all-natural and safe ingredients
Helps you shed fat fast
Crushes hunger cravings
Helps you stay alert and focused on a low-calorie diet
Available in your choice of four currencies (US Dollars, British Pound, Euros and Australian Dollars)
90-day risk-free trial
Blade pros:
Cheaper than Instant Knockout
Widely available
Contains two great fat-burning ingredients in Green Tea and Caffeine
Instant Knockout cons: 
Costs more than a lot of other fat burners on the market
Only available from InstantKnockout.com
Blade cons:
Citrus Aurantium and Yohimbe linked to a number of serious side effects (see above)
Not enough evidence of Sweet Pepper's thermogenic power
ALCAR only burns fat in elderly people
Not the best serving schedule – doses per capsule may be too high
Not enough Green Tea for maximum fat burning
---
Conclusion: Instant Knockout Vs Blade
Considering how popular both these fat burners are, we expected this battle of Instant Knockout vs Blade to be much closer than it was.
As it turned out, one of these products stands head and shoulders above the other.
It was great to see both fat burners contain Green Tea and Caffeine – these ingredients work together to help turn your body into a fat-burning furnace.
But while all Instant Knockout's ingredients are both potent and safe, Blade contains the potentially-dangerous Citrus Aurantium and Yohimbine. With their long list of potential side effects and interactions, taking these ingredients just ain't worth the risk. And we say avoid at all costs.
So we have a clear winner…
Winner: Instant Knockout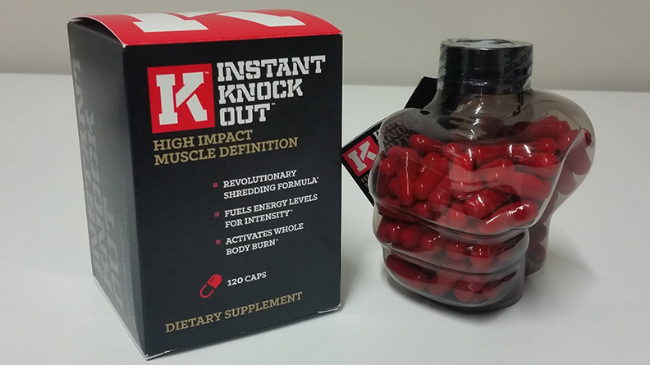 To find out more, or buy Instant Knockout, go to www.InstantKnockout.com