In this Instant Knockout Vs BurnerTEK review, we're comparing two fat burners that appear very similar at first glance.
But which one is the better product? Let's find out.
Both fat burners claim to promote:
Metabolism
Appetite control
Raised energy levels
Fat loss
These are the key benefits that every fat burner should deliver, so we'll be keeping a close eye on each product's nutrient profile to see which supplement is worth your money…
About The Companies
Roar Ambition 

A premium supplements company, UK-based Roar Ambition has built a great reputation since it began life in 2012. As well as Instant Knockout, its products include TestoFuel (testosterone booster), and 4 Gauge (pre-workout).
Some big names endorse Roar Ambition supplements. These include bodybuilding legend Robby Robinson (who uses TestoFuel), and UFC star Diego Sanchez (who uses Instant Knockout to cut weight before fights).
Where can I buy Instant Knockout?
Instant Knockout and other Roar Ambition supplements are only available from the different product websites. In the case of this fat burner, you can only buy from www.InstantKnockout.com.
We found this direct-to-consumer model a little inconvenient at first. But we quickly realized it allows Roar Ambition to cut the cost of paying a large distribution network.
The RA rep we spoke to says selling direct allows the company to put every spare penny into making great products.
This also means there are no outdated versions hanging around getting dusty on the shelf of some backstreet store. So whenever you buy, you know you're getting the latest and best version of Instant Knockout at that moment.
TEK Naturals 

TEK Naturals is a supplements company that markets similar products to Roar Ambition. The US company calls itself the "NO B.S. Company."
In fact, it takes direct aim at Instant Knockout and Roar Ambition when it says "We don't create bottles and packaging that are in the shape of a fist."
The company claims that by ignoring such "gimmicks and hype",  it can save money and pass these savings on to the customer. But considering BurnerTEK actually costs MORE than Instant Knockout, this promise just doesn't hold water.
Where can I buy BurnerTEK?
BurnerTEK is available from the product website (www.burnertek.com) and sites like Amazon.
Instant Knockout Vs BurnerTEK: The Ingredients and How They Work
Dose differences
So far in this review, we've emphasized how both Instant Knockout and BurnerTek contain very similar ingredients.
However, one big difference is the dosages. See for yourself: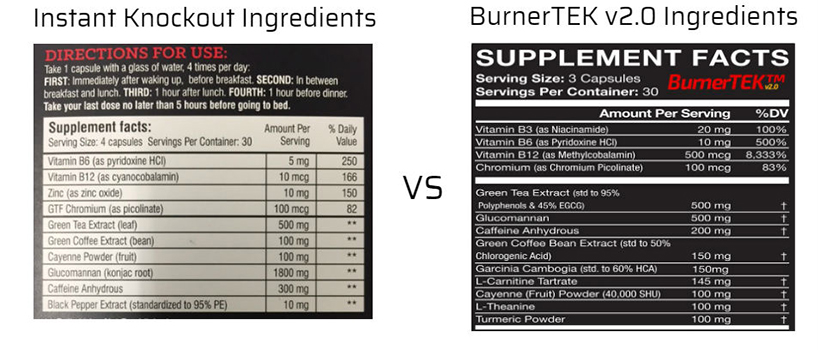 Shared Ingredients
Ineffective dosages = ineffective product
This is a fact. Companies can add key fat burning nutrients, but if they don't dose them correctly, then they won't work.
In fact, this is exactly why scientists conduct studies on ingredients; so professionals know the dosages of ingredients required to take effect.
Ultimately, it really shows companies in bad light when they don't do their research and check studies, or simply ignore them to cut production costs.
The bottom line is you shouldn't be fooled by fancy ads and hype. Always try to check the optimal dosages of each nutrient to be sure they're likely to work. Luckily for you, we're here to give you this information, so you don't have to do the hard work.
Green Tea Extract
Everyone knows that Green Tea Extract is good for your health. But the problem is that not everyone likes the taste when drinking it.
As a result, the most convenient way to get this in your body is through a fat burner supplement.
Both dosages of green tea extract are identical in both Instant Knockout and TestoFuel – at 500mg, they both use optimal amounts.
What does Green Tea do? Answer: It boosts your general health and metabolism, which in turn promotes fat loss. Great start by both of these fat burner supplements here.
Green Coffee Bean Extract
Again the dosages of this nutrient is very similar in both Instant Knockout and BurnerTEK.
Green Coffee Bean Extract works quite similarly to green tea extract; both are thermogenic nutrients, meaning they boost your metabolism and encourage your body to burn more calories, increasing your rate of fat loss.
There's only a 50mg difference between both fat burners here, which doesn't put one ahead of the other.
Cayenne Powder 
Cayenne is a form of chilli pepper that's known for its ability to 'spice' up food. If you've ever eaten one, then you'll have been sweating shortly afterwards, probably asking for a glass of milk to cool you down.
Simply put, this is because Cayenne Powder has the ability to raise your body temperature. This process forces your body to use extra calories to cool itself down to normal temperature, which helps you shift body fat.
Again, there's no real winner here, as the dosage of Cayenne Powder in both Instant Knockout and BurnerTEK are exactly the same.
Glucomannan 
If there's one ingredient you won't have heard about before, then it'll be Glucomannan. It's a popular ingredient in Japan, used to create konjac noodles and added to hot pots.
However, we're impressed that both of these fat burners contain this nutrient, as it's able to help suppress your appetite – keeping you away from those sugary treats and fast food.
Again, both of these products contain the same dosage of Glucomannan, so there's no real winner here either. Now, you can see why we're placing an emphasis on both products containing similar ingredients.
We know that Instant Knockout appeared before BurnerTEK, so the latter is more likely to be the 'copycat' here. The different dosages highlight this; Instant Knockout uses an optimal 1800mg, whereas BurnerTEK holds a meagre 500mg.
Caffeine Anhydrous
Caffeine is proven to help you burn fat in two main ways. First, it increases your ability to train for longer, which helps you burn more calories.
Second,  it has a thermogenic effect. In other words,  it heats up your body, which forces it to speed up your metabolism and help you burn more calories.
Caffeine is a valuable addition to any fat burner. By replacing the energy you lose on a calorie-controlled diet, it helps avoid fatigue and gives you the drive to power through your day.
We've found a daily dose of 300-350mg of Caffeine spread over four servings to be optimal for fat loss. And while it's great to see Instant Knockout contains 300mg of the stimulant, BurnerTEK falls short with only 200mg.
Unique Ingredients
We've covered the ingredients in both Instant Knockout and BurnerTEK. So we'll take a look at which ingredients are unique to each product.
Instant Knockout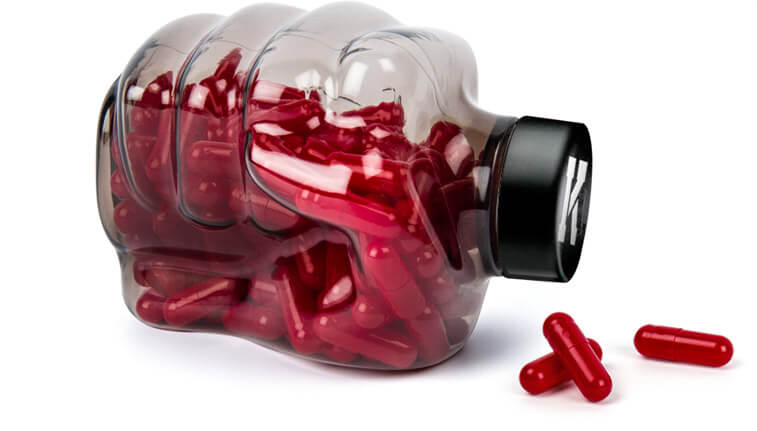 Black Pepper Extract 
Black Pepper Extract is an ingredient unique to Instant Knockout that isn't featured in BurnerTEK.
It's not going to make or break a fat burner, but it can be a useful 'bonus' ingredient to have; black pepper extract has shown promising signs of improving the absorption rate of supplements it's added to.
Ultimately, this means that Black Pepper Extract helps make other nutrients  slightly more effective.
BurnerTEK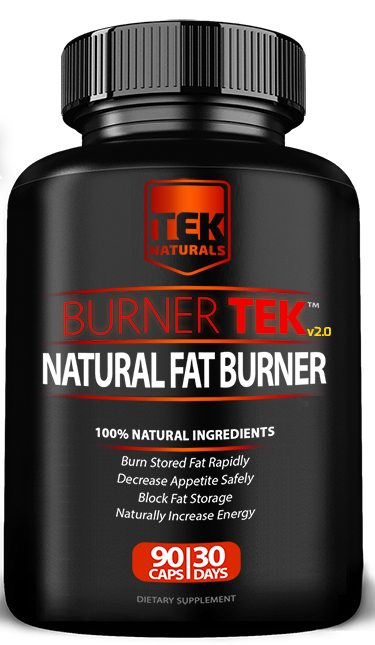 Garcinia Fruit Extract 
This is a notable difference between BurnerTEK and Instant Knockout.
Much like raspberry ketones, Garcinia Fruit Extract has gained some media attention as some kind of 'miracle weight loss' ingredient.
However, it didn't prove to be effective at promoting fat loss in any scientific study conducted on it. Therefore, we consider it to be a totally pointless addition to the BurnerTEK formula.
Is Garcinia Fruit Extract safe?
Garcinia Fruit Extract has been reported to cause a bunch of nasty side effects. These include liver damage, fatigue, headaches, nausea and diarrhea.
As a result, it's bad news that TEK Naturals has added Garcinia Fruit Extract to BurnerTEK. At this point, BurnerTEK's use of this shady ingredient puts Instant Knockout firmly in the lead.
L-Carnitine Tartrate
L-Carnitine is an amino acid that research shows reduces fatigue and muscle soreness. For this reason, you'll find it in some of the best pre-workouts on the market.
But does L-Carnitine burn fat?
In two studies on elderly subjects, L-Carnitine was seen to decrease fat mass. However, there's no evidence it does the same for young, or otherwise healthy people.
As a result, it's disappointing to see the guys at TEK Naturals waste valuable space on an ingredient that's unproven for this purpose.
L-Theanine
L-Theanine is another great ingredient that's wasted in a fat burner. The amino is a proven relaxant that works well with Caffeine to give you all the focus, drive and energy without the crash.
But again, these are the things that make it a great addition to our favorite pre-workouts.
However, there's no evidence L-Theanine has any use as a fat burner.
Tumeric Powder
Tumeric is a spice with a growing rep as a thermogenic. While research on its use for this purpose is limited, we have seen it used in some of our favorite fat burners for women.
But there's no evidence it helps men burn fat. And considering BurnerTEK is designed specifically for men, it's a little ridiculous to see this  ingredient in TEK Naturals' formula.
Learn more about Instant Knockout's Ingredients Here
or
Learn more about BurnerTEK's Ingredients
Side Effects
Instant Knockout
The good news for Roar Ambition is that Instant Knockout doesn't contain any ingredients that have been reported to cause any side effects.
We've tried this fat burner ourselves and didn't suffer any unwanted side effects.
BurnerTEK
Although BurnerTEK contains mostly the same ingredients as Instant Knockout, TEK Naturals made a huge mistake by adding Garcinia Fruit Extract.
We mentioned that this gained attention for supposedly being a 'miracle fat loss ingredient'. But since then, studies have revealed that it's a gimmick, which can cause side effects.
Here are the side effects you might suffer from:
Liver damage
Fatigue
Headache
Nausea
Diarrhea
Pros and Cons
Instant Knockout Pros: 
No side effects
Optimal dosages of key fat burning nutrients
Likely to help you lose body fat
Less expensive than BurnerTEK ($59)
Less risk with 90-day money-back guarantee
BurnerTEK Pros: 
Optimal dosages of key fat burning ingredients
Likely to promote fat loss
Instant Knockout Cons:
Premium price – more expensive than less effective products
You can only buy from the product website: www.InstantKnockout.com
BurnerTEK Cons: 
Garcinia Fruit Extract reported to cause side effects
More expensive than Instant Knockout ($69.99)
Extra costs to ship outside of the USA
Conclusion: Instant Knockout vs BurnerTEK
Although both fat burners contain very similar ingredients and dosages, TekNaturals have made a mistake by including Garcinia Fruit Extract in BurnerTEK; as you can see above, this nutrient has been reported to cause numerous side effects.
This is the key ingredient that really sets these products apart. In addition, BurnerTEK adds L-Theanine and L-Carnitine, which are great pre-workout ingredients, but have no real place in any decent fat burner.
We'll also point out we saw Instant Knockout on the market first. So if anyone is pointing any fingers and shouting 'copycat!' at either Instant Knockout or BurnerTEK, then the latter is the more likely culprit here.
Then there's the cheap shots at Instant Knockout's packaging on TEK Naturals' About page. This suggests the younger company is nothing more than a pretender to the throne of a market leader. After all, an established company surely wouldn't need to stoop so low.
The Winner: Instant Knockout