We're back with two extremely popular fat burners. In fact, it's quite hard to avoid these products when searching for a fat burner supplement, so it'll be interesting to see which is better.
Both claim to promote:
Fat loss
Appetite control
Metabolism
Energy
Ultimately, both of these supplements are claimed to deliver the key benefits we look for in every fat burner; this is because these benefits really help to fire you towards your fitness goals.
While you shouldn't just look at the advertising for each product, one thing you can always rely on is the nutrient profiles of each fat burner.
As a result, we'll be taking a look at which fat burner supplement contains the better ingredients, in better dosages.
Take a look:
About The Companies
Roar Ambition 
Roar Ambition are the ones behind Instant Knockout. The company is considered to be a premium supplements company, and is well-known for its line-up of market-leading products, including TestoFuel and 4 Gauge.
Instant Knockout originally caught our attention after we saw that UFC fighters, such as Diego Sanchez, were using it to cut weight for their fights.
However, it wasn't until we tried it for ourselves that we knew how effective it really was. Anyway, we'll show you the nutrients inside this fat burner in the next section.
Where can I buy Instant Knockout and other Roar Ambition products?
Roar Ambition only sells through its product websites. As a result, you'll only find Instant Knockout at www.InstantKnockout.com. As a result, you won't find an Instant Knockout GNC price, or a discount run on Amazon.
The company claims this direct model cuts the cost of paying retailers, which allows it to focus all its time and money on making great products.
Selling direct also allows Roar Ambition to keep close control of its inventory. So when you buy, you can rest easy knowing that you're getting the most up-to-date version of the product at that time.
Evlution Nutrition
It seems as though Evlution Nutrition has modernized its website recently, as it looks 'flashier'.
However, we're disappointed that the guys at the company haven't added much information about themselves, apart from their 'mission statement' (which is only two sentences).
But you can't argue with Lean Mode. It's one of the most highly rated fat burners on the market, so we're excited to see how it competes with Instant Knockout.
Where can I buy Lean Mode and other Evlution Nutrition products?
Evlution Nutrition products are sold through Bodybuilding, GNC and other websites.
As the company's products are available from many sources, it has less control over distribution. This could mean you end end up buying an outdated version of Lean Mode.
Instant Knockout Vs Lean Mode: The Ingredients and How They Work
This section is arguably the most important in this whole review.
Why? It's the ingredients in a product that determine how safe and effective it really is.
As a result, we always check the nutrient profiles of every supplement we review. We don't expect everyone to know the benefits of each ingredient, or whether they cause side effects – but this is where we come in.
We've consulted experts in the fitness industry to deliver you this battle between Instant Knockout vs Lean Mode. So you'll walk away knowing which fat burner delivers the final blow.
See for yourself: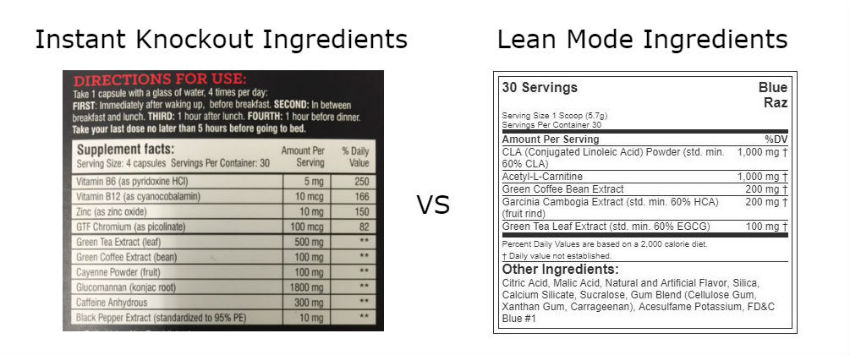 Shared Ingredients
Green Tea Extract
It's good to see that both fat burners contain this ingredient; green tea extract is known for it's ability to promote fat loss by boosting your metabolism.
There's been numerous studies that've proven it works, so you can't argue against it. However, one thing that differs in these supplements is the dosages. The same studies have shown that you need a dosage of at least 500mg green tea extract for it to work.
Roar Ambition have clearly done their research, as they've added this optimal dosage into Instant Knockout. But unfortunately for Evlution Nutrition, they fallen short by only adding only a 1/5 of this amount (100mg).
As a result, Instant Knockout has landed the first punch and won the points in this round.
Green Coffee Extract
Green coffee extract is another ingredient that's included in both fat burners. This is good news again, as it's proven to help raise your metabolism, being one of the best thermogenic nutrients available.
Again, you've probably guessed that the dosages of green coffee extract in both products are different. And it's Lean Mode which contains the bigger dosage here.
Instant Knockout contains a slightly under-dosed serving of green coffee extract; studies have shown that it's most effective when consumed in dosages upwards of 120mg, while this fat burner contains 100mg.
Lean Mode contains more than necessary at 200mg, but you can't argue that it seems more effective on this count, at least. So Evlution Nutrition has pulled itself back in the race here.
Unique Ingredients
Here's where the similarities end. From here on in, both nutrient profiles contain ingredients that aren't seen in the other product.
So as a result, here's where the real battle begins; we'll take a look at the unique ingredients in both Instant Knockout and Lean Mode, to determine which is more likely to help you trim the fat…
Instant Knockout

Cayenne Pepper Extract 
This is a key fat burning nutrient that's contained in Instant Knockout, but isn't seen in Lean Mode.
You've eaten a spicy meal at some point in your life. Well, the reason you were sweating, is because chilli peppers have the ability to raise your body temperature through process of thermogenesis.
As a result, your body has to work harder to cool itself down – burning more calories. Ultimately, this promotes fat loss, helping you reach your fitness goals faster.
Many people don't like spicy foods, so it's easier to consume Cayenne Pepper Extract through a supplement like Instant Knockout. It's proven to help you shred fat, so Roar Ambition have done very well here.
Glucomannan 
If you're in east Asia, then you'll know what this is; it's a popular addition to east Asian food (especially in Japan), and is used to create konjac noodles.
But the real reason it's used, is because it's able to expand safely in your stomach, which keeps you feeling full for longer between meals; this means, you'll stay away from sugary treats, lowering your calorie intake as a result.
This is one of the reasons we enjoyed taking Instant Knockout. And we hope that more fat burners introduce this nutrient (or other appetite suppressing ingredients) in the future.
Caffeine 
We're surprised to see that Lean Mode doesn't contain caffeine, as it's a great stimulant for raising your energy levels. This becomes very important when you're cutting calories and carbs while aiming to lose fat.
But one reason why some people don't like products containing caffeine, is because it can cause jitters and energy crashes when consumed in large amounts.
As a result, we recommend that you choose fat burners containing less than 100mg caffeine per capsule servings; this will keep you safe from these side effects.
Fortunately, Instant Knockout contains 75mg caffeine per capsule, which is around the same as a cup of tea. And during the few months we were taking this fat burner, we didn't experience any jitters or energy crashes.
Black Pepper Extract
Also known as Piperine, has a mild thermogenic effect – which makes it a somewhat useful addition to the Instant Knockout formula.
But Black Pepper works best as a way to help your body absorb more of the other nutrients in a supplement. And as the Roar Ambition product contains some great ingredients, it's nice to know Piper is in place to give you even better results.
Learn more about Instant Knockout's ingredients here
Lean Mode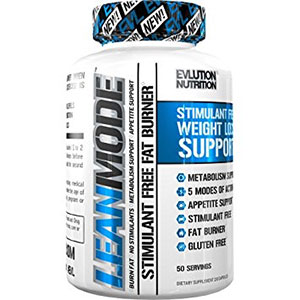 Garcinia Cambogia Extract 
This is a very controversial addition to Lean Mass, that isn't seen in Instant Knockout.
Garcinia cambogia is comparable to raspberry ketones, as it gained attention for being some kind of 'miracle ingredient' to help you cut fat.
However, since then, scientific studies have concluded that it has no effect on fat loss – meaning it's an ineffective nutrient.
But the worst thing is that garcinia cambogia extract has been reported to cause side effects such as fatigue, brain fog and headaches. As a result, this is an ingredient that we try to avoid when choosing a fat burner supplement.
CLA 
CLA stands for conjugated linoleic acid, and is known has shown to help preserve muscle mass during a cut.
As a result, CLA can be useful in any fat burner supplement. But saying that, it doesn't provide a direct effect on fat loss itself, so we don't believe it's key addition here.
L-Carnitine 
Again, this is more of a 'bonus' nutrient in a fat burner, as it's able to reduce muscular damage and fatigue.
However, it's more beneficial in a pre-workout, as it's also able to strengthen your mind-muscle-connection in the gym.
Lean more about Lean Mode's ingredients here
Pros and Cons
Instant Knockout Pros: 
Contains key fat burning nutrients
Optimal dosages of most ingredients
Sensible dosage of caffeine
Free from side effects
Lean Mode Pros: 
Contains key fat burning nutrients
Optimal dosage of green coffee bean extract
No proprietary blends
Instant Knockout Cons: 
Premium price – more expensive than less effective options
You can only buy from official website: www.InstantKnockout.com
Slightly underdosed green coffee bean extract
Lean Mode Cons: 
No ingredients to suppress your appetite
No stimulants to raise your energy levels while cutting calories
Underdosed green tea extract
Can cause side effects
Side Effects
Instant Knockout 
The good news for Roar Ambition, is that Instant Knockout doesn't contain any nutrients that are commonly reported to cause side effects.
This is because it contains a sensible dosage of caffeine, which won't put you at risk from jitters or energy crashes.
Lean Mode
Evlution Nutrition have made 1 small mistake by adding garcinia cambogia extract into Lean Mode.
As we've mentioned, garcinia cambogia extract has been reported to cause side effects, and isn't even effective at promoting fat loss.
The possible side effects of garcinia cambogia include:
Liver disease
Nausea
Digestive tract discomfort
Headaches
Brain fog
One of the things we appreciate about Instant Knockout is that it's so clean. There are no sugars, sweeteners, or artificial preservatives in the formula, and so taking it won't be detrimental to your health (unless you allergic).
By contrast, Lean Mode contains sucralose. Some reports claim this artificial sweetener causes insulin spikes, which can increase hunger cravings.
This is a shame, because most of the Lean Mode formula is safe and effective.
Conclusion: Instant Knockout Vs Lean Mode
In many ways, pitting Instant Knockout vs Lean Mode is similar to the Rumble In The Jungle. Lean Mode threw some punches towards the start of the fight, but Instant Knockout came to life towards the end and seems to have won the match.
The main turning points were that Lean Mode doesn't contain caffeine, which means that it won't keep your energy levels steady while you cut calories and carbs from your diet.
Also, as we've mentioned, the garcinia cambogia extract has been reported to cause side effects in Lean Mode too, which doesn't help.
Ultimately, it's these small mistakes that can make the difference between the great products, and the best fat burners on the market.
Winner: Instant Knockout