Evlution Nutrition have made some great products in the past, most notably Lean Mode. But in this review, we're focusing on 2 fat burners – Instant Knockout vs Trans4orm.
It'll be interesting to put 2 well-respected fat burners against each other, and see which one comes out on-top.
Both are claimed to promote:
Metabolism
Appetite control
Energy
Focus
We're glad to see that both fat burners offer similar benefits, as they're the main things we look for when taking a fat burner. However, if every product on the market offered all of them, then they would all contain the same ingredients.
Now, while some fat burners contain similar ingredients, there'll never be identical nutrient profiles (probably as companies will sue each other). The good thing about this, is that it makes it easier for us to compare products against each other.
We'll be looking at each companies reputation, the ingredients inside each fat burner, and whether either of them cause side effects.
Take a look:
About The Companies
Roar Ambition 
Roar Ambition have gained a great reputation for themselves, especially after creating market-leading test booster, TestoFuel.
This fat burner, Instant Knockout, has had an equally positive response; UFC fighters such as Diego Sanchez and John Dodson have officially endorsed this product, claiming it helped them lose weight.
After trying it for ourselves, we can confirm that it's the real-deal. So it's no wonder that many are comparing this fat burner to others on the market.
Evlution Nutrition 
Evlution Nutrition are a well-respected company, with their most popular product being Lean Mode (another fat burner). And they seem to have done a great job with Trans4orm too, as it contains some great fat burning nutrients.
This company sponsors a few athletes, such as Leah Stroud and Morgan Self. However, we're more interested in seeing whether Trans4orm can beat one of the best-rated fat burners available, Instant Knockout.
The Ingredients and How They Work
You could argue that this is the most important section in this review. This is because the ingredients inside a product determines how effective a product is, and how safe it is – 2 very important things.
As a result, we'll start by looking at which nutrients Instant Knockout and Trans4orm have in common. Then, we'll proceed to check which product has the better unique ingredients, to help you choose a winner.
See for yourself: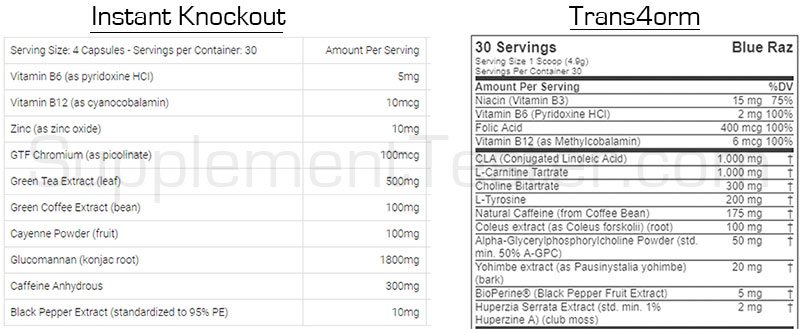 Caffeine Anhydrous
Caffeine Anhydrous is one of the best ingredients you can find in fat burners, when it's dosed correctly.
However, as those who've had too many coffee's before will know, too much caffeine can cause jitters – not what you want.
As a result, it's important that you don't consume too much caffeine in 1 serving.
Instant Knockout might contain more caffeine, but it's split into 4 capsules; this means each capsule serving only contains 75mg caffeine.
On the other hand, while Trans4orm contains less caffeine overall, it only provides 1 serving daily – so you'll be getting the full 175mg dosage at once.
As a result, you'll be more likely to suffer from jitters with Trans4orm.
---
Round 1 Result: Instant Knockout 
---
Green Coffee Bean Extract
You might be wondering what green coffee bean extract is; it's basically unroasted coffee beans, containing high amounts of chlorogenic acid (which has shown to promote fat loss by boosting your metabolism).
As both Instant Knockout and Trans4orm contain green coffee bean extract, we'll check which product has the better dosage.
After looking at both nutrient profiles, you can see that Instant Knockout contains the better dosage; studies have shown that 500mg servings of green coffee bean delivers the best results.
Unfortunately for Evlution Nutrition, Trans4orm only contains 175mg green coffee bean extract, meaning it's been underdosed.
---
Round 2 Result: Instant Knockout 
---
Black Pepper Extract
This is the same black pepper that you'll add to food, to make it taste better. But you might not know that it can enhance the absorption rate of supplements it's added to.
However, as black pepper extract doesn't directly promote fat loss, it's not considered to be a key ingredient in either product.
As a result, we'll be giving the first draw in this battle here.
---
Round 3 Result: Draw 
---
Unique Ingredients
That's where the similarities end with the 2 fat burner supplements. Now, we'll be looking at which product contains the better 'unique' ingredients to really determine which is more effective.
Instant Knockout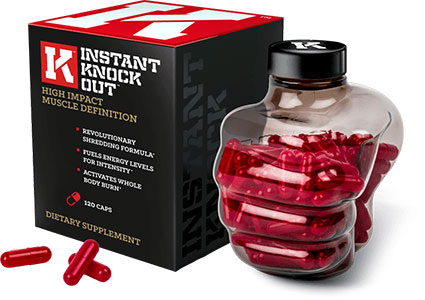 We had a good experience with Instant Knockout, and after analyzing it's nutrient profile, it's easy to see why.
It contains numerous key fat burning nutrients, which aren't seen in Trans4orm. Anyway, we'll explain it's main unique ingredients in more detail below.
Green Tea Extract 
Everyone knows green tea is beneficial; it's known to improve your general health, but most importantly, it's shown to raise your metabolism and promote fat loss.
It's a great addition to a fat burner, as it's saves you from drinking numerous cups per day.
But it's also important to check the dosage of green tea extract in supplements, to check whether it's likely to work; studies have shown that consuming between 400mg-500mg is optimal to help you burn fat.
As a result, Roar Ambition have done well here.
Cayenne Powder 
There must have been a time when you've eaten cayenne powder in your life. Well, you probably started sweating and consumed milk shortly afterwards, if the meal was hot enough.
Simply put, this raise in body temperature is exactly what boosts your metabolism; your body has to work harder to cool itself down.
As a result, cayenne powder is one of our favorite ingredients you can find in fat burner supplements.
Glucomannan 
There's a high chance you haven't heard of this ingredient before, but it's commonly consumed in Asia (also known as Konjac Root).
What does it do? Answer: expands in your stomach, helping you feel full for longer and stay away from sugary treats.
Trans4orm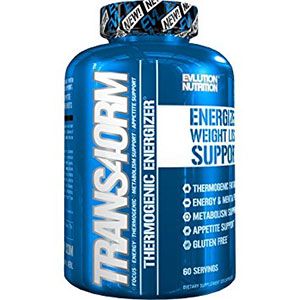 CLA 
Also known as 'conjugated linoleic acid', CLA has been believed to help promote fat loss for a long time. However, recent studies have shown that it actually doesn't do this.
Instead, CLA is thought to help preserve muscle mass while you cut weight – so it's not completely useless.
But it's not the best addition to any fat burner supplement available.
Yohimbe Bark Extract 
This is one of the ingredients that we try to warn you against, as it's shown to cause numerous side effects in supplements.
Why? Answer: it contains high amounts of Yohimbine, which has been banned from use in countries including the USA and UK.
We believe that yohimbe will be banned in the near future as a result, but while it's still being added into products, we recommend avoiding supplements containing it.
Huperzine A 
Huperzine A is more commonly added to nootropic supplements, due to its ability to improve your cognition.
As it has no effect on fat loss, it's not really needed in fat burner supplements. But the worst part is that Huperzine A has shown to cause numerous side effects (we'll expand on this in the section further down).
---
Round 4 Results: Instant Knockout 
---
Pros and Cons
Instant Knockout Pros:
Contains numerous key fat burning nutrients
Likely to suppress appetite
Good dosages of ingredients
Trans4orm Pros: 
Contains caffeine & green coffee bean extract
Good reputation
Instant Knockout Cons: 
 Tran4orm Cons: 
High dosage of caffeine per serving (could cause jitters)
Yohimbe & Huperzine A shown to cause side effects
Missing many key fat burning nutrients
Side Effects
Instant Knockout
Instant Knockout doesn't contain any nutrients that are likely to cause side effects, which is a very good thing.
However, as with any caffienated product, we'll advise that you shouldn't consume too much coffee or other products containing caffeine alongside Instant Knockout.
Trans4orm 
The bad news is that Trans4orm contains 2 ingredients that have commonly been reported to cause side effects – Huperzine A and Yohimbe.
Not only that, as it delivers a big 175mg of caffeine per serving, this increases your risk from suffering jitters.
Summary: Instant Knockout vs Trans4orm
One thing that we'll finish with, is that we're glad that neither product contains any proprietary blends; you can see the exact amount of each ingredient, meaning companies haven't tried to fool you here.
In case you're unaware, companies sometimes hide ingredients in proprietary blends while still keeping the price of their product high (so you can't see whether the nutrients have been dosed optimally or not).
So in this sense, both products have done well. However, it's easy to see that there's a clear winner here – Instant Knockout.
Ultimately, the main things that let Trans40rm down, is that Evlution Nutrition added both Yohimbe and Huperzine A (which have both been reported to commonly cause side effects).
---

---