You asked for it, so we're going to give it to you. Instant Knockout vs Vintage Burn is a great showdown between 2 very well-respected fat burners, so let's see which leaves as the champion.
Both are claimed to promote:
Energy
Fat loss
Metabolism
From the start, one big difference we found was that Instant Knockout offered appetite suppression, while Vintage Burn doesn't; but we won't make any conclusions before examining the ingredients in both fat burner supplements.
About The Companies
Roar Ambition
A specialist supplements company, Roar Ambition are known for having market-leading supplements and their high quality customer service.
We know that they respond to any questions through Facebook or email, which is always great to see. And we've also had a good experience with their fat burner, Instant Knockout too.
As a result, it'll be interesting to see how it competes with another highly-rated fat burner, Vintage Burn.
Old School Labs 
We like that general feel of Old School Labs' company; they've really gone for a retro theme and the packaging of their products also replicate this too.
It's the kind of supplement that we imagine when thinking about the golden era of bodybuilding – quite nostalgic, and it looks like it can pack a punch too.
So without wasting any more time, let's get into this fat burning battle of 2 greats!
The Ingredients and How They Work
When you're on a diet, you'll probably be checking the calories of most food items, especially from supermarkets. You'll probably also check for the amount of fats, protein and carbs of that particular meal too.
Well, you should have the same philosophy when looking at supplements; but instead of macros, you need to check how safe and effective the ingredients and their dosages are.
As a result, this is exactly what we're going to do for you.
We'll go through the ingredients that both fat burners have in common, before seeing which has the better 'unique' ingredients inside.
By comparing the ingredients and dosages of ingredients in Instant Knockout vs Vintage Burn, you'll be able to see a winner by the end of this article.
See for yourself:

Green Tea Extract
Everyone knows that green tea is good for you, and it's also shown to raise your metabolism too. As a result, it's one of the best fat burning ingredients you can find in these supplements.
We're glad that both Roar Ambition and Old School Labs have done their homework here.
However, you'll see that Instant Knockout contains a bigger dosage of green tea extract; studies have shown that 500mg is the most effective dosage of this nutrient, so Instant Knockout takes the early lead here.
Green Coffee Bean Extract
Just in case you're wondering, green coffee bean extract is basically unroasted coffee beans (the same type used to create coffee in Starbucks etc).
However, these beans have naturally high amounts of chlorogenic acid, which is tried-and-tested to improve your metabolism and promote fat loss.
Now, this nutrient has shown to work in dosages as low as 100mg. However, you'll see that Vintage Burn contains the bigger dosage here.
This means that we'll award Vintage Burn the win here, so they've done well to level the playing field again.
Caffeine Anhydrous
We're glad that both fat burners contain caffeine anhydrous as their source of stimulant, as it's proven to be the safest and most effective form in supplements.
However, one problem is that consuming too much caffeine can cause jittery side effects and energy crashes; as a result, we recommend consuming under 100mg caffeine per capsule (about the same as a cup of coffee).
Fortunately, both fat burners contain under this amount per capsule. But we believe that Instant Knockout is more likely to keep your energy levels high throughout the day, due to offering 4 capsules per day.
Vintage Burn only offers 2 capsules per day, so you're body won't have sustained levels of caffeine and other nutrients in its system for as long.
---
Round 1 Results: Instant Knockout 
---
Unique Ingredients
Now that we've taken you through the ingredients that both Instant Knockout and Vintage Burn have in common, we'll show you which has the better unique ingredients.
Ultiamtely, this section is where you'll really see the difference between the 2 products; this will help you decide which fat burner is better than the other.
Instant Knockout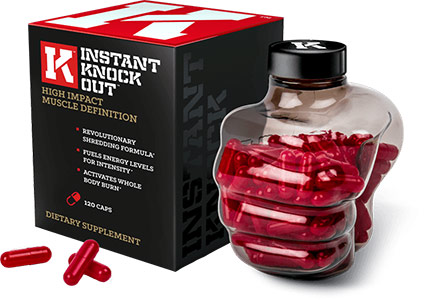 Glucomannan 
We mentioned at the start of this review that Instant Knockout offers one benefit that Vintage Burn doesn't; appetite suppression.
Well, this is because it contains glucomannan, which is a fiber that's able to safely expand in your stomach to help you feel full for longer.
What does this do? Answer: keeps you away from the snack draw and other sinful treats, lowering your overall calorie intake.
While glucomannan isn't able to boost your metabolism, we believe that lowering your calorie intake is equally (if not more) effective at helping you get shredded.
Chromium Picolinate 
You've probably heard that green vegetables is healthy so many times that you now believe it without actually knowing why.
Well, it's because green vegetables contain high amounts of chromium; this nutrient has shown to help increase your insulin resistance – reducing the risk of diabetes while helping your body handle carbs better too.
Ultimately, we still encourage you to consume green vegetables with every meal, but it doesn't hurt to give yourself an edge with added chromium picolinate in a supplement too.
Vintage Burn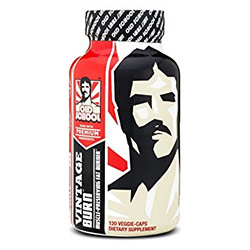 Raspberry Ketones
Raspberry Ketones became infamous for being advertised as some kind of 'miracle ingredient' in the media. However, scientific research showed that it didn't actually have any effect on fat loss at all.
Ultimately, this means that Raspberry Ketones are useless in fat burners, but companies still add it into their supplements to continue fooling those that don't know this.
So don't be fooled…
Not only that, raspberry ketones are chemically treated with synephrine too, meaning it can also cause side effects associated with it. Check out the side effects section further down for more info, but we recommend avoiding raspberry ketones in supplements.
Forskohlii Root Extract 
This was the 'best of the rest' in Vintage Burn, but it's still quite a 'new' addition to supplements.
As it hasn't been studied much, we can't completely recommend this nutrient, as we don't know whether it's 100% safe or effective ourselves.
However, it's claimed to promote fat loss while being able to boost your testosterone levels; this would make forskohlii one of the best nutrients in the industry.
So we'll keep an eye out for future studies, and update this page if we find anything new.
---
Round 2 Results: Instant Knockout 
---
Pros and Cons
Instant Knockout Pros: 
Contains key fat burning ingredients
Suppresses appetite
Increases insulin resistance to promote fat loss
Not likely to cause any side effects
Vintage Burn Pros: 
Contains great dosage of green coffee bean
Green tea extract shown to promote fat loss
Sensible dosage of caffeine
Instant Knockout Cons: 
Vintage Burn Cons: 
Underdosed green tea extract
No ingredients to suppress your appetite
Raspberry ketones ineffective & might cause side effects
Side Effects
The good news for Roar Ambition is that Instant Knockout doesn't contain any ingredients that are likely to cause side effects. Remember that although it contains more overall caffeine than Vintage Labs, it's also spread out through 4 capsules (so each capsule contains 75mg each).
However, the bad news for Old School Labs, is that raspberry ketones have been reported to cause side effects, due to being chemically treated with synephrine.
Here's the side effects that Vintage Burn might cause:
Jitters
Increased blood pressure
Rapid heartbeat
---
Round 3 results: Instant Knockout 
---
Summary: Instant Knockout vs Vintage Burn
We probably sound like we've been very critical of Vintage Burn, but we're here to give you the stone-cold facts.
However, we actually really like Old School Labs; they've built a great 'retro' looking theme to their supplements, and their website is very good too.
But Vintage Burn has been matched up against one of the market-leading fat burners in this battle. And while it contains a few key fat burning nutrients, it's not quite the full package that Instant Knockout is.
Appetite suppression is one of the main benefits we look for when choosing fat burner supplements, so we're disappointed that Old School Labs didn't take this into consideration when formulating Vintage Burn.
Ultimately, Instant Knockout has kept up with its reputation here and delivered the final blow.
---
Winner: Instant Knockout
---