Being shredded is a hard status to obtain, it requires clever diet practice, rigorous routines and torturous cardio. To make things easier and help athlete's one step closer to their goals fat burner have been introduced on the market. If you've done you're research you've found the selection for them is endless.
One in particular that has stood out recently is Jetfuel by GAT. The manufacturer describe the product as "the most powerful, proven, and effective fat burner available with the lowest reports of negative effects", it contains the following features:
Long-lasting energy
Burn body fat
Increase stamina
Target fat "trouble" areas
Suppress appetite
As always these statements have not been supported by the FDA but it will be interesting to see how the product lives up to the claim.
But first, let's have a look at the company itself:
About the company
GAT describe themselves as: "premium hardcore supplement brand, helping athletes all over the world attain superior strength and massive gains in their performance"
And they do seem to have an impressive amount of athletes that promote their brand, although I can't say I've heard of them, they're definitely impressive specimens as a testament to their products and their effectiveness.
They produce a whole range of different supplement types that cater to pretty much every angle of the lifter's (or active individual's) lifestyle.
They ship internationally with their product available from multiple retailers online.
The Ingredients and how they work
Jetfuel requires 2 servings a day of 1-3 tablets, at breakfast and lunch, or preferably around an hour before as the best results are achieved on an empty stomach.
It states never to take more than 6 capsules a day, and the 1-3 capsule serving is decided through the user's tolerance. This warning is written in block capitals on the GNC website and we can see why. This product is made up pretty much entirely of two large proprietary blends. Take a look: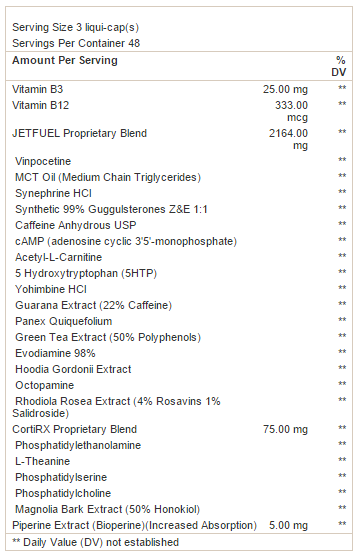 Vitamin B3 – A good metabolic regulator for around 60 different process in the body.
Vitamin B12 – Good processor of fats and carbohydrates, gives good energy boosts.
Short but sweet, now onto the elusively dosed proprietary blends. Starting with the JETFUEL variation.
Due to the vastness of this list, I will be sticking to the most relevant ingredients to the fat burning process.
Synephrine – Also known as Bitter Orange Extract, synephrine has been looked into as a weight loss aid and promoted as such by supplement companies. However evidence of it's success is yet to be clinically proven.
Caffiene Anhydrous – A powerful stimulant which works well as a fat burning aid, Caffeine Anhyrdous raises metabolism and energy levels to help the individual lose weight and also raises focus.
Acetyl-L-Carnitine – A great choice for a fat burner, this amino acid is fantastic for moving fatty acids for oxidation to produce energy. It gives you a boost and burns fat.
Yohimbine – A herb that has been seen to stimulate fat loss in the body. Unfortunately, in large doses it can cause side effects, and as we don't know the dosage we cannot rule out this ingredient causing hypertension, anxiety and gastrointestinal distress,
Guarana Extract – A highly caffeinated herb that reacts poorly with Synephrine. It raises energy levels and metabolism in the body.
Green Tea Extract – Another highly rated choice for a fat burner, the catechins in the green tea are great for releasing norepinephrine into the body which is a fat burning hormone and helps with thermogenesis. Also the high caffeine from the tea raises energy levels and metabolism.
Evodiamine – Thought to bring out thermogenesis in the body, but it has not been fully proven. Evodiamine has also been proven to be very hard for the body to absorb and to interfere with caffeine metabolim, and diminishes the stimulants effects.
Hoodia Gordonii – Has been said to contain appetite suppressant-like qualities, but no proof has been found to prove this after testing.
We haven't covered all the ingredients in that blend, but there's a clear mix of bad and good ingredients there. Which one's hold the most weight is problem, and one we shall not know the answer to unfortunately.
Now for the CortiRX blend:
Phosphatidylethanolamine – A class of phospholipids thought to help the human body with blood flow.
L-Theanine – An amino acid that relaxes without sedation, this is possible involved to counter the jitters that may occur from the stimulant presence in this product.
Phosphatidylserine – Another phospholipid, it's seen to increase athletic performance whilst decreasing the muscle damage caused to the user.
Phosphatidylcholine – A naturally occurring phospholipid in the foods we eat. It's claimed to help with skin health, fat metabolism, liver health and weight loss, however there has been no reported study on it helping with fat loss or metabolism.
Magnolia Bark Extract – Much like Evodiamine, Magnolia Bark works like a relaxant, which against jitters and anxiety that may occur due to the stimulants.
Piperine (Black Pepper Extract) – This is mainly used to increase the bioactivity in the body to help the nutrients from the product be absorbed more effectively.
Check out which ingredients work and which don't in our
– Fat burner ingredients guide –
Side Effects
Unfortunately, as this product has no measurable dosages on it's ingredient list we are unable to establish the full extent of the product's side effects.
That said, however, Synephrine is notorious for reacting badly with caffeinated herbs like Green Tea and Guarana, causing headaches and raised blood pressure.
Also we do not know the Yohimbine dosage for this ingredient, if it over the recommended amount it could lead to such problems as anxiety, gastrointestinal distress and hypertension.
Pros and Cons
Pros
Uses quite a few strong ingredients
Has more than one serving per day
Has ingredients to counteract jitters
Cons
A lot of ingredients are hidden beneath a proprietary blend
Some of the ingredients are ineffective
Some may cause side effects
There are a lot of stimulants in this product
JetFuel Review Conclusion
After looking through the qualities that Jetfuel has and seeing what it has to offer, I do not recommend it as a fat burner.
It has two proprietary blends which make up an awful lot of the ingredient list, this makes it very difficult for us to know which ingredient is going to have the most effect and which one is barely there purely to have it's name used.
Until Jetfuel has it's ingredient list revised in a much more honest and transparent manner, I am unable to give it a positive review, despite the promise it shows.