Clean Burn is a fat burner made by fitness icon Kris Gethin's company, Kaged Muscle. It has one of the shortest ingredients list we've seen, but that's not always a good thing.
In a nutshell, it's claimed to promote:
Fat Loss
Energy
Inhibiting of Fat Storage
Metabolism
But can it do it with such a small nutrient profile?
We've done the research, and found out the answers. See what we found out below: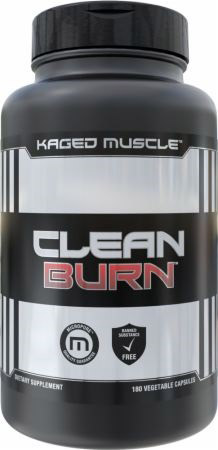 About the Company
Kages Muscle is a company founded by Kris Gethin after he spent "28 months traveling the world in search of the best natural ingredients". They market a range of supplements, from protein to individual nutrients like caffeine and l-carnitine.
They're proud of providing products that don't include proprietary blends, which are mixes of nutrients that don't give you the specific amounts of ingredients involved. This keeps you in the dark about what you're taking.
However, many of their products have very a very slim nutrient profiles – is less always better? (we'll talk about that in the next section).
The Ingredients and How They Work
Kaged Muscle recommends that you take 2 capsules in 3 doses, but this product only comes with 90 servings per bottle. This will only last for 15 days – a month supply is usually the standard for making good progress.
So you'll need to buy at least 2 bottles of Clean Burn if you want to see any serious results. This isn't ideal.
Products tend to give you the full benefits around the 1 – 3 month mark. If you really want a full body transformation, that's a whopping 6 bottles you'll have to purchase.
Not only that, the ingredients list is very limited here. Although there are some good choices here, many other core fat burning nutrients are missing from this product.
Take a look: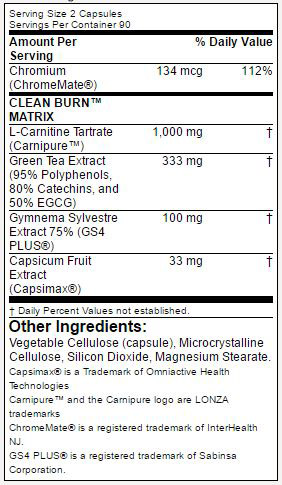 Chromium
This ingredient has been rumored to help reduce body fat and regulate insulin in the body. It's a nutrient that works, so Kaged Muscle have started well by including this in Clean Burn.
You want to look for a dosage of between 500-2000mg to experience the benefits of this ingredient. Clean Burn has 1000mg which is a decent amount of l-carnitine.
L-Carnitine 
We can see why this ingredient has been included in this fat burner – it's an amino acid that promotes energy and metabolism.
Green Tea Extract 
Green Tea Extract is the first ingredient in Clean Burn that we can really support. It's been shown to promote fat loss at doses of 400-500mg.
However, this product only contains 333mg per serving, meaning that your body won't have the optimum amount of Green Tea Extract at any time of the day.
You should search for a fat burner that contains 400-500mg doses of this nutrient per serving to experience the full benefits of it.
Gymnema Sylvestre Extract
This is a woody climbing shrub found in India and Africa used to make medicine. It's believed that it helps reduce body fat and treat diabetes.
However, there have been no studies on whether this ingredient actually delivers these benefits. You'd experience better results with a nutrient such as Glucomannan, which is proven to control blood glucose levels to encourage your body to burn fat as an energy source.
Although Gymnema Sylvestre Extract hasn't been proven to benefit you, it's been shown to impact you negatively – this ingredient has been reported to carry a risk of liver toxicity, so it's really not worth including this in the product.
Capsicum Fruit
Also know as Chili Pepper, this is great ingredient to have in a fat burner. It's used to as a thermogenic to boost your metabolism, resulting in an increase in fat loss.
You should definitely look for this nutrient on your search for a quality fat burner.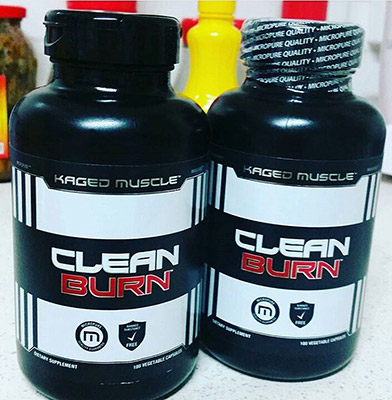 It's great to see a product without any proprietary blends, but it's missing some vital components of a quality fat burner – Kaged Muscle even recommend you to stack this with their caffeine pills (why isn't caffeine included in Clean Burn?)
Check out which ingredients work and which don't in our
– Fat burner ingredients guide –  
Side Effects
Clean Burn is relatively side effects free, but there is one serious issue you could experience with the Gymnema Sylvestre Extract involved in it.
Gymnema Sylvestre Extract has been shown to carry a risk of liver toxicity which can lead to an inflammation of your liver.
Not what you're looking for? See your best options in our
– Top 3 Fat Burners Page –
Pro's and Con's
Pro's 
Some good ingredients like Chromium, Green Tea Extract and Capsicum Fruit included in this product.
Con's
The Gymnema Sylvestre Extract in Clean Burn could give you an inflamed liver due to liver toxicity.
Only 15 days worth of product
Kaged Muscle recommends you stack Clean Burn with their caffeine supplement for the best results (meaning you'll spend more money)
Not very good value for money
Clean Burn Review Conclusion
Kaged Muscle has clearly done some research into what makes a good fat burner. They've done a good job by including ingredients like Chromium, Green Tea Extract and Capsicum Fruit. But here's where the problems start.
Kaged Muscle recommends that you stack this product with their caffeine supplement to get the best results. This is no doubt a money-making scheme – they could have easily added caffeine in Clean Burn and kept the cost the same.
Also, there's a reason why many products contain the Vitamins B6 and B12. They boost your metabolism and your energy levels, and they've probably kept these out to reduce their costs and increase their profit.
Zinc is another key nutrient that is missing – putting it simply, it's needed for survival and has numerous benefits such as reducing your blood glucose levels.
Kaged Muscle have really tried to keep their costs as low as possible with this product. They've cut our caffeine so you're "encouraged" to buy their caffeine supplement, along with other important nutrients which would benefit you and limited you to 15 days.
You should look for a fat burner that gives you 30 days worth of product with more ingredients included like Vitamin B6 & 12, Zinc and Green Coffee Extract to experience the best results and value for money.