In the ever evolving behemoth that is the modern-day supplement market, most companies continue to develop fat burners that are accessible to the largest audience, for the highest profit.
PhD is no different, as they claim on their website that Lean Degree Maximum Strength is a fat burner that works for "men and women following a weight management nutritional plan", and "serious athletes preparing for a bodybuilding, or physique model competition".
Somehow I think group A is not going to see the same results as group B, one follows a much stricter and stringent routine and diet than the other.
Regardless, let's brush away this false hope and consider the facts.
The Company
More known in the UK than anywhere else, PhD Nutrition "deliver innovative and inspirational sports nutrition products that not only taste great, but deliver serious results" ignoring the fact that they overused the word 'deliver' in that soundbite, PhD has known presence in England and has been endorsed by Hull Kingston Rovers, a British rugby team.
Attaining their products can be tricky, their site only ships within the UK and the EU. You're best bet for a US delivery is on Amazon, a selection is available there.
Ingredients and how they work
Lean Degree unfortunately only has 2 capsules a day.
This isn't the worst thing in the world, but fewer servings mean less your body spends less time in the optimum fat burning state that it gets from Lean Degree.
Ideally, you want at around 3 – 4 servings to get the full effects and stay in that constant 'fat burning mode'.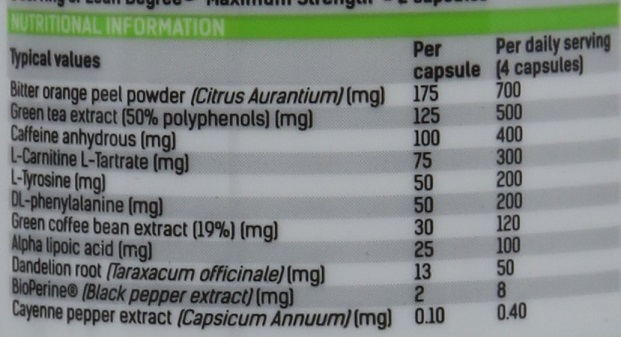 This is what I like to see. Clear ingredients, with measurements for each component and not a sniff of proprietary blends to be noticed.
Here's what we have:
Bitter Orange Peel Powder – I've spoken about this before. So many companies repeatedly use Bitter Orange Peel in their fat burners, but there is no conclusive proof that it helps towards fat loss. In fact, it's been shown to present side a whole plethora of side effects when mixed with stimulants like green tea which we discuss later.
Green Tea Extract – Fantastic for weight loss. It makes great use of fat burning hormones in the body as the catechins found in Green Tea react with the user. My only fear in this case is the combination of this product with the Bitter Orange Peel.
Caffeine Anhydrous – In controlled doses, this stimulant is fantastic for weight loss. Working with the body's metabolism and raising energy levels, caffeine keeps the user motivated while burning more calories.
L-Carnitine – A great tool in a dieter's arsenal. This amino acid transfers long-chain fatty acids to oxidation for energy. In a nutshell, this component will help you burn calories, and as a bonus it has shown to reduce fatigue.
L-Tyrosine – An amino acid that is found in most meats. L-Tyrosine is generally used in the body when dealing with chemical connections in the brain, it raises mental alertness. Although overuse can lead to nausea, headaches, fatigue, heartburn and joint pain.
DL-Phenylalanine – There is not much known about DL-Phenylalanine in scientific papers but it is believed to somehow be involved in the same process as L-Tyrosine. According to WebMD there is not enough information to document the side effects.
Green Coffee Bean Extract – Another great choice for a fat burning ingredient in this product. The uncooked coffee bean holds chlorogenic acid which inhibits glucose-6-phosphatase, keeping the formation of glucose in the liver low.
Alpha Lipoic Acid – When not preventing cell damage in the body, and restoring vitamin E and C in the body, Alpha Lipoic Acid is used on carbohydrates, breaking them down for energy to be distributed around organs in the body.
Dandelion Root – Showing promise as a Diuretic. If this proves true Dandelion Root would be very useful in reducing weight in users, as it would shed any unwanted water weight and bloating.
Bioperine (Black Pepper Extract) – Why it was necessary to trademark black pepper, I will never know, however, this doesn't stop it from being amazing when it comes to absorption of nutrients.
Cayenne Pepper Extract – Simple, natural and effective thermogenic. The heat of the chili causes the body to burn calories in an effort to cool down. It may also have appetite suppressing qualities as well.
Check out which ingredients work and which don't in our
– Fat burner ingredients guide –
Side Effects
I'm impressed by quite a lot of the ingredients in this supplement as four of them appear directly in my guide of effective fat burner ingredients. It's the Bitter Orange Peel that's causing me the most grief.
The Bitter Orange Peel would have been more forgivable if it wasn't the the largest ingredient in the product, which unfortunately makes it more likely to cause trouble.
On it's own Bitter Orange Peel has shown to cause headaches in a few individuals, but combining it with a herb stimulant like green tea and coffee leads to greater risks of:
High Blood Pressure
Fainting
Heart Attacks
Strokes
This ingredient has never been proven to yield any positive results, why do companies keep insisting on using it?
Lean Degree Maximum Strength Pros and Cons
Pros
Quite a few natural components
Dosages clearly labelled on the product
A lot of the ingredients are scientifically proven to bring results
Cons
May cause side effects
More difficult (and expensive) to get outside of the UK
Due to caffeine content, may have trouble sleeping if taken later on
Lean Degree Maximum Strength Review Conclusion
Overall, there are some great choices when it comes to the ingredients in Lean Degree Maximum Strength, there are also some bad ones which could lead to a few issues.
Here were my main concerns with this product:
Poor Serving Schedule – Not enough per day to ensure round the clock fat burning
Potential Side Effects – The inclusion of synephrine may lead to serious problems when mixed with green tea or caffeine
Needless to say, this isn't the best out there for cutting up, but it's in the right area.
If you're looking for something better, I suggest you check out my top three in the link below: