Overall Rating:

From the makers of Scorch (which unfortunately didn't do so well in my review of it) comes Lean Ph.D – the fat burner that describes itself as "The Smart Thermogenic".
But in what way is Lean Ph.D smart? Well, looking at it's description Lean Ph.D claims to:
Support Energy Levels
Promote Focus
Stop cravings
However, as this product has not been evaluated by the FDA, it's up to us to analyze the ingredients and see if Lean Ph.D is really worth the money.
About the Company
Metabolic Augmenting Nutrition (or MAN) is a supplement company based in Texas – they offer a wide range of supplements that are catered to men and women living an active lifestyle.
Some of their products are quite specific, offering insulin support and sleep aids. Uncommon in lifting supplement companies.
MAN also pride themselves on their Micro Batches; a process where the supplements are created in much smaller amounts as there can be a more thorough check in the product's quality.
The Ingredients
Lean Ph.D is recommended to be taken once in the morning on an empty stomach before breakfast, and again 6 – 8 hours later. This supplement should be taken with water and apparently no more than 3 capsules can be taken in a 24 hour period.
Quite honestly I don't think this is the best way to serve a fat burner. If the product is that potent it should be served in smaller capsules and broken up throughout the day – rather than giving a daily serving of 2.
The best fat burners I've reviewed usually hover around 3-4 servings a day of 1 capsule at a time. This gives the body enough to reach, and maintain thermogenesis and burn as many calories as possible throughout the day.
Unfortunately, the majority of the ingredients in this product make up a proprietary blend making it difficult to distinguish how effective each ingredient is: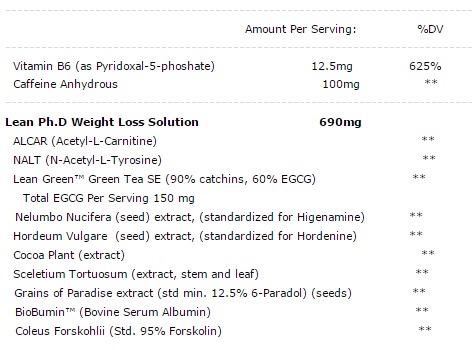 Vitamin B6 – This vitamin helps turn glycogen into glucose throughout the body. This allows the body to produce more energy without needing carbs. Pancreatic fluid also increases which helps with the breakdown of fats.
Caffeine Anhydrous – A great stimulant for a fat burner. Caffeine not only raises energy levels but increases metabolism too. It allows the user to burn more calories and have more energy.
Lean Ph.D Weight Loss Solution
Acetyl-L-Carnitine – Mainly helps transport long chains of fatty acid for oxidation providing an energy boost. However it has also been seen raise cognition and power output in athletes when consumed in large amounts (500-2000mg). However, it is unlikely that this amount is present in Lean Ph.D.
N-Acetyl-L-Tyrosine – An amino acid that raises cognition. Working with dopamine and noradrenaline in the body Tyrosine has also been seen to reduce stress levels.
Green Tea – This caffeinated herb is one of the best fat burning ingredients. As well as raising energy levels and metabolism, it's the catechins that make the real difference here. Green Tea catechins releases more norepinephrine, the fat burning hormone, into the body which gives a thermogenic boost and helps cut down fat.
Nelumbo Nucifera  – Seeds taken from the Indian Lotus flower. Thought to be an anti-diabetic and anti-depressant treatment due to it's amount of phenolics – however the effects on humans have not been studied.
Hordeum Vulgare – Just barley seeds. However, the hordenine it has been standardized for has been studied for it's fat burning effects – and so far there hasn't been enough evidence to prove hordenine as an effective fat burner. Although connections have been made which argue it has stimulating effects.
Cocoa Plant – Thought to improve blood flow, which may have some cognitive and cardiovascular benefits. However, the recommended amount to notice these benefits start around the 25-40g area in dark chocolate that contains at least 85% cocoa. There is nowhere near this amount in Lean Ph.D.
Sceletium Tortuosum – A herb that is also known as Kanna. Thought to decrease anxiety, Kanna may help with the stimulating effects of the other ingredients in this product. Effective doses have been reported at 25mg and higher – hopefully that amount or more is in there.
Grains of Paradise – Known also as Aframomum Melegueta – it's a spice that's similar to ginger. Due to it's similarity to ginger GoP are thought to have some kind of fat-mass control. That said, there has been very little research into the topic, and no way to know for certain.
BioBumin – A trademarked blend of Bovine Serum Albumin. It is a concentrated protein that is usually used in lab experiments. It is made up of numerous amino acids and greatly boosts the absorption rate of the other ingredients in the body. Although, there have been no human studies to prove this.
Coleus Forskohlii – Works to promote fat loss in the body. Coleus Forskohlii does this by promoting the enzyme 'cyclic adenosine monophosphate'. It also helps reduce fatigue and raise energy levels. However, we are unaware of how much is in this product.
Check out which ingredients work and which don't in our
– Fat burner ingredients guide –
Side Effects
Due to this Lean Ph.D being a proprietary blend, I cannot say for certain if there are side effects. However, as the ingredients are all natural, I doubt this is a dangerous product. The main problem is that many are unproven to burn fat.
Pros and Cons
Positives
Contains caffeine and green tea
No reported side effects
Negatives
A lot of this product is a proprietary blend
A few of the ingredients are unproven, and may not work
Some of the ingredients are under dosed
Lean Ph.D Review Conclusion
Unfortunately, much like Scorch. Lean Ph.D uses a lot of unproven and ineffective ingredients. Same with the servings, each only offer 2 servings a day which may have detrimental effects on the fat burning process.
At the state that this product is in at the moment, I definitely would not recommend it. It's best to wait to see if they reformulate it, and revise the serving frequency.