We found Leanbean after hearing good things about it. And we're always looking for the next best fat burners to arrive at our door.
As a result, we were glad that Leanbean arrived quickly – so we could see whether it could compete with our favorite products on the market.
Here's the main benefits advertised on Leanbean's website:
Target stubborn fat
Help lower body fat levels
Effective nutrient profile
Vegetarian friendly
With every review, we're interested to see whether the product can actually match its claims. So we'll be examining Leanbean's nutrient profile – after taking a closer look at the company who created this fat burner below.
About The Company
Ultimate Life is the company behind Leanbean. They are based in the UK and are a relatively new start up firm specializing in sports supplements.
We found that this company had worked with leading industry experts to create 'Leanbean' – using only natural ingredients. This is something we get behind, as chemicals and synthetic ingredients are usually the cause of side effects in supplements.
Not only that; everything Ultimate Life produce is manufactured in FDA registered facilities – in line with GMP manufacturing standards.
It's not often that we leave a website's 'about us' section impressed. But Ultimate Life seem to be a reliable company.
The Ingredients and How They Work
Leanbean uses more than ten well-researched, natural ingredients proven to help you lose weight. We're happy to see that Leanbean doesn't contain any proprietary blends – which means you can see the exact dosages of each nutrient inside this fat burner.
Also, this company hasn't cut any costs while formulating this fat burner; almost every ingredient is dosed above 100mg, which is quite rare to see.
We also like that Leanbean's nutrients are delivered in 4 capsules spread throughout your day. This keeps your body fuelled with the ingredients to encourage fat loss – so you get the best results for your money.
See for yourself: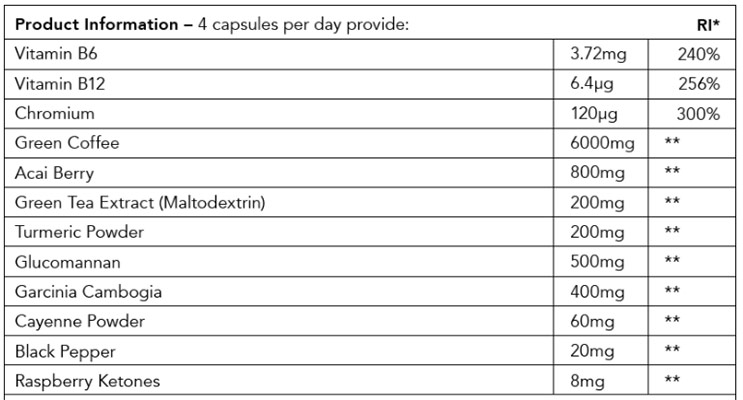 Green coffee beans
Coffee in its rawest state, Green coffee has been the subject of some very impressive weight loss studies.
The active ingredient is Chlorogenic Acid and it works by improving insulin sensitivity. As well as limiting the amount of fat you absorb from meals.
Ultimately, Green coffee extract is extremely popular amongst professional athletes and sports people for one reason – it works.
Acai Berry 
Acai Berries are well known for containing great amounts of vitamins and antioxidants. Simply put, this improves your general health – providing your body with the tools it needs to accelerate fat loss and detox your body.
Not only that; Acai Berries are packed with fiber, which promotes a healthy digestive system.
Green Tea Extract 
If you've done some research on health boosting nutrients before, then you'll definitely know about Green Tea. Studies have proven it's able to benefit almost every organ in your body – something not many ingredients are capable of doing.
But most importantly; Green Tea Extract is able to boost your metabolism and help you shred fat around your legs and waist.
How does it work? Well, it contains high amounts of catechins which has proven to have direct effects on fat loss (and is also why Green Tea Extract is one of the best thermogenic ingredients available).
Turmeric
A powerful antioxidant with a strong reputation for supporting health and wellbeing. It has numerous benefits; one being to help prevent estrogen dominance.
It's also particularly well known for being able to reduce inflammation in fat cells – something which improves insulin sensitivity and helps keep cholesterol under control.
See SupplementTester's
Highest Rated Fat Burners Here 
Glucomannan/Konjac Fibre
A clinically proven appetite suppressant; this fibre works by making you feel full after meals.
As a result, it's useful for anyone who's trying to stick to a controlled diet. Less snacking on sugary treats and junk food means a lower calorie intake (and faster fat loss).
Garcinia Cabogia 
Garcinia Cabogia is a fruit that's known for being able to enhance the flavor of foods.
However, here's the main reason it's used in fat burners; this fruit has shown to increase the satiety of your meals (meaning it helps you feel full and avoid snacks).
Not only that; Garcinia Cabogia is also a great source o hydroxycitric acid – this has shown to directly promote fat loss too.
So in effect, this fruit suppresses your appetite and helps you burn fat. Not bad, right?
Cayenne Pepper
This 'hot' spice is similar to Chilli Powder but packs a considerably bigger punch.
Like Chilli Powder it includes a substance called Capscium; this boosts your metabolism and helps you to burn more calories.
But that's not its only benefit. Capscium has also been shown to be an effective appetite suppressant.
Piperine
This is a substance found in black pepper. Piperine has a similar impact to capsicum in that it produces heat and helps to prevent the absorption of new fat cells. It is also very good at improving the overall absorption of other natural substances in your diet.
Raspberry Ketones 
We'll be honest here; Raspberry Ketones  the worst ingredient inside Leanbean.
It gained popularity when it was advertised as a 'miracle' nutrient that was believe to help people lose weight. However, studies proved that it wasn't as effective as originally believed.
However, as it's not shown to cause any side effects; there's no real negatives of consuming Raspberry Ketones either.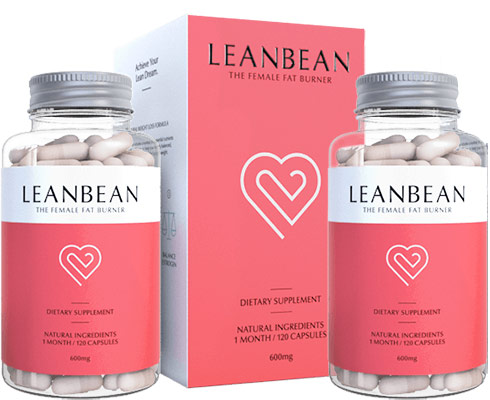 Check out which ingredients work and which don't in our
– Fat burner ingredients guide –
Pros and Cons
Pros: 
Quality fat burning ingredients
All-natural nutrient profile
Speeds metabolism and promotes healthy estrogen levels
Money-back guarantee
Ships worldwide
Cons: 
Raspberry Ketones hasn't shown to boost fat loss
Only available from Leanbean's website: www.leanbeanofficial.com
You need to buy 3 months to get the 90 day money-back guarantee
Side Effects
As Leanbean only contains natural ingredients; none of the nutrients inside this fat burner have shown to cause any side effects.
In a nutshell, this is why we only recommend natural fat burners – instead of the products containing chemicals and synthetic additives that can cause harmful side effects.
See SupplementTester's
– Top Rated Fat Burners Here –
What Others Are Saying About Leanbean
We mentioned at the start of this review, that others had given very positive testimonials about this fat burner.
So we've included our favorite user experience below.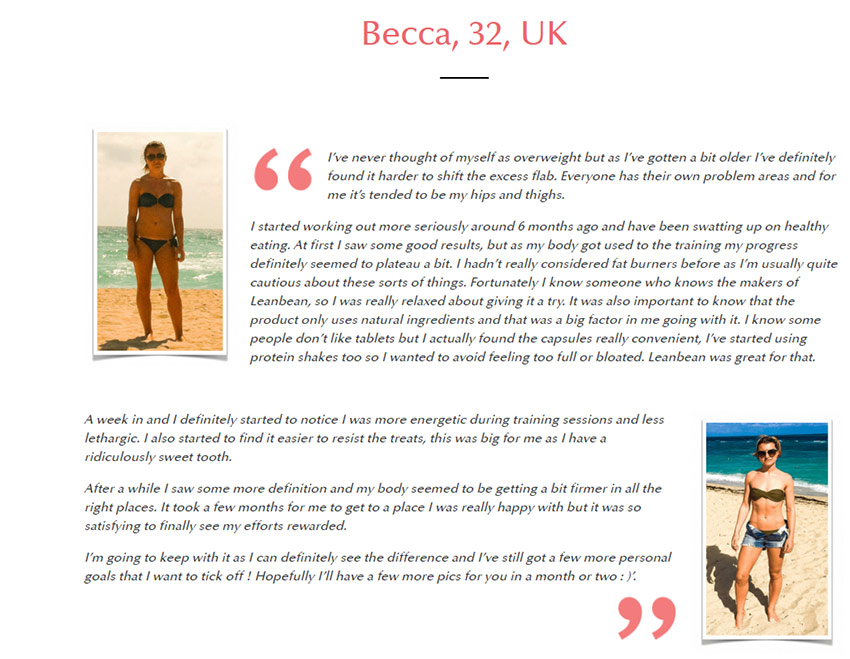 How To Buy
Leanbean is only available in capsule form and can't be bought on the high street like other supplements.
If you want to get hold of it then you need to go to www.leanbeanofficial.com.
Remember, this is a premium priced fat burner – so you might want to take advantage of some of the multi box promotions they offer. This will ensure you save money – as well as receiving a free luxury sports bra when you order a three months supply.
Review Conclusion
Leanbean's female fat burner is one of the best supplements we've come across in this sector.
This all-natural fat burner and is one of just a few products on the market that have been put together for women – and actually managed to get it right.
When we first received the product, we were reassured to find some really positive reviews. And it always helps when there's some positive testimonials from previous customers.
The main things we like about Leanbean is that it matched it's claims; after looking at it's nutrient profile, we can confirm that everything is 100% natural, safe and effective.