In the market of fat burners it's only a matter of time before you start recognizing some of the names. Some just stick in your head and are impossible to shake.
One I remember in particular was TRANS4ORM by EVLUTION – and after reviewing it I found it to be as effective as the grammatical accuracy of its name. The main reason being it was a fat burner that used proprietary blends.
However, I've heard there's another fat burner from the same company that does use any of these blends at all. It's name? LeanMode – and it claims to be stimulant free when it comes to fat burning.
Looking at the features, LeanMode claims to support:
Fat Burning
Appetite Control
Metabolism
Energy
Mood
Stimulant free, and helps with mood? It's not often that's included in a fat burner. And if there are no proprietary blends we should be able to establish exactly how LeanMode accomplishes this.
But first, let's refresh ourselves on EVLUTION:
About the Company
It's still the same old amateurish website. But it has weirdly grown on me. It still "sets out to enhance the lives of our customers through excellent products combined with unmatched customer service" and I really feel my life is enhanced when I see products stacked up like this: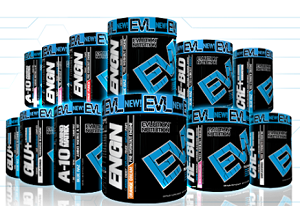 So innovative they even defy gravity. Last time I said this makes the company look untrustworthy, but I'd like to retract that – they're just horrendously cheap when it comes to their own website.
Not that any of that matters. Getting to the bones of it, EVLUTION suppliers all kinds of animal to the supplement world ranging from pre, during and post workouts, to creatine, proteins and glutamines.
They sell mostly through GNC and Bodybuilding.com, along with also trading straight from their own website.
The Ingredients and how they work
LeanMode requires 1 – 2 servings a day, but argues the best results comes from having two servings with one 30 – 60 minutes before breakfast and the other 30 – 60 minutes before dinner. Each serving is 3 capsules, so we're looking at a whopping 6 capsules a day!
Now, when we last went through this with an EVLUTION product, I heavily condemned it over the use of proprietary blends. LeanMode doesn't fall into this category, so it'll be interesting to see what they opted for.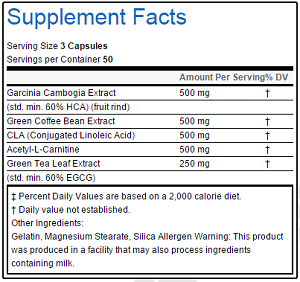 Garcinia Cambogia – This is supposed to be EVLUTION's weapon for improving mood. Garcinia Cambogia can help with reducing appetite but it does not affect mood directly. It also has been seen to not burn fat in humans, however main it claim it can by producing studies done with rats.
Green Coffee Bean Extract – The chlorogenic acids in the coffee beans helps burn glucose in the liver, which is always good for controlling sugar levels. Plus it helps to raise metabolism.
CLA – You've probably seen this in stimulant-fee fat burners I've reviewed before. It's seen to work with receptors that help with the fat burning processes. But studies have shown the ingredient itself is nowhere near strong enough to make a real difference to weight loss.
Acetyl-L-Carnitine – A great source of energy, this amino acid has the ability to transport long fatty acid chains to oxidation for energy, which promotes fat burning and produces higher energy levels.
Green Tea Extract – I struggle to see how this isn't a stimulant. Regardless, this caffeinated herb is an effective fat burner and raises the body's metabolism and energy levels. The catechins in the tea release norepinephrine in the body which is one of the major fat burning hormones.
Check out which ingredients work and which don't in our
– Fat burner ingredients guide –
Side Effects
Honestly, contrary to what I said about TRANS4ORM, I don't think your going to have any bother taking LeanMode. You could argue that some of these ingredients if you take two servings a day rack up to a gram a piece, however, they're not going to be that mind blowing in their configuration.
Even though it claims to be a stimulant-free fat burner, but then throws in a caffeinated ingredient, it's still just a straight forward fat burner, and shouldn't cause any harm unless you're allergic to anything on there.
Pros and Cons
Pros
It's relatively safe product
No proprietary blend
Uses green tea
Cons
Heavy dosages on ineffective ingredients
Garcina Cambogia does not help burn fat
There is a stimulant in this stimulant free fat burner
LeanMode Review Conclusion
If you've got your heart set on this product, just buy it and get it out of your system. It's not that great, there are plenty of other fat burners out there on the market that are a hell of a lot more effective – but this one contains literally no risk.
If you're got an openness to the placebo effect, this is definitely one for you to try. Aside from that, it's not really going to make that much difference.