At present, there are so many different fat burners on the market, and sometimes it seems impossible to find the one that is right for you. Sometimes, you may even consider liposuction, but have you ever considered Liponox?
Liponox, the fat burner from XPI that claims to target "all aspects of weight loss" apparently takes a "different approach to weight loss" and "does more than most diet supplements".
With a very confident tone, Liponox argues it has the following features:
Loaded with fat burners to target stubborn areas
Energy Enhancers
Metabolism Boosters
Appetite Suppressants
Fat Blockers
Interestingly, their "different approach" is so different, that it is actually the same. Interesting.
Regardless, they have some pretty surprising testimonials, that I'm sure haven't been doctored at all. Despite claiming Liponox has helped them lose 25lbs in a month. So let's see what Liponox has to offer.
About the Company
Xtreme Pharmaceutical Innovations, or XPI is a predominantly online supplement company that deal in a range of different supplements to tie in with various aspects of an active lifestyle.
There have been a lot of mixed reviews about XPI's products in general, especially on Amazon. Many claim the product does as advertised, while equal numbers argue the opposite. That said, XPI does offer a money back guarantee which unsatisfied customers should take advantage of.
The only time this isn't the case is when dealing with the brand's protein powder's which appear to be well received by the consumer.
Ingredients and how they work
According to the label, Liponox should be taken once before breakfast, and another before lunch. Each container houses 60 capsules, so this should give you a steady month's supply.  However, for a product that showcases incredible testimonials, I would expect more than two servings a day.
It gets even stranger after seeing the ingredients: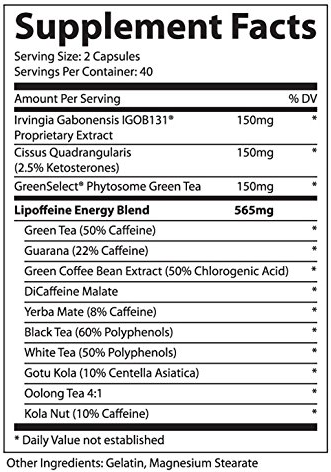 Proprietary Extracts, far and wide.
Irvingia Gabonensis (IGOB131) – A somehow altered version of IG, I can't comment on the blend itself but IG typically thought to reduce fat cell growth, although unproven. However, the high fiber content should help lower cholesterol.
Cissus Quadrangularis – A relatively untested plant, but has been shown to have antioxidant, analgesic and anti-inflammatory properties in animals.
Green Tea – A fantastic product for boosting thermogenesis, thanks to the herbs catechins – the caffeine content also helps to raise energy levels.
Guarana – Another highly caffeinated herb to raise focus and energy levels, great for keeping focus when on a reduced diet.
Green Coffee Bean Extract – The unroasted beans allow for an increase in their inner chlorogenic acid. This is vital for cutting out glucose formation in the liver.
DiCaffeine Malate – An unproven weight loss aid, DCM is thought to boost metabolism, suppress appetite, enhance energy levels and improve alertness and is less stress on the stomach than regular caffeine. Sounds great but the evidence to back these claims still have not transpired.
Yerba Mate – A far less caffeinated herb, Yerba Mate is Green Tea's weaker and cheaper cousin. It also has a small amount of chlorogenic acid, to help with the liver's glucose breakdown.
Black Tea – A good antioxidant for protecting the heart and blood, has some caffeine in there too for an added stimulant kick.
White Tea – Is a good protecting force to have in the body, it has been shown to have more antiviral and antifungal effects than Green Tea.
Gotu Kola – Interestingly Gotu Kola is chiefly used to decrease blood pressure, this may be a tactical move by Liponox to compensate for the large amounts of stimulants in this supplement.
Oolong Tea – Similar to green tea by the way it raises metabolism and increases overall energy levels, a strong component to have in a weight loss aid.
Kola Nut – Another caffeinated natural product that raises alertness and metabolism, has been known to be used in soft drinks.
Check out which ingredients work and which don't in our
– Fat burner ingredients guide –
Side Effects
The main concern here is that the majority of this product is made up of a proprietary blend. It's a problem follows a lot of modern supplements. Most often when a company doesn't want to disclose the amount of a certain component they are using in their product.
In this particular case, for Liponox, there is a real issue. The majority of the ingredients that have gone into their Lipoffeine Energy Blend, are stimulants. As this is such a high combination of various high energy products, we can only assume the side effects in area of stimulant abuse, so one could expect:
Raised blood pressure
Jitters
Headaches
Trouble Sleeping
XPI know that Liponox is a very potent stimulant, otherwise they wouldn't advise having the last serving over 6 hours before sleeping. Combining that with the veil of a proprietary blend and the fear that it is a worrying fat burner is very real.
Liponox Pros and Cons
Pros
A good range of organic caffeine
Has thermogenic properties
Money Back Guarantee
Cons
Too potent caffeine dosage
Some ingredients unproven to be effective
Proprietary blend makes it difficult to pinpoint potential dangers
Testimonials seem falsified, make unbelievable claims for the ingredients included
Liponox Review Conclusion
I would not recommend Liponox.
It is made using the Dark Arts of proprietary blending with a cocktail of stimulants. This cannot be the only tool when getting your customer to use weight. More effort needed to be put into the fiber-side of the product to promote appetite suppression and more of a thought needed to be put into thermogenesis to be a suitable fat burner.
Overcompensating for these short comings with caffeine, and then not disclosing the dosages, is foolish and potentially dangerous to the customer.