Matrix Nutrition is a UK-based company which claims to make and sell "affordable" products with "carefully-sourced ingredients".
The company goes so far as to call its Night Shredder fat burner "one of the most innovative weight loss supplements on the market". This is a pretty bold claim, so we were interested to see how safe and effective this product really is.
Claims to:
Allow you to shred fat while you sleep
Promote deep rest and recuperation
Offer you 100% confidence in its quality
Night Shredder is priced at £10.99 (approx. $15) for 60 servings. Clearly, this makes it a 'budget' supplement, so any claims that it contains an "innovative" formula are bold, to say the least.
Let's face it – you (usually) get what you pay for.
But rather than dismiss Night Shredder out of hand, we thought we'd test it out and see whether such a cheap product is any match for the best fat burners available…
About The Company
Founded in 2007, Matrix Nutrition has a good reputation in its native UK, but they don't ship to the US. Many of its products are decent quality for the price – we've tried their protein powders and were quite impressed.
The company's website goes to great pains to tell you "what you see is what you get" with Matrix Nutrition products. The company also justifies its low prices by saying that it avoids high-cost advertising, which then allows it to pass these savings on to its customers.
The Ingredients and How They Work
Despite Matrix Nutrition's claim that "all our products are clearly and accurately described and labelled", this doesn't appear to be true at first glance.
As we've said many times in other reviews on this site, we don't like proprietary blends. Recap: proprietary blends are lists of sub-ingredients that don't display the exact amount of each component, only providing an overall amount to the customer.
Simply put, proprietary blends can increase your risk of side effects, so it's disappointing to find Matrix Night Shredder contains two proprietary blends: the Nocturnal Weight Management Complex and the Rest & Recoup Matrix.
Anyway, those are our first impressions. But to get a real taste of what Night shredder is all about, we'll analyze each ingredient in its nutrient profile for you in this section.
See for yourself: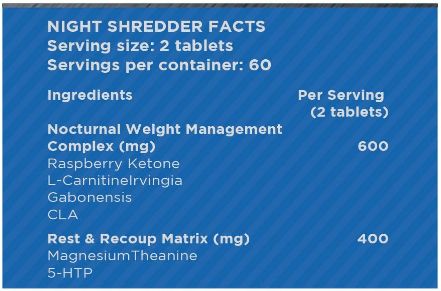 Raspberry Ketones
Raspberry ketones first hit the fitness scene in 2012, when Dr. Oz declared them "a number one miracle in a bottle to burn your fat." They're found in red raspberries, cranberries and blackberries and have become very popular as a fat burner in their own right.
But it's worth pointing out that the raspberry ketones in your supp DO NOT come from natural sources.
Yes, that's right – they come from a lab! While natural raspberry ketones and the synthetic kind share a chemical structure, the latter are cheap to produce and generally low quality.
The word "ketones" also sounds close to the keto/ketogenic diet, which connotes good health and makes the product a shallow marketer's dream. But these links are just an illusion.
In fact, there's very little proof that raspberry ketones have any use as a fat burner. And as raspberry ketones can act as stimulants, their use in any night-time supp is surely counterproductive.
L-Carnitine
L-carnitine helps your body convert fat into energy. This amino acid comes in different forms, including acetyl-l-carnitine (ALCAR) and l-carnitine-l-tartrate.
However, there isn't enough evidence to show l-carnitine is useful as a fat burner in supp form.
L-carnitine is better for boosting energy, improving alertness and reducing muscle fatigue. In fact, studies attribute fat loss to the way in which this energy boost makes subjects more active and thus likelier to burn calories.
As a result, this form of l-carnitine would be more use as part of a pre-workout supp than a fat burner.
Irvingia Gabonensis
Irvingia gabonensis is a supplement derived from African mango seeds. Some refer to it as "African mango" or "wild mango", although it's unrelated to the fruit you find in the supermarket.
Irvingia gabonensis is used as an appetite suppressant, which should (in theory) make it great for weight loss. However, studies show it works in much the same way as glucomannan, except the latter is more effective for fat burning.
In addition, research published in the Journal of Lipids in Health and Disease shows subjects experienced no significant fat loss by taking irvingia gabonensis during a controlled study.
See SupplementTester's Highest Rated
Highest-Rated Fat Burners Here
CLA
Many marketers in the fitness industry describe conjugated linoleic acid (CLA) as a stimulant-free fat burner. CLA is a mix of essential fatty acids that your body can't make on its own – you have to get it from your diet.
CLA can affect molecular-signalling receptors called PPAR, which have links to your metabolism and the ability to burn fat.
However, studies on the fat-burning effects of CLA are unreliable. While some research suggests CLA is more effective for this purpose in obese people, the proof of this claim is also flimsy.
Theanine
Theanine is an amino acid found naturally in camellia sinensis, an evergreen tree leaf. As a relaxant, it's useful for calming the jitters associated with caffeine.
But because Night Shredder doesn't contain caffeine, the use of theanine seems redundant here.
5-HTP
5-hydroxytryptophan (5-HTP) is a metabolite of the amino acid L-tryptophan and is linked to the production of serotonin in your brain.
For this reason, some nutrition brands add 5-HTP to their night-time fat burners to help induce a sense of well-being, which of course should help you sleep soundly.
But when combined with other drugs, such as SSRIs (anti-depressants), 5-HTP can be lethal. As a result, we advise consulting your doctor before taking it.
You should also be aware that 5-HTP may increase calorie intake. And as weight loss largely depends on lowering calories, the presence of 5-HTP may not be ideal in a fat burning supp.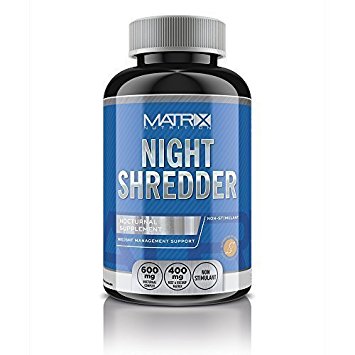 See SupplementTester's Highest Rated
Highest-Rated Fat Burners Here
Side Effects
Judging by its ingredients, Night Shredder does appear to be safe. However, you may still experience some negative side effects.
The potential side effects of taking Night Shredder include:
Jitteriness and increased blood pressure
Headaches, nausea and vomiting
Stomach pains
Flatulence and diarrhea
Disturbed sleep patterns
Pros and Cons
Pros:
Good price
Made by a respected UK company
Cons:
This "innovative" fat burner doesn't live up to the hype
L-carnitine more useful for pre-workouts than fat burning
Irvingia gabonensis not as effective as glucomannan
Flimsy evidence to support use of CLA as a fat burner
You really do get what you pay for
Doesn't ship to the USA
See SupplementTester's Highest Rated
Highest-Rated Pre-Workouts Here
Review Conclusion
On its website, Matrix Nutrition proudly states that it offers customers "100%  confidence" in its products.
But in the case of their Night Shredder fat burner, we are far from convinced it does what it says on the tin. For example, every ingredient in this fat burner is hidden in proprietary blends – not very honest or transparent, right?
As we state a couple of times in this review, you get what you pay for. And judging by the ingredients alone, it seems Night Shredder is very much a $15 product that pales in comparison to the best fat burners on the market.
We've already mentioned throughout this review that Night Shredder's two proprietary blends undermine Matrix Nutrition's dual claim that they use "carefully-sourced ingredients" and that all products are "clearly and accurately described".
So, if you really want a fat burner that works, $15 just won't cut it. We recommend that you increase your budget to buy a more reliable, premium supplement that'll help you shred body fat and reveal your dream physique.