---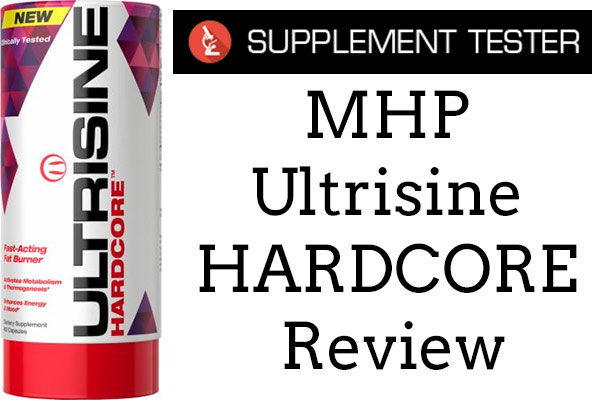 ---
Ultrisine Hardcore is MHP's fat burner that's picked up some popularity. It's marketed as 'the ULTIMATE metabolism booster' – so we're interested to see whether this product can live up to this claim.
Claimed to promote:
Metabolism
Fat Loss
Energy
Mood
As we've mentioned, MHP has made some bold claims about Ultrisine Hardcore – so it'll be interesting to see whether it's as good as they say.
Take a look:
About The Company
MHP are a supplements company based in the USA (New Jersey). They state that they're 'driven by science' and are 'committed to quality'.
We like that they create their products in cGMP certified facilities – so they're made under strict regulations. We recommend that you make sure every supplement you try is made under these circumstances.
Anyway, enough about MHP. Let's get to the main event.
The Ingredients and How They Work
Straight away, we can see something we don't like on MHP Ultrisine Hardcore's ingredient list – 2 proprietary blends.
What are these blends and why are they bad? Well, proprietary blends are mixtures of numerous ingredients that're shown to you under 1 quantity.
This means, you don't know whether any ingredients have been under-dosed or over-dosed (putting you at increased risk of side effects). Anyway let's see what ingredients are inside this fat burner.
See for yourself: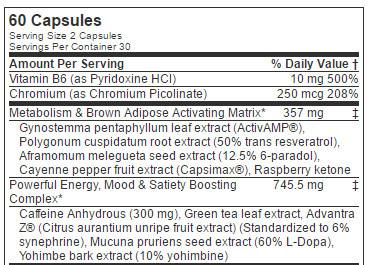 Gynostemma Pentapyllum lead extract 
Also known as southern ginseng, this is a herb known as the 'cheap' alternative to 'Panax Ginseng'. But here's the bad news: southern ginseng hasn't proven be safe or effective in many studies.
Not only that, there hasn't been any studies that show a direct influence on fat loss either. Ultimately, this makes southern ginseng an unreliable ingredient in Ultrisine Hardcore.
Polygonum Cuspidatum 
Otherwise known as Japanese Knotweed, this is a traditional Chinese medicine that's known for being a good source of resveratrol.
In a nutshell, resveratrol is believed to prolong your lifespan and improve general health. However, no study has proven that it actually works.
Not only that, Japanese Knotweed hasn't shown to have any effect on fat loss at all – making it an ineffective ingredient in MHP's Ultrisine Hardcore.
Alframomum Melagueto Seed Extract 
This is a spice that's similar to ginger. The good news is that it's shown promising results in promoting fat loss.
However, research is still in early stages, so it's not 100% certain whether this spice is responsible for helping people lose body fat. For this reason, this is an unreliable ingredient for now.
Cayenne Pepper Extract 
Cayenne Pepper is a chilli that's known for its 'spice' when added to foods. This causes your body temperature to rise, which in turn boosts your metabolism (helping you burn more fat).
Studies have proven that this works, and you can't argue against that. However, as Cayenne Pepper Extract is part of a proprietary blend, no-one knows the exact dosage of this ingredient – meaning it might be ineffective.
Ultimately, this is a great example of why you should avoid proprietary blends.
Raspberry Ketone 
You've probably heard of Raspberry Ketone being some-kind of miracle ingredient. However, these are just lies that were made to market it.
If you check the studies conducted on this nutrient; you'll find that there's no evidence that shows it's actually effective at helping you lose body fat.
As a result, Raspberry Ketone is an unreliable ingredient.
See SupplementTester's
– Highest Rated Fat Burners Here –
Caffeine Anhydrous 
This stimulant is one of the best nutrients you can find in fat burners. Why? Because it's shown to help boost your energy levels and metabolism – which are 2 key benefits that help you on your fat burning journey.
However, there's one warning with caffeine – don't consume over 250mg per serving (unless you're very tolerant to caffeine).
As MHP Ultrisine Hardcore contains a 300mg dosage, those sensitive to caffeine might experience jitters or energy crashes – which is why these side effects are quite common in fat burners.
Green Tea Leaf Extract 
Green Tea Leaf Extract is another great nutrient in fat burners. Why? Answer: Because it works.
It's been known to promote health for decades. More importantly, it's recently shown to help you lose that belly fat – making it a key ingredient in any fat burner.
However, as it's inside a proprietary blend, no-one knows whether it's been dosed optimally (meaning it might not work). It's better to know the exact dosage inside, so you know whether it's effective.
Synephrine 
This is listed as 'citrus auranium' on the ingredient list, which is another name for synephrine. It's actually been blacklisted in numerous countries after causing harmful side effects – which is why we try to avoid this ingredient.
Not only that, as synephrine is part of a proprietary blend – it might be filling most of the blend, making your risk of suffering from side effects higher.
Mucuna Pruriens 
We're not sure why MHP has added Mucuna Pruriens into this fat burner; while it can boost testosterone levels, it hasn't shown to directly promote fat loss in any study.
As a result, we prefer this nutrient in test booster supplements. Its benefits aren't suited to fat burners – making it an unreliable nutrient.
Yohimbe Bark Extract 
Yohimbe is a derivative of Yohimbine (which has been blacklisted in numerous countries after causing harmful side effects).
As a result, we recommend that you stay away from this ingredient. It's not worth suffering from side effects when you're paying for gym supplements.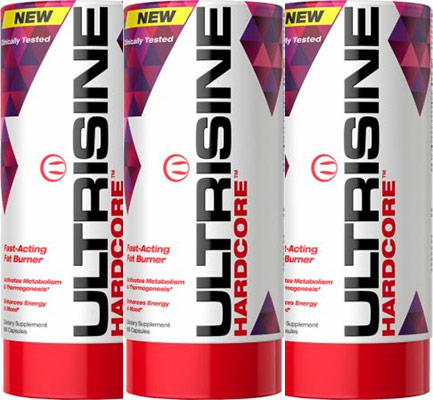 Check out which ingredients work and which don't in our
– Fat burner ingredients guide –
Pros and Cons
Pros: 
Cayenne Pepper Extract known to help burn fat
Green Tea Leaf Extract promotes fat loss
Cons: 
Big dosage of Caffeine
Contains synephrine & yohimbe
Mostly filled with ineffective nutrients
Side Effects
As every ingredient is part of a proprietary blend, your risk of suffering from side effects are increased. This is why we don't recommend supplements containing these blends.
Not only that, as Ultrisine Hardcore contains synephrine & yohimbe (2 ingredients that have been blacklisted in numerous countries), you're risk of side effects is increased again.
We've put together a list of potential side effects here:
Jitters (caffeine dosage over 250mg)
Energy Crashes (caffeine dosage over 250mg)
Nausea (Synephrine & Yohimbe)
Dizziness (Synephrine & Yohimbe)
Anxiety (Synephrine & Yohimbe)
Not what you're looking for? See our
– Top Rated Fat Burning Ingredients Here –
Review Conclusion
MHP are a respected brand in the supplements industry, but they're still one of the companies who add proprietary blends to their products.
By now, enough people know about the risks of adding proprietary blends into their supplements – so there's no reasons why new products should contain them.
As a result, we can't recommend that you try Ultrisine Hardcore; especially because it contains both synephrine & yohimbe which are known for causing side effects.
Instead, take a look at our highest rated fat burners here.