---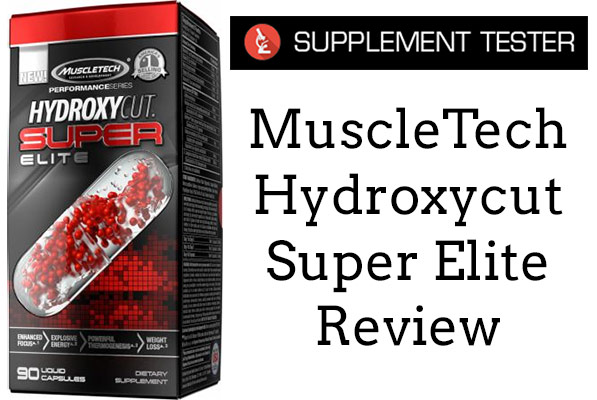 ---
Whenever a new fat burner is released by MuscleTech in the Hydroxycut series, it get's everyone's attention – and this is no different.
Hydroxycut Super Elite comes in a new 'rapid release' capsule technology, so we'll be checking out whether this is effective or is a gimmick in this review (along with the ingredients inside and side effects).
Claimed to promote:
Energy
Focus
Metabolism
Fat loss
---

---
About The Company
Most people know about MuscleTech and this series of fat burner – but we'll give you some information about this company (for those new to supplements).
First of all, we have to express how bad MuscleTech's website is – we looked for a 'about us' section for a few minutes, but we couldn't find it (we never spend longer to look, as the regular person wouldn't either).
As a result, we were forced to look on their wikipedia page – it says alot about a company when its wikipedia page is more detailed than it's personal website. Anyway, MuscleTech is owned by Iovate Health Sciences and was introduced to the market in 1996; they've been around for a while, and have built a solid reputation.
In fact, MuscleTech even managed to sign Arnold Schwarzenegger as a sponsored athlete for their 'Arnold Schwarzenegger Series' at one point – something not many companies can say they've done. Since then, they've sponsored modern athletes such as Abel Albonetti.
Enough about this company, let's see what's inside Hydroxycut Super Elite.
The Ingredients and How They Work
MuscleTech's addition to their Hydroxycut series comes in 90 capsule containers. As we've mentioned, they've used their latest 'liquid capsule techonology' with this fat burner, but we don't think this will enhance the product much (meaning it's likely to be a gimmick).
Liquid Capsules – good or bad?
Basically, there's a reason why most companies choose to deliver their products in powder capsules – because it's shown to work. There's no point trying to fix something that's broken, but MuscleTech have tried to improve this anyway.
Look at it this way – when Apple began selling iPhone's, other companies such as Samsung followed very quickly and marketed their own smartphones. Liquid capsules have been around for a while, but not many companies have began marketing them – which says a lot about them.
Serving Size
You can see from Hydroxycut Super Elite's ingredient list that it's serving size is 3 capsules per day. This is a good daily serving size that ensures your body is constantly being fuelled with fat burning ingredients (we believe 3-4 capsules per day is the 'sweet spot' for fat burners).
Anyway, we're mostly interested in Hydroxycut Super Elite's nutrient profile here – it's the ingredients that make or break a supplement.
See for yourself: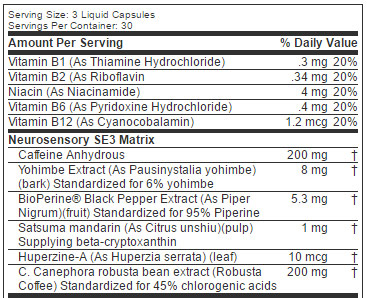 Caffeine 
When it comes to stimulants, Caffeine is your best option – it's consumed everywhere on a daily basis (eg. in tea & coffee), and has shown to be safe when dosed sensibly.
What's a sensible dosage?
This varies between different products, but in a fat burner, we aim for a maximum daily Caffeine intake of 300mg. Hydroxycut Super Elite contains 200mg, which is slightly underdosed, but should still give you enough energy boosts when cutting calories – the important thing here, is that MuscleTech hasn't ovedosed this stimulant.
Sometimes experience pays off, and MuscleTech has done well here.
Yohimbine 
We can't criticize just MuscleTech for adding Yohimbine in their fat burner; many companies add this chemical, as it's shown to promote fat loss.
However, the problem is that it's not very safe. In a nutshell, Yohimbine's been banned in certain countries – as it's caused bad side effects in the past.
As a result, we can't recommend that you take any fat burner containing this ingredient.
Black Pepper Extract
Yes, this is the same stuff you put on your food – but it does more than make things taste better. In a nutshell, this ingredient has shown to improve digestion and the overall absorption rate of a supplement.
Although Black Pepper Extract is more of a 'bonus' ingredient, rather than a key one, it's still useful to have.
Satsuma Mandarin 
This is literally just the fruit that's consumed quite regularly. There's no study that proves it has a direct effect on fat loss, so we prefer ingredients such as Green Tea Extract.
Not only that, there's only 1mg in Hydroxycut Super Elite – 1mg of any ingredient won't do much, so there's no need for this here.
Huperzine A 
Let's get straight to the point; Huperzine A hasn't shown to promote fat loss, making it useless in a fat burner supplement. It's believed to reduce cognitive decline in the elderly, but here's the bad news: it's reported to cause numerous side effects.
We'll go into its side effects in more detail later on.
C. Canephora Robusta Bean Extract 
This is a fancy name for Green Coffee Extract – we're not sure why they've labelled it this way, as it's one of our favorite fat burning ingredients anyway.
In a nutshell, it's a great source of chlorogenic Acid, which can boost your fat burning potential. Studies show it's effective, and we've actually experienced its benefits first hand.
No problems with the dosage here, so good job by MuscleTech.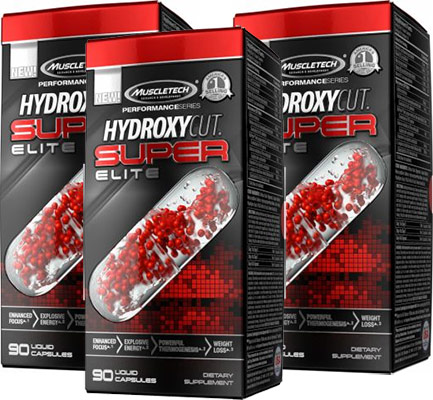 Check out which ingredients work and which don't in our
– Fat burner ingredients guide –
Pros and Cons
Pros: 
Green Coffee Extract shown to promote fat loss
Sensible dosage of Caffeine (won't cause jitters)
Cons: 
Yohimbine & Huperzine A reported to cause numerous side effects
Satsuma Mandarin is dosed badly and is ineffective
Missing key fat burning ingredients (eg. Green Tea Extract)
No ingredients to supress appetite (which other fat burners offer)
Side Effects
Here's the bit you've been waiting for – unfortunately, Hydroxycut Super Elite contains 2 ingredients that have consistently caused side effects in the past; Yohimbine and Huperzine A.
There's no need to consume ingredients that put you at risk of side effects, as there are many that are effective and safe. Anyway, we'll get straight to the point and tell you what you're at risk of suffering from.
Hydroxycut Super Elite can cause:
Diarrhea
Nausea
Headache
Increased blood pressure
Weight gain
Cramping
Not what you're looking for? See Our
– Top Three Fat Burners Page –
Review Conclusion
Here's the bottom line: Hydroxycut can promote fat loss, but at a price – numerous side effects, as you can see above.
It's a shame that MuscleTech included Yohimbine and Huperzine A on its ingredient list, as Caffeine and Green Coffee Extract (C. Canephora Robusta Bean Extract) are both key fat burning ingredients that we look out for.
We recommend looking for fat burners that contain more key ingredients, and avoid those that contain nutrients that cause side effects – if you're paying for a supplement, then you want to make sure you're getting the best on the market.