---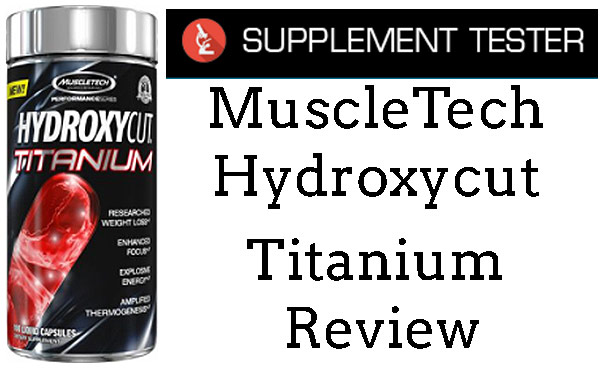 ---
Whenever Muscletech release another product in their famous 'Hydroxycut' series, you have to take notice. And we were pleasantly surprised with it's nutrient profile.
Claimed to promote:
Out first opinions of this fat burner are great – Muscletech hasn't added any proprietary blends or yohimbe and synephrine. So we can't wait to look deeper into it's nutrient profile.
About The Company
If you know about supplements, then you'll know about Muscletech. It's one of the biggest supplements companies in the world, and this Hydroxycut line of fat burners are very highly rated.
As we mentioned, from first glance, this looks to be their best fat burner we've seen yet. So let's take a look at the nutrient profile below.
The Ingredients and How They Work
MuscleTech has clearly used their expertise when formulating this product; they've left out harmful nutrients such as yohimbe and synephrine, which is great to see.
However, one problem is that the caffeine dosage per serving is quite high (125mg per capsule). This is almost the same amount of pre-workout supplements contain – so we don't recommend taking Hydroxycut Titanium at your office desk!
But there are some great ingredients inside; green coffee bean is one of our favorite ingredients in any fat burner.
See for yourself: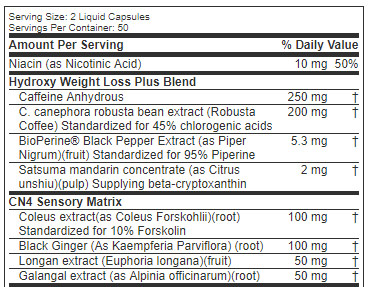 Caffeine Anhydrous 
We've already mentioned that there's a big dosage of caffeine per capsule (125mg). Personally, we prefer fat burners that contain under 100mg caffeine per capsule (which makes it less likely for you to suffer jitters or energy crashes).
But the overall dosage in Hydroxycut Titanium is good; we don't mind having up to 300mg caffeine in fat burners, as long as it's spread out in 3-4 capsules.
As this fat burner only offers 2 capsule servings, you'll be getting the big hits of caffeine each time (increasing your risk of side effects).
Green Coffee Bean Extract 
You might have wondered "what the hell is c.canephora robusta bean extract?!" after looking at the ingredient list. But don't worry, it's green coffee bean extract, which is one of our favorite fat burning nutrients.
Why? Because it's proven to work in numerous studies. There's no questioning the effectiveness of green coffee bean.
Bioperine 
In a nutshell, a company has decided to patent their own version of black pepper extract and call it bioperine. But it's more useful than you think – it's able to increase the absorption rate of supplements it's consumed in.
See SupplementTester's
Highest Rated Fat Burners Here 
Satsuma Mandarin 
Satsuma's are a great fruit to eat – it contains no seeds so it's easy to consume, and tasty. But apart from tasting nice, it's not going to help you burn fat.
The good news is that satsuma mandarin won't cause any side effects, so it's not a problem with it being here – it's simply ineffective.
Coleus Forskohlii 
If you're wondering what this is, it's a traditional medicine that's believed to boost testosterone and promote fat loss.
Coleus Forskohlii has shown promising results in early studies. But there hasn't been enough studies to prove it's 100% safe or effective yet.
Until more research is done, we won't be trusting this herb yet. But it's shown promising results so far.
Black Ginger 
Otherwise known as kaempferia parviflora and is a popular herb used as medicine in Thailand.
But here's the bad news; black ginger hasn't shown to promote fat loss in any studies (making this a useless addition to Hydroxycut Titanium).
Longan Extract 
Also known as Dragon Eye, this is a fruit that's thought to improve your cognition. However, Hydroxycut Titanium is a fat burner – you buy a fat burner to lose fat, not improve your focus…
As a result. we don't believe this is a necessary addition to MuscleTech's product.
Galangal Extract 
Galangal Extract is known as an aphrodisiac herb and is thought to improve male vitality and improving your cognition.
But like we've already mentioned, Hydroxycut Titanium is a fat burner – so we wouldn't preferred ingredients shown to promote fat loss instead.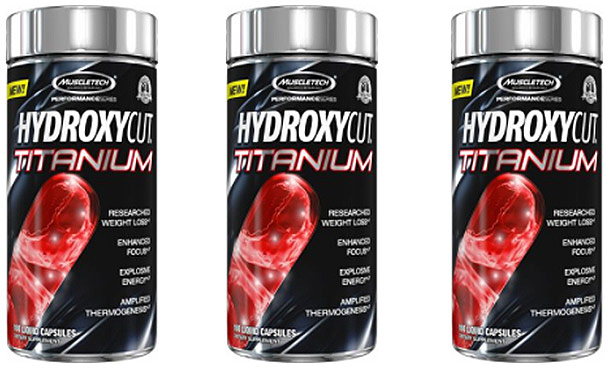 Check out which ingredients work and which don't in our
– Fat burner ingredients guide –
Pros and Cons
Pros: 
Sensible overall dosage of caffeine
Green coffee bean extract proven to promote fat loss
Black pepper extract improves absorption of ingredients
Cons: 
Missing a few key fat burning nutrients
Contains some nutrients that don't promote fat loss
Only 2 capsule daily servings
Side Effects
One of the best things about Hydroxycut Titanium is that none of the nutrients inside have shown to cause any side effects.
We're happy that Muscletech didn't add any proprietary blends into this fat burner; they often do this in their other products.
Not what you're looking for? See our
– Top Rated Fat Burning Ingredients Here –
Review Conclusion
We're happy to say that this is one of the better Muscletech products on the market. We're happy that they didn't add any proprietary blends or harmful ingredients such as yohimbe and synephrine here.
We would have given this product 4-5 stars if it contained more key fat burning ingredients – but it's missing proven nutrients such as green tea extract and cayenne powder.
As a result, we don't think Hydroxycut Titanium can challenge for a spot in our top three fat burner supplements, but it's much better than most fat burners on the market.