---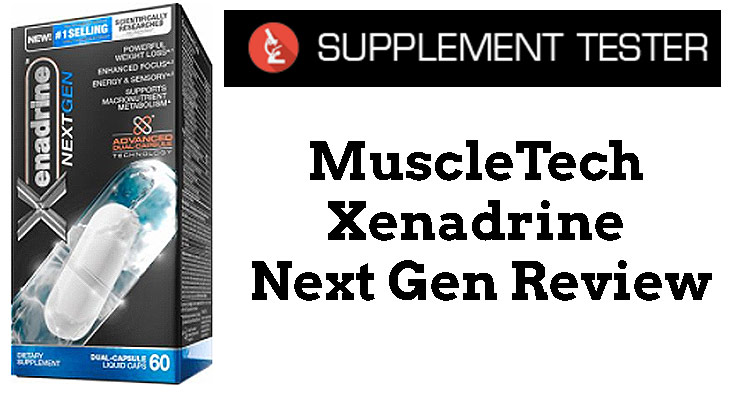 ---
We're interested to see MuscleTech move away from their 'Hydroxycut' series of fat burners – to this Xenadrine Next Gen.
Claimed to promote:
Fat loss
Focus
Metabolism
From their advertisements, we can see that MuscleTech have relied on their 'micronized powder capsule' to sell this product. But we'll be taking a look at the ingredients – to see whether this fat burner will become a success.
Take a look:
About The Company
If you know about supplements, then you've most likely heard of MuscleTech before. They're huge in the industry and have the motto 'superior science, superior results'.
As a result, we always expect them to have perfectly formulated their supplements. The same expectations are on Xenadrine Next Gen, so it'll be interesting to see how it competes with other fat burners on the market.
The Ingredients and How They Work
Xenadrine Next Gen probably has the strangest nutrient profile that we've seen; it contains 4 ingredients that're dosed in normal amounts, but there are 4 nutrients dosed at 1mg each.
In a nutshell, 1mg of any ingredient is going to ineffective – so they might as well have left these out. But as this is a review, we'll let you know further details below.
See for yourself: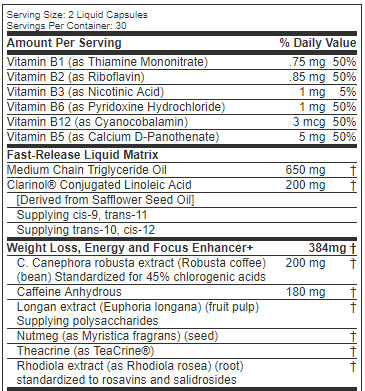 Medium Chain Triglyceride Oil 
This is one of 4 ingredients that's dosed over 1mg per serving…
Otherwise known as MCT's, these are dietary fats commonly found in coconut oil. It's thought that MCT's improve your metabolism, and there have been studies to suggest this.
However, there's also no need to consume this through a supplement – it's easy to add coconut oil to your diet.
As a result, we'd rather see a key fat burning ingredient such as Glucomannan Root powder instead (which surpresses your appetite).
Conjugated Linoleic Acid 
If you're interested in bodybuilding, then you've most likely heard about CLA before. This is also a type of fatty acid that's thought to help you lose fat.
However, studies have shown that CLA's effects are very insignificant – meaning it doesn't really work.
However, the same studies suggest that it might help you preserve lean mass while cutting weight. But ultimately, we'd rather have an ingredient such as green tea extract here (which is tried-and-tested).
C.Canephoria Robusta Extract 
You'll recognize this ingredient by its more common name – green coffee bean extract.
We're not sure why MuscleTech has labelled this in its fancy name; green coffee bean extract is a key fat burning ingredient anyway.
It's proven to help you lose fat, by increasing your metabolism. As a result, we're always happy to see this inside fat burner supplements.
See SupplementTester's
Highest Rated Fat Burners Here
Caffeine Anhydrous 
We're also big fans of caffeine anhydrous here at Supplementtester. Everyone knows that caffeine can raise your energy levels, and this is great when you're cutting your calories – when you'd usually be suffering from lack of energy.
And we're glad to see that MuscleTech has dosed caffeine well in Xenadrine Next Gen; we always recommend that you consume under 100mg per capsule (this fat burner containsd 90mg per capsule).
However, we would have preferred that Xenadrine Next Gen had 4 capsule servings instead of just the 2 (it's proven that 4 capsules per day allows your body to be fuelled for longer in your day).
The rest of the ingredients 
As we mentioned at the start of this review, the rest of the ingredients have been added in 1mg per serving dosages. In a nutshell; these ingredients might as well not be inside Xenadrine Next Gen.
Basically, 1mg dosage of any ingredient won't work. Considering that MCT is inside this fat burner in a dosage of 650mg, you can see how small 1mg really is.
It's a shame, as rhodiola rosea can reduce fatigue and improve your focus (which is one of the ingredients that's been dosed poorly).
But one positive is that there's only a 1mg dosage of theacrine (this is another stimulant, and it wouldn't have been good in a high dosage alongside caffeine).
This is why we recommend that you choose fat burners only containing 1 source of stimulants – to avoid side effects like jitters.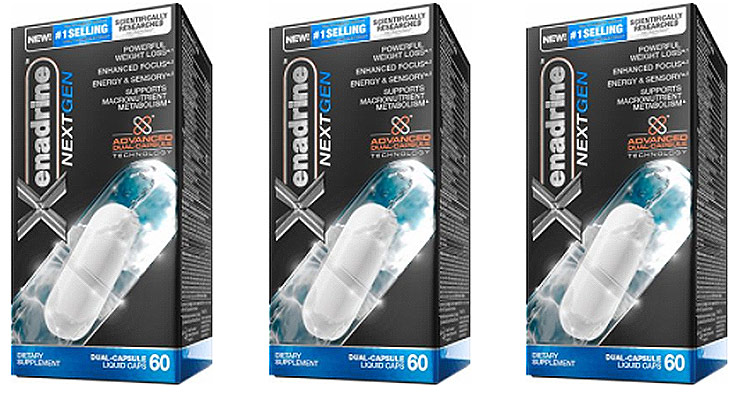 Check out which ingredients work and which don't in our
– Fat burner ingredients guide –
Pros and Cons
Pros: 
Green coffee bean extract proven to work
Sensible dosage of caffeine
Cons: 
4 ingredients dosed at 1mg per serving
Missing many effective fat burning nutrients
Not worth the price
Side Effects
This is one of Xenadrine Next Gen's positives; it doesn't have any ingredients likely to cause any side effects.
We're happy about this, as we've seen many fat burner reported to cause harmful side effects in the past. However, this doesn't make Xenadrine Next Gen worth buying…
Not what you're looking for? See Our
Highest Rated Fat Burners Here 
Review Conclusion
We're actually quite disappointed by this fat burner – we were expecting big things from MuscleTech, but Xenadrine Next Gen might go down as one of their worst products…
It's clear that they've relied on their micronized powder capsules to sell this fat burner – but we haven't found any studies where this technology has been beneficial.
As a result, there's no way that Xenadrine Next Gen can beat the highest rated fat burners on the market right now. Or ever.