We were quite surprised to see this on bodybuilding.com – it doesn't look like the usual type of supplement they'd sell on there. In fact, it doesn't really look like a 'gym' supplement (more like a general health product).
Claimed to promote:
Metabolism
Fat loss
Energy
If you look at the picture of this ingredient, it fits in more with the 'yoga' kind of supplements available – Metabolism Boost is even pictured with some flowers in its advertisements.
Anyway, this fat burner caught our attention, so let's take a look how effective it is…
About The Company
After looking at Nourish & Bloom's 'about us' section, we were right that this product is tailored towards yoga. This company was actually started with instructors and 'yogis' – and it's marketed with flowers and a green bottle for this reason.
But one thing we like about Nourish & Bloom, is that their products only contain 100% natural ingredients. This means that the risk of side effects from their supplements are much lower than if they contained chemicals and artificial nutrients.
However, we'll have to examine Metabolism Boost's nutrient profile before making a decision on whether it's worth trying out.
The Ingredients and How They Work
As we mentioned, Metabolism Boost contains only 100% natural ingredients – which is something we really get behind.
However, we noticed that this product only contains 3 main ingredients; we've realized that the best fat burners usually contain 5-9 ingredients, so it'll be interesting to see how Metabolism Boost compares to these products.
But at the same time, this fat burner is also quite cheap, making it a 'budget' product that probably wasn't designed to compete against the more premium options on the market.
Anyway, let's take a look at what's inside Metabolism Boost. See for yourself: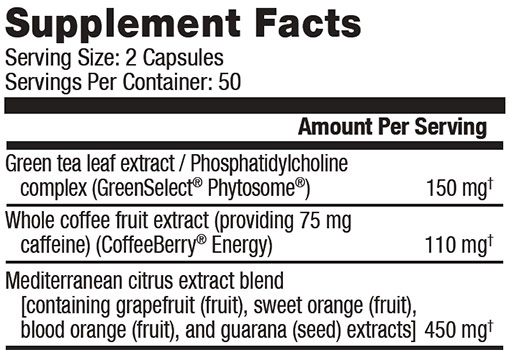 Green Tea Leaf Extract 
In all fairness to Nourish & Bloom – if we were only choosing 3 ingredients that add to a fat burner, then green tea extract would definitely be one of them.
So good start by this company. In a nutshell, green tea extract has shown to help you burn more body fat by raising your metabolism.
This plant is actually one of the best thermogenic nutrients you can find for this reason.
However, one complaint we have – Nourish & Bloom has underdosed this fat burner with a 150mg dosage (studies show that a 500mg per serving dosage is the most effective).
As a result. green tea extract might not deliver its full benefits in Metabolism Boost.
Whole Coffee Fruit Extract 
This has become quite a popular ingredient in fat burner supplements. Basically, it's the seed of coffee beans and is believed to be a stimulant (which raises your energy levels).
However, there haven't been enough studies to prove whether it's effective yet – meaning it's an unreliable ingredient.
On a positive though – Nourish & Bloom haven't added an overdose of caffeine, which is a good thing here (this will keep you safe from jittery feelings and crashes).
Mediterranean Citrus Extract Blend 
Now, this is where things get bad…if you're not aware, this is a proprietary blend (meaning no-one knows the exact dosage of each individual nutrient inside).
Ultimately, this can increase your risk of side effects – especially as this blend contains another stimulant (guarana seed extract).
In a nutshell; it's never a good idea to consume 2 stimulants at once. As there's a big 450mg overall dosage of this 'mediterranean citrus extract blend', there might be over 200mg guarana seed extract in here (which could cause jitters and energy crashes).
This is a great example of why we don't like proprietary blends. If you're wondering about grapefruit, sweet orange, and blood orange – these haven't shown to promote fat loss, but it might improve the taste of the capsules…if you actually taste them…
Which Key Ingredients Are Missing?
We probably sound like we've really criticized this fat burner. So we won't leave you without any justification here.
We mentioned that green tea extract was one of the best fat burning nutrients we'd always pick to include in a fat burner. Well, we'll give you quick details about our other favorite nutrients proven to work.
Here's SupplementTester's other favorite fat burning nutrients:
Green Coffee Bean – Basically unroasted coffee beans, this is shown to help you burn fat due to being a thermogenic nutrient.
Cayenne Pepper Powder – You'll know that this can raise your body temperature, and this is exactly how it helps you burn body fat and reach your fitness goals faster.
Caffeine Anhydrous – The purest form of caffeine, this is much better than 'coffee fruit extract' and 'guarana' as you can see the exact caffeine dosage reliably. Ultimately, with whole coffee fruit and guarana seeds, even companies ahve to estimate the caffeine dosage, and they might not always get it right.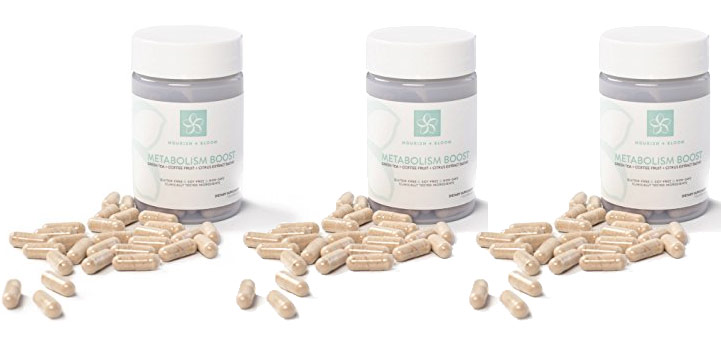 To learn more, see SupplementTester's
– Top Rated Fat Burning Ingredients Here –
Pros and Cons
Pros: 
Green tea extract can raise your metabolism
Cons: 
Contains a proprietary blend
Green tea extract is underdosed
Missing many key fat burning nutrients
Side Effects
If you've read this whole review, you'll know that guarana seeds raise the risks of side effects when added into proprietary blends (as it's a stimulant that can cause jitters and crashes in large dosages).
Well, as guarana seed extract is inside a proprietary blend – no-one knows the exact amount inside Metabolism Boost. As a result, we have to warn you that you might experience some side effects, which you can see below..
Jittery feelings
Energy crashes
To learn more, see SupplementTester's
– Top Rated Fat Burners  –
Review Conclusion
We probably sound quite harsh in this review. But we've mentioned that we can't compare this product to the 'premium fat burners' on the market, as it's priced as more of a budget product.
However, we still have to judge Metabolism booster by Nourish & Bloom against it's price (which is $26). Even for this price, we don't believe it's worth it…
Here's why; the best ingredient (green tea extract) has been underdosed, and as it contains 2 stimulants and a proprietary blend – you're at risk from suffering from side effects like jitters here.
As a result, we recommend that you save up more money, and buy a fat burner that's more likely to work.