In the world of fat burning supplements, it's rare to come across a powdered-based option. This is partly down to the inconvenience of powder as a fat burner delivery system. You need a liquid, a shaker and somewhere out of the way to scoop up.
This doesn't seem like much, but on the go, it can be hard to have all these virtues at once.
So your fat burner better be damn good.
OxyShred from EHPLabs has risen to the challenge. It's fared well with opinion online, and I've been itching to get my analytic paws on it. Here's our Oxyshred review…
About the Company
EHPLabs first started in early 2011, since then it has grown to fame throughout the supplement world.
It deals with both gender markets, and offers a select choice of muscle builders and fat burners for both sexes.
Interestingly, according to their website: "The brand first received worldwide recognition… for… OxyShred, … one of the world's most successful… nutritional supplements to hit the market." I had to break a lot of that up – EHPLabs seem to be extremely fond of self-serving adjectives and metaphorical auto-fellatio.
Oxyshred Review: The Ingredients and how they work
OxyShred is taken at 1 scoop per serving with water twice daily. It should be taken on an empty stomach and 15 minutes before exercise (if a workout is planned that day).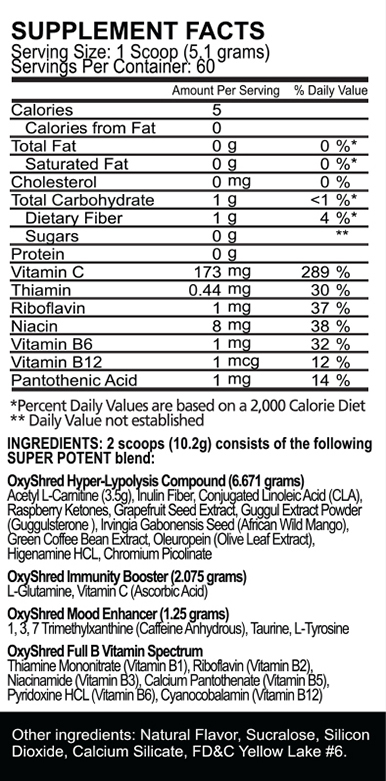 This is going to be a big write up. Brace yourself.
Striking the broader terms from the register, I'll begin with the specific components of the supplement and work my way down, it should take care of a lot of the ingredients in the proprietary blends.
Vitamin C – Linked to the healthy metabolism of fat, Vitamin C keeps the body in check and burning weight regularly.
Thiamin (Vitamin B1) – Releases energy from fats, and essential for the nervous system when it comes to matters of the heart.
Riboflavin (Vitamin B2) – Helps metabolize carbs, fats and proteins to store energy in the muscles. Increasing this will burn more energy.
Niacin (Vitamin B3) – Another metabolic aid, B3 regulates the metabolism of over 60 different processes in the body.
Vitamin B6 – Converting glycogen to glucose, B6 increases energy levels without a further need for consumption.
Vitamin B12 – This B helps the overall metabolic rate of cells, increased levels will lead to a higher metabolism and weight loss.
Pantothenic Acid (Vitamin B5) – Great for breaking down fats and carbohydrates, and promotes healthy digestion in the body.
Acetyl L-Carnitine – A trusted transporter of fatty acids to be oxidized and used as fuel. Great for energy at the cost of fat.
Inulin Fiber – Direct from the root of the chicory plant. Inulin has been shown to produce a feeling of fullness in the user, suppressing their appetite.
Conjugated Linoleic Acid (CLA) – A big help when it comes to muscle growth, improving the immune system and increasing the body's metabolism. CLA is also good for weakening the extent of allergic reactions to food.
Raspberry Keytones – Although there is no scientific evidence to prove it, Raspberry Ketones are believed to boost metabolism to lose weight.
Grapefruit Seed Extract – Has been seen to work as an appetite suppressant. Unfortunately however, the only proof of this has been from a test was conducted over 24 hours, and only showed a 4% drop in intake.
Guggulsterone – Working with the thyroid, Guggul increases the metabolic rate throughout the body by its power to stimulate hormones in the thyroid.
Irvingia Gabonensis Seed – Due to its high fiber content, IGS should, in theory, lower cholesterol. Minor research also finds that this ingredient may also reduce fat cell growth, although this has not been proven.
Green Coffee Bean Extract – Containing a larger amount of chlorogenic acid than its roasted alternative, Green Coffee Bean Extract inhibits enzymes that produce glucose in the liver.
Oleuropein – An extract of the olive leaf, Oleuropein has been shown to raise metabolism and fight obesity… however these studies were conducted with rats and mice respectively. More research needs to be done into the beneficial effects on humans.
Higenamine HCL – Also known as Norcoclaurine HCL, this ingredient gives similar effects to ephedrine and DMAA – both of which are banned sports supplements.
The aconite plant, where Higenamine is gathered has caused serious heart problems, and in some cases death upon ingestion. This is a very dangerous component and should be treated as such.
Chromium Picolinate – A helpful component present is vegetables and fruits like broccoli and grapes. It is a great appetite suppressant and reduces cravings for carbohydrates.
L-Glutamine – An amino acid that lowers muscle tissue breakdown and promotes protein synthesis after a workout.
Caffeine Anhydrous – Such a straight-forward and reliable fat burning stimulant by its ability to raise the metabolism and energy levels in the user.
Taurine –  An amino acid found in most protein-rich meats and fish. Taurine has been seen to contribute to weight loss by increasing metabolic function on a cellular level.
L-Tyrosine – A powerful amino to keep the mind alert and focused. It raises energy levels.
Check out which ingredients work and which don't in our
– Fat burner ingredients guide –
Side Effects: Is Oxyshred Safe?
Unfortunately with a lot of these brands that use proprietary blends, it can be difficult to fully ascertain the full extent of the side effects without knowing the dosages. And hiding these amounts usually entails a choice of results over user safety.
We only need to look at ingredients like Higenamine HCL to know that there is something to be wary of. No matter how impressive the results, it is not worth the long-term costs of your health. Which are potentially, but not limited to:
High Blood Pressure
Heart Arrhythmia
Death
OxyShred Pros and Cons
Pros
Good source of vitamins & some amino acids
Uses a few natural ingredients
Cons
Powdered form can be inconvenient
Uses Higenamine – potentially very dangerous stuff
Proprietary blends, and a lot of ingredients can lead to increased side effects
Some ineffective/unproven ingredients (Raspberry Keytones, Oleuropein etc)
OxyShred Review Conclusion
Oxyshred is a very complicated and researched supplement. A lot of thought has gone into the making of it and it seems to garner some positive reviews.
It does however take a different turn when considering what some of these ingredients are.
I find the inclusion of banned substance Higenamine particularly worrying, and the fact that it is buried under a thick veil of proprietary blends – this gives it an instant 'no' from me.
Combined with the burden of powdered ingestion: this supplement is not worth the effort for the potential long terms problems it can cause. Which is a shame, as a few of the ingredients are natural and promising. So we advise looking for a fat burner without any shady ingredients.