Phen375 is a fat burner we've been meaning to cover for a while. Mainly because people seem to think its Phentermine – a fat loss drug which is banned by several sporting organisations, and prescription only.
Phen375 and Phentermine however are not the same thing, far from it. 375 is a fat burner comprised of all natural ingredients which has nowhere near the same effects, in fact it's quite disappointing.
Due to popular demand, we've looked deep into the science of Phen375 and we're not convinced by what we've found.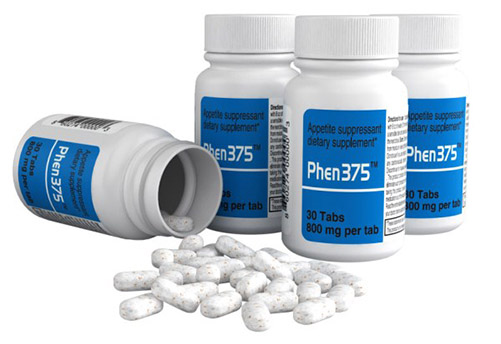 Here's our full review:
About the Company
Very little is know about the creators of Phen375. All we know is that it's owned by the company Shippitsa, a UK based company, that doesn't have a website, or any information on it at all.
As far as we can tell it only owns Phen375 and seems to be purpose built for the product.
This isn't necessarily a bad thing, but as there is no evidence for their credentials it's definitely suspicious.
The Ingredients and how they work
The first problem with Phen375, is that there's only one serving per day.
Why is that a problem?
With only one serving a day, there's only so much your body can absorb – and only a certain amount of time it can keep you in that fat burning state.
What you need is a fat burner that has around 3 – 4 servings a day. This keeps you constantly supplied with the nutrients you need and allow you to keep making progress.
But what about the ingredients?
There were problems here as well. We were disappointed with what we found.
The first problem is the value of the ingredients – they're not disclosed in any way online by the company, with various sources stating different different dosages.
It also doesn't help that the guys at Phen375 change their formula all the time.
This gives us no real grounding on how much to expect from each ingredient – and whether or not they'll actually be effective – or what side effects we should expect. And we even spotted some potential side effects.
Here's what Phen375 claims is in their product and our thoughts: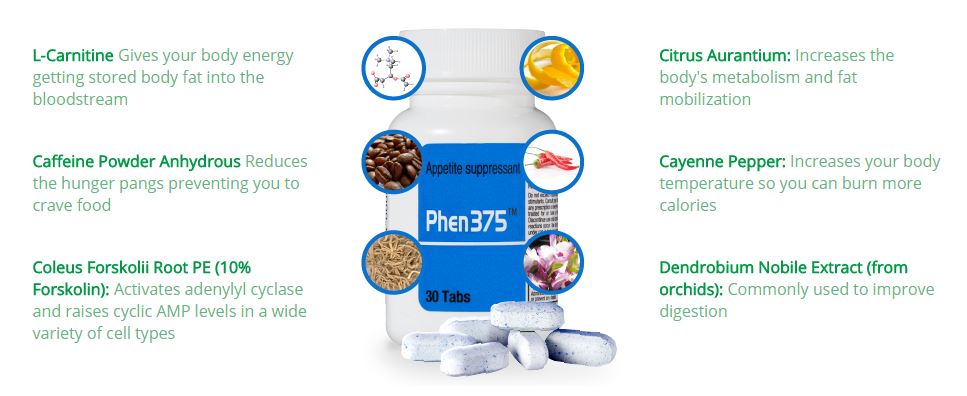 L-Carnitine
One of the better amino acids out there for increasing energy and metabolism, so it's good that it's in Phen275.
The only problem is that there isn't enough. Studies have shown that the best results from L-Carnitine happen with daily servings between 500 – 2500mg, well above anything this product provides.
As the L-Carnitine in Phen375 is wrapped up within a proprietary blend. It looks very unlikely that there's enough being used in this product.
Caffeine Anhydrous
Arguably the best natural stimulant on the market. Caffeine is great for boosting metabolism and energy – again we have to remember Phen375 don't disclose their nutrient dosages so we have no way of knowing if we're getting enough – or too much, which may cause side effects.
Coleus Forskolii
A herb used in traditional medicine that may help with minor fat loss in overweight subjects. There's quite a lot studies that have examined Coleus Forskolii but it's never been seen to cause dramatic weight loss.
Citrus Aurantium
Also known as Bitter Orange Extract, and a mistake to use on Phen375's part. When combined with caffeine or caffeinated herbs, Citrus Aurantium has been known to cause several side effects in users. More on that later.
Cayenne Pepper
A potent thermogenic, and a hot chili pepper. Cayenne is great for helping your body to burn extra calories, and this happens by raising body heat. As your body reaches a higher a temperature, a cool-down process starts which uses up calories which contributes to a caloric deficit.
Dendrobium
This is nothing special, and doesn't do much in terms of fat burning. The main function of this plant is to aid digestion. It has some anti-inflammatory uses too, but nothing major.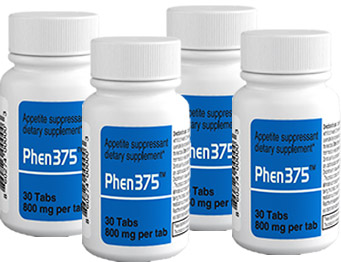 Overall this is a pretty ineffective fat burner, with many of the dosages in this fat burner completely hidden from view.
Add on to that the expected side effects that come from the caffeine and the citrus aurantium – and there's definitely a problem.
Check out which ingredients work and which don't in our
– Fat burner ingredients guide –
Side Effects
As we've covered, the main problem with this fat burner has got to be the synephrine mixing with the caffeine.
Numerous studies have reported combining these two nutrients have led to various side effects such as:
Headaches
High Blood Pressure
Nausea
Light-Headedness
Not what you're looking for? Click here to
– See our Top 3 Fat Burners –
Pros and Cons
Pros
Cons
Undisclosed dosages
A lot of hype without a lot of proof
Expensive for 30 tablets ($60)
Side Effects
Only one serving a day
Phen375 Review Conclusion
Overall this is an awful fat burner that's pretending it's a drug.
There's no information about the company that owns them online, or their credentials, and the product they've produced shows that.
With only one daily serving in Phen375, you're not going to get a lot of fat burning benefits, with the effects wearing off after a few hours – there need to be 3 or 4 throughout the day to really make a difference, and keep you in that constant fat burning state.
On top of that, none of the ingredients dosages are disclosed. We have no idea how much of each nutrient we're actually getting in Phen375, or if it'll actually be effective or not.
Even more worrying is the fact that the combination of some of these ingredients may cause side effects.
With all this mounting evidence against the benefits of Phen375, we strongly suggest that you look elsewhere for an effective fat burner, and check out our top 3 in the link below for a safer, more effective choice: