More and more YouTube celebrities are launching their own brands of supplements, Chris Jones from Physique of Greatness is one of the next to join that list with his fat burner POG CUTS FTS.
Claimed to:
Boost Energy
Cut Fat
Suppress Appetite
We looked closer at the ingredients and servings that go into this supplement, to see if it was up to standard.
Here's what we've found: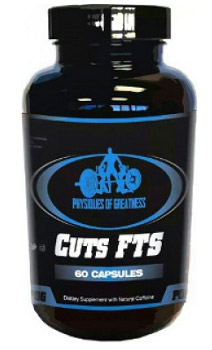 P.S.: If you want to see the best fat burners, check out the link below to see our top 3:
About the company – POG (Physique of Greatness)
Physique of Greatness was originally a YouTube channel started by fitness enthusiast Chris Jones. Now with a large, loyal fan base, the brand has grown and started it's own range of supplements – one of which being the fat burner we're reviewing.
Sold at the moment on Tiger Fitness, there are several reasons why POG could've started their own brand:
To give something back to the fans
To earn more money from the brand
Whatever the direction, this is what we know about CUTS FTS:
The Ingredients and how they work
The servings on CUTS FTS are okay, but they're not great.
The problem is that there is only 2 a day. This means your body is not receiving a constant supply of the nutrients it needs to cut fat and get you to that perfect state of shredded.
What you should be looking for is a fat burner that provides around 3 – 4 servings a day, this ensures you get that constantly delivery to continue to burn calories throughout the day.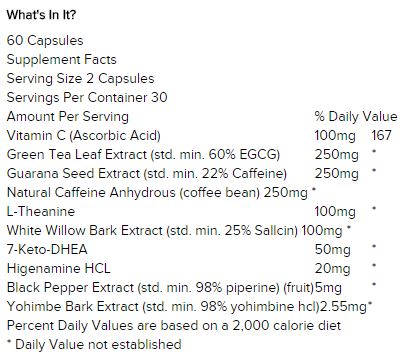 Green Tea
One of the better thermogenics out on the market at the moment. The catechins in the green tea help release norepinephrine after being absorbed by your body – this the fat burning hormone, and it gives your body the thermogenic lift it needs to cut more calories.
Guarana Extract
This is more of a caffeine based herb, and should help give you an energy lift to get more done in the gym – 22% of guarana used here is caffeine so that works out at just over 25mg of caffeine in this guarana alone per serving.
Caffeine Anhydrous
Arguably the most effective natural stimulant. Caffeine is one best nutrients to use in a fat burner if your looking to boost your metabolism and increase your energy levels.
However there's 125mg in POG CUTS FTS, and adding on the 25mg from the guarana, that's around 150mg of caffeine a day.
If you're not used to caffeine, or have a low tolerance, this could lead to some serious side effects.
L-Theanine
An amino acid thought to help lower stress levels and to react well with caffeine. This may be a 'cover all bases' move to control the amount of caffeine in POG CUTS FTS, and may help with focus.
White Willow Bark
An anti-inflammatory herb that has no real connection to weight loss – however it may help with minor joint issues.
7-Keto DHEA
There's a lot of controversy surrounding this nutrient, and whether or not it actually works for fat loss. Marketing campaigns are trying to portray it as effective, however human studies with the metabolite has only shown promise, and not a lot results.
We doubt it has much effect.
Higenamine
Another controversial fat burning nutrient, thought to have similar effects to the illegal fat burner ephedrine. However, studies have shown that there is limited evidence for this claim and the effects of higenamine are actually rather minor.
Yohimbine
Thought to help with appetite suppression, and to an extent it can be useful, however when using Yohimbine be wary of side effects.
Whenever you're supplementing more than 0.2mg/kg of body weight of this product you risk negative drawbacks which could damage your cut.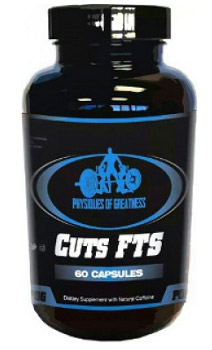 Overall there's a mix of ingredients in POG's CUTS FTS, and not all of them good. With potential side effects and an not only one thermogenic, you'll be pushed to see any real results compared to what you'd get with a more reliable fat burner.
Check out which ingredients work and which don't in our
– Fat burner ingredients guide –
Side Effects
The main concerns with this fat burner is the caffeine and the yohimbine.
The caffeine may be a bit too potent for some individuals which may cause:
Jitters
Headaches
High Blood Pressure
Nausea
As for the Yohimbine, doses over 0.2mg/kg can lead to other problems such as:
Anxiety
Hypertension
Gastrointestinal Distress
Nausea
Symptoms you definitely want to avoid when on a cut.
Pros and Cons
Pros
Contains Caffeine & Green Tea
Cons
Servings need work
Some ineffective ingredients
Potential Side Effects
Review Conclusion
On the whole there are some good choices in CUTS FTS, but there are some areas in POG's formulation that definitely need some work.
The Green Tea and the Caffeine are both good additions to this product, it can help with both thermogenesis and energy levels, but the rest of the ingredients seem pretty minor and don't seem to do a lot in terms of fat burning.
The delivery needs work as well, with only 2 servings a day, your body can only get so much benefit from this supplement.
Add on to that the risk of side effects from the high caffeine and the yohimbine, and we'd think twice before purchasing this product.
If you're looking for what we recommend at the moment, check out our top choices below: