In the current market companies are always striving to stand out from their competitors. Fat Burners are tricky as many of them are ineffective using bold comments and cheap ingredients. It can't be hard to tell which company means well, and which is in it for the pay check.
One Fat Burner that has stuck out to me recently however, is Power Up Thermo Lean by ActiveMan. Honestly, I was more impressed by it's design than anything else. It's innovation reminds of a fat burner I covered in the past Instant Knockout.
That actually proved to be a pretty solid product, so I hoped Power Up ThermoLean could do the same too.
It was only after I did more digging that I found out that this product was only available in the UK. However, I'm sure there's some retailer on a darkened corner of the internet selling it stateside if you're that interested. I've seen it on Amazon a few times.
About the Company
ActiveMan is part of a British company known as Bio Synergy which was founded in 1997.
They produce a variety of supplements for an active lifestyle with a wide range of proteins, creatines, fat burners, pre-workouts and much more. They seem to be a pretty diverse brand, and the battery design appears to be part of a full line of products known as the Power Up range.
Their products are available throughout numerous retailers online in the UK and sell occasionally elsewhere via Amazon.
The Ingredients and they work
ThermoLean is suggested to be taken once a day in a two capsule serving with water.
This isn't the best option for a fat burner as you want the effects to stay consistent throughout the day, this allows energy and metabolism levels to stay elevated for longer without a crash.
However, regardless of dosing cycle the real evidence of this product's effectiveness lies within its ingredients.
So, what are we dealing with?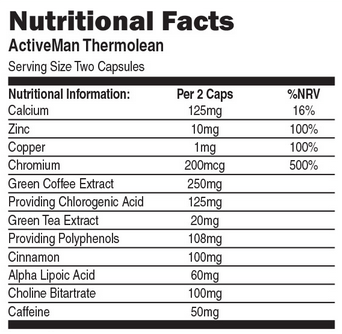 Calcium – In large doses calcium can produce minor spikes in metabolism to cause thermogenesis. Though a lot more would be needed than 125mg
Zinc – There is thought to be a connection between zinc deficiency and obesity. It has been known that obese having raised their zinc levels have been seen to increase their body mass index.
Copper – A trace mineral in the body and helps the immune system. Supplementing zinc can lower the levels of copper, so that may be the rationale behind it's inclusion in this product.
Chromium – Most commonly found in grain, chromium decreases appetite and helps reduce cravings of carbohydrates. And the 500% value here seems to suggest that this fat burner's main goal is appetite suppression.
Green Coffee Extract – This is actually a really good ingredient for helping with the fat burning process. Green coffee contains chlorogenic acid which helps cut the formation of glucose in the liver. It also helps raise metabolism and energy levels.
Green Tea Extract – Another one great for boosting energy and metabolism due to the caffeine in this herb. The catechin polyphenols in this are very useful too as they promote norepinphrine in the body, the fat burning hormone. It gives us a thermogenic boost to help burn calories.
(How can 20mg of Green Tea provide 108mg of Catechin Polyphenols? I'm going to assume they mean 10.8mg… or the Green Tea is actually 200mg… that's horrendously embarrassing for ActiveMan if true.)
Cinnamon – Not many people know about cinnamon's properties for weight loss, however it has been seen to help with the suppression of an appetite and to speed up the body's metabolism.
Alpha Lipoic Acid – Helps to prevent cell damage, and breaks down carbs for energy. The body also uses it for restoring Vitamins C and E in the body.
Choline Bitartrate – More considered a nootropic for cognitive enhancement, however on top of making you more alert Choline Bitartrate will help you lose weight. By creating a faster rate of lipolysis in the body, more dietary fats are burned for energy at a much faster rate.
Caffeine – Greatly raises the metabolic rate of the body causing it to burn more fat for energy. The stimulant qualities in the caffeine also give the user more energy for exercise.
Check out which ingredients work and which don't in our
– Fat burner ingredients guide –
Side Effects
Actually this is a straight up product. Doesn't use any proprietary blend, the ingredients are natural. I can't see there being any problems with this product.
If anything, the caffeine elements have been used a bit too sparingly – unless that green tea dosage is incorrect, which it must be, because 108mg can't come out of 20mg. It's still up there on their website.
That mistake makes this entire list of ingredients questionable – which is worse than a proprietary blend.
However taking the list as it looks, it seems like a relatively low stimulant and dosage fat burner that will have very little side effects or general effect. Unfortunately this seems more of a very innovative design with rather under dosed product.
Pros and Cons
Pros
Uses all natural ingredients
No proprietary blends
Should be safe
Cons
Only one dose a day
Under powered ingredients
Mistakes in ingredient profile – how can we trust this list?
Not an overwhelming stimulating effect
Power Up ThermoLean Review Conclusion
If I'm being honest, I wanted to like this product – and with some hope I think I probably can some day. But I can't until they reveal the nutrition list of this product.
I know there's more Green Tea than what they say there is, other wise this product is shaping up to be pretty mediocre at best.
Although this product is safe and natural, I don't think it will really get you that much closer to your fat burning gains without some of the ingredients being far more potent.
We may have to revisit Power Up ThermoLean at another time to really know I stand on this one. Until then it gets two stars.